Mens Road Bike Bottoms - Road Bike Shop
Shop
>
Men's Apparel Clothing
>
Men's Apparel Road Bike Clothing
>
Men's Apparel Road Bike Bottoms
Hincapie Sportswear Mercury Bib Shorts - Men's
Retail Price:
$139.95
Our Price: $62.98
buy now
While endurance cycling always presents a challenge, riding in hot weather just adds to the amount of work that your body and your gear have to do. Hincapie Mercury Bib Shorts are designed to work with your body (not in spite of it) to keep you cool in peak summer temperatures.Hincapie built the...
Hincapie Sportswear Power GT Bib Shorts - Men's
Retail Price:
$189.95
Our Price: $104.47
buy now
Hincapie knows better than most how important bib shorts are, which is how the Power GT Bib Shorts became so refined. With a host of carefully chosen technical fabrics, they offer the moisture control and compressive fit that long rides demand. Or to put it another way, they blend comfort,...
Levi's Commuter 504 Canvas Short - Men's
Retail Price:
$67.95
Our Price: $30.58
buy now
Tough, slightly stretchy, and featuring a U-lock holster in the waistband, Levi's Commuter 504 Men's Short works well on your bike but is just as good if you're not pedaling.
Levi's Commuter 504 Pant - Men's
Whether you're headed to the coffee shop, or to work, you want to look like an ordinary human, despite the fact that you rode a bike to get there. If that sounds familiar, and you're not into super-skinny jeans, the Levi's Commuter 504 will keep you pedaling in comfort, and style. Based off the...
Levi's Commuter 511 Denim Pants - Men's
The Commuter 511 Denim Pants from Levi's feature a water-resistant and dirt-repellent NanoSphere protective finish to make commuting in hostile weather a little more acceptable, especially if your destination is the office. It's for this very reason that Levi's also incorporated an odor-resistant...
Levi's Commuter 511 Slim Fit Denim - Men's
If you've heard of the Levi's Commuter 511 Denim Pants, you've probably been struggling to find them all year. Well, we're happy to tell you that your quest is finally over, and believe us, it's been worth the wait. These aren't some run-of-the-mill, one-off attempt at appeasing a subculture....
Levi's Commuter 511 Trousers - Men's
Sure, you tear up the tarmac after work, but Levi's wants to know why you're not riding everywhere, all of the time? Yes, we're referring to the two words that strike fear into the hearts of all Lycra-coveting men on earth -- bicycle commuting. Perhaps you've tried in the past, and perhaps your...
Louis Garneau CB Carbon 2 Bib Shorts - Men's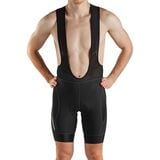 With their incorporation of cooling technologies and the antistatic, antimicrobial properties of carbon fiber, Louis Garneau's CB Carbon 2 Bib Shorts are just as appropriate for long training rides and sportives as they are for hard racing in your local crit series. The CB Carbon shorts are,...
Louis Garneau CB Carbon 2 Shorts - Men's
Louis Garneau's line of cycling shorts runs the gamut from "performance" to "workhorse," but if we were to ignore the industry-wide trend of over-specialization, we'd chose the CB Carbon 2 Shorts as the ideal solution for every cycling problem. Charity ride? Check. Interval training? Check....
Louis Garneau Cb Carbon Lazer Bib Shorts - Men's
Garneau analyzed every angle of bib short construction when designing its CB Carbon Lazer Bib Shorts, and the ambitious blend of fabrics it settled on includes everything from Lycra to carbon. Fabric alone certainly can't make a tough workout feel easy, but when the right materials are used and...
<< Prev | Back | 21 | 22 | 23 | 24 | 25 | 26 | 27 | 28 | 29 | 30 | More | Next >>