Mens Road Bike Bottoms - Road Bike Shop
Shop
>
Men's Apparel Clothing
>
Men's Apparel Road Bike Clothing
>
Men's Apparel Road Bike Bottoms
Assos T.equipe_s7 Bib Shorts - Men's - Men's
Developed in conjunction with Assos' Werksmannschaft factory team riders over the past six years, the all-new T. equipe_s7 Bib Shorts stand as a testament to the Swiss brand's dedication to race-tuned perfection. So, to all who've ridden in the legendary FI. 13, these build from their proven...
Assos T.neoPro_s7 Bib Shorts - Men's - Men's
Believe it or not, it's been six years since Assos released its revered _s5 collection. For all who've ridden in them, these bib shorts have been touted as simply the best fitting and supportive on the market. Well, in true fanaticism that dominates the mindset in their Centro Studio, Assos'...
Assos T.tiburu_s7 Bib Shorts - Men's - Men's
Autumn riding is fraught with peril. We don't mean sudden storms, buffeting winds, and less daylight. Rather, we're talking about the dangers of over- or under-dressing for a bike ride. Assos helps to address this problem with its new, thermally insulated T. tiburu_s7 Bib Shorts, which you can...
Assos tK.434_S5 Knickers - Men's
Retail Price:
$268.95
Our Price: $215.16
buy now
Warmer than shorts, cooler than tights, the Assos TK. 434 S5 Bib Knickers are the perfect extra insulation you need on days when the temps fall between the mid-50's and the low 70's. Its RXQ fabric panel covering the knee may be the most important detail. It's a Roubaix style fabric, a bit...
Assos tK.607_S5 Bib Knickers - Men's
When tights are overkill, but shorts leave your knees cold, the Assos tK. 607_S5 Bib Knickers are the simple solution. Insulated to keep your muscles and joints warm, the tK. 607_S5 provide the same plateau of Assos quality as the summer-weight T. 607_S5 -- only now you get the pinnacle of cool...
Attaquer Bandits Kit - Men's - Men's
Retail Price:
$318.95
Our Price: $223.26
buy now
We'd really like to say the name of the movie behind the design of the Attaquer Bandits Kit, but alas, Hollywood isn't one to agitate -- even '80s Australian Hollywood. However, we are able to say that it involved a few characters named PJ, Goose, and Judy, one of whom went on to marry a pretty...
Attaquer Batter Up Kit - Men's - Men's
Retail Price:
$318.95
Our Price: $223.95
buy now
Let us introduce you to Attaquer. Attaquer, North America. North America, Attaquer. Now you're friends, and believe us, Attaquer wants to shake your hand from across the Pacific -- Australia to America. Perhaps that's why the designs for its latest collection are based around America's most...
Attaquer CORE Bib Shorts - Men's - Men's
We'd never describe anything Attaquer designs as run-of-the-mill, or even standard, but the Australian label does have a lineup that's more subdued than its flashier options. Called the CORE collection, this line features solid color silhouettes that are available as standalone, jersey and bib...
Attaquer Go Long Kit - Men's - Men's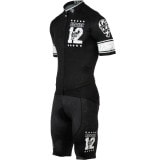 Retail Price:
$318.95
Our Price: $191.37
buy now
Even for Australians, the pull of the Oakland uniform is powerful -- either that, or Attaquer is a really big Suicidal fan. We suppose that the same sentiment stands true to you. Regardless of whether you love to get "psycho" with your friends Mike and Rocky, you're really into padded dudes...
Attaquer Shooting Hoops Kit - Men's - Men's
Retail Price:
$318.95
Our Price: $159.47
buy now
While it's true that the interpretation of style is in the eye of the beholder, the presentation of cycling style typically, well, kind of sucks. Either it's too serious, too bland, or blatantly too Euro to a point of fault. This isn't simply conjecture either. If it were, the rising Australian...
<< Prev | Back | 1 | 2 | 3 | 4 | 5 | 6 | 7 | 8 | 9 | 10 | More | Next >>