Mens Road Bike Bottoms - Road Bike Shop
Shop
>
Men's Apparel Clothing
>
Men's Apparel Road Bike Clothing
>
Men's Apparel Road Bike Bottoms
Castelli Youngster Free Aero Bib Shorts - Men's
Retail Price:
$229.95
Our Price: $149.47
buy now
Regardless of how you feel about the axiom that youth is wasted on the young, there's no reason that the young can't benefit from the aerodynamic benefits and superb, race-worthy fit of Castelli's Youngster Free Aero Bib Shorts. These are essentially the same shorts as those worn by Garmin Sharp,...
Chrome Union Shorts - Men's
Retail Price:
$99.95
Our Price: $74.96
buy now
Modeled after the US Postal summer pants and NATO military shorts, Chrome's Union Shorts were designed to be durable, comfortable, and functional for all your warm-weather pursuits. The shorts were constructed from a water-resistant, durable 4-way stretch fabric, which means that they're going to...
Club Ride Apparel Cog Jeans - Men's
We're of the opinion that bike rides don't always have to be Lycra-clad or ultra-technical. When you're cruising around town or riding to work, more casual "kit" like the Club Ride Cog Men's Jeans may be better than bike shorts or DH pants. The jeans still have the stretch and mobility you'd...
Club Ride Apparel Gunslinger Shorts - Men's
Retail Price:
$34.95
Our Price: $26.21
buy now
Club Ride's primary focus is making sure that you look casual while you're riding, but looking like the resident cool-guy pales in comparison to avoiding saddle sores. Accordingly, the boys in Sun Valley offer the Gunslinger Shorts with Chamois. Now you won't have to sacrifice all-day comfort,...
Club Ride Apparel Johnson Short - Men's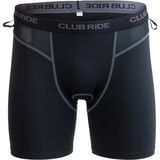 Retail Price:
$29.95
Our Price: $20.96
buy now
The racy naming convention of Club Ride Apparel's Johnson Shorts -- and their Quicky chamois -- will keep you feeling comfortably race-ready on the bike, even when you're in 501s and a corduroy jacket. The Johnsons are made from Active Flow, which is a quick-drying, stretchy material that also...
Club Ride Apparel Rale Pants - Men's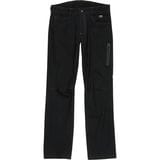 Retail Price:
$119.95
Our Price: $89.96
buy now
Blending the best parts of classic jean styling with stretchy fabric and bike-friendly touches, Club Ride's Rale Men's Pants is perfect for commuting, cruising around town, or wearing off the bike. They have a semi-slim fit that flatters while staying out of the chain rings, and the StretchRide9...
Club Ride Apparel Woodchuck Shorts - Men's
Retail Price:
$54.95
Our Price: $41.21
buy now
Leave the pain of riding on rough roads and bumpy trails behind with the plush padding of the Club Ride Men's Woodchuck Shorts. These liner shorts work great for both road and trail use, absorbing road and trail vibration, while eliminating chafing with its integrated Air gel insert and...
Club Ride Apparel Woody Denim Pants - Men's
There's a time and place for Lycra, like when you're grinding up a steep mountain pass in sweltering summer temperatures. However, if you're like us, you'd prefer to leave the skin-tight look at home when you're biking to the bar or headed to a friend's barbeque. That's where the Club Ride Woody...
Club Ride Apparel Worx Trouser Pants - Men's
When you're riding to a social, professional, or academic function, do you dress for the commute or for the event? If you've ever thrown a leg over a top tube, then you're familiar with the pros and cons of either choice. So is Club Ride Apparel, which is why the Worx Trouser Pants are designed...
Colnago Winter Deluxe Bib Tights - Men's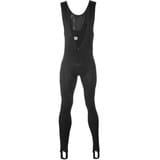 Retail Price:
$299.95
Our Price: $119.98
buy now
We admit that there are many winter weekends when at least some of us would rather stay in our pajamas, curled up on the couch with a cup of coffee and the Sunday paper instead of venturing out into the cold, brisk air for a training ride. But we also recognize that those miles won't accumulate...
<< Prev | Back | 11 | 12 | 13 | 14 | 15 | 16 | 17 | 18 | 19 | 20 | More | Next >>