Mens Road Bike Bottoms - Road Bike Shop
Shop
>
Men's Apparel Clothing
>
Men's Apparel Road Bike Clothing
>
Men's Apparel Road Bike Bottoms
Castelli Velocissimo 2 Bib Tights - Men's
Retail Price:
$139.95
Our Price: $83.97
buy now
With fall, the season of arm warmers and wool gloves is upon us. That means that winter is also just around the corner, and the light accessorizing that we do in fall won't hold up to the temperatures that winter will bring. As the post-Thanksgiving turkey coma wears off, we usually find...
Castelli Velocissimo 2 Tights - Men's
Retail Price:
$119.95
Our Price: $83.96
buy now
Winter is just around the corner, but, if you're anything like us, then you're in denial that the season for outdoor riding may be coming to an end. If you're in this camp, then you're in the market for a pair of tights, and nothing keeps winter at bay like Castelli's Velocissimo 2 Tights. The...
Castelli Velocissimo Due Bib Shorts - Men's
Catelli's Velocissimo Due Bib Shorts hit the sweet spot in Castelli's line. Never a company to skimp on much of anything, even in its entry-level shorts, Castelli always seems to find a way to pack in more features than we'd expect. And so it is with the Velocissimo Due Shorts. The Velocissimo...
Castelli Velocissimo Due Kit Version Bib Shorts - Men's - Men's
If you're any brand whose logo isn't a red scorpion, then the Velocissimo Due Kit Version Bib Shorts are the top article in your line; if you're Castelli, then these race-bred bib shorts are your workhorse bread-and-butter, putting in all the unsung hours of work that really make the difference...
Castelli Velocissimo Due Short - Men's - Men's
Don't feel like you have to hide the fact you prefer plain shorts to bib shorts; no one here will make fun of you. We have used the Castelli Velocissimo Due Shorts and understand that sometimes it is better to go strapless. Whether you are heading out for a long family ride and want to have some...
Castelli Velocissimo Sanremo Suit - Men's - Men's
Of its San Remo 3. 0 Speed Suit, Castelli says it "may be the fastest bit of kit ever invented for road racing." In creating its slippery-as-an-eel speed suit, however, Castelli inadvertently created one of the most comfortable kits on the market by eliminating the bib straps and allowing the...
Castelli Volo Bib Shorts - Men's - Men's
Castelli's isn't a name that we're used to associating with any tier but premium, so when the Italian manufacturer starts tossing around the "workhorse" label, it gets our attention. The Volo Bib Shorts are billed as utility race shorts. In terms of real-world hierarchy, this means that they fall...
Castelli Volo Shorts - Men's - Men's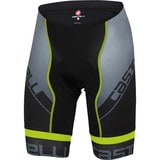 Though we self-style as competitive cyclists, we don't all share the European peloton's typical preference of bib straps on shorts. Fortunately for those of us who fall into that camp, Castelli manufactures most of its race-ready shorts in both bibbed and non-bibbed models. In the case of the...
Chrome Union Shorts - Men's - Men's
Modeled after the US Postal summer pants and NATO military shorts, Chrome's Union Shorts were designed to be durable, comfortable, and functional for all your warm-weather pursuits. The shorts were constructed from a water-resistant, durable 4-way stretch fabric, which means that they're going to...
Club Ride Apparel Cog Jeans - Men's - Men's
We're of the opinion that bike rides don't always have to be Lycra-clad or ultra-technical. When you're cruising around town or riding to work, more casual "kit" like the Club Ride Cog Men's Jeans may be better than bike shorts or DH pants. The jeans still have the stretch and mobility you'd...
<< Prev | Back | 11 | 12 | 13 | 14 | 15 | 16 | 17 | 18 | 19 | 20 | More | Next >>