Mens Road Bike Bottoms - Road Bike Shop
Shop
>
Men's Apparel Clothing
>
Men's Apparel Road Bike Clothing
>
Men's Apparel Road Bike Bottoms
7mesh Industries MK1 Half Short - Men's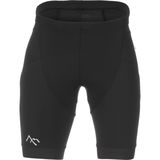 Given the lush foliage and ominous, misty woods of 7mesh Industries' marketing materials, you'd be forgiven for assuming that it's primarily a mountain bike clothing manufacturer. While much of 7mesh's small line of introductory offerings does lean toward the damp trails of early spring, the MK1...
7mesh Industries MK2 Bib Short - Men's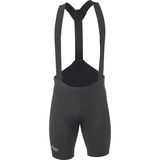 7mesh Industries has impressed us yet again with its MK2 Men's Bib Short, an update to last year's venerable MK1 short. Sure, it's a marvel to look at, all clean lines, minimal accents, and invisible seaming, but 7mesh always backs its kit up with luxurious functionality on the bike, and the MK2...
Assos H.milleshorts_S7 Shorts - Men's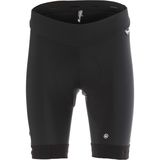 Like with their bibbed brethren, the bib-free H. milleshorts_s7 Shorts showcase Assos' goldenGate construction method, which may be our favorite recent advancement in cycling shorts' technology. GoldenGate involves attaching the chamois at the front and rear, leaving the sides free to float so...
Assos hK.sturmNuss Knickers - Men's
The assumption is that if you ride in the rain, no matter what you do or what you wear, your legs are going to get wet and cold because water-resistant bottoms are a fantasy. Assos is in the business of turning fantasy into reality and the Hk. sturmNuss Half Knickers get us all closer to...
Assos LL.bonkaTights_s7 Bib Tights - Men's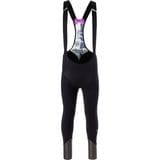 The cycling industry loves superlatives, and there may be no brand of clothing whose product is more awash in adjectives ending in -est than Assos. We're loathe to blindly pile on, but the fit of kit like the LL. bonkaTights_s7 demands it. So here goes. When it comes to bib tight fit, the LL....
Assos LL.habuTights_s7 Bib Tights - Men's
Your trusty Assos T. tiburu_s7 shorts and knickers are perfect for chilly fall days and early spring rides, but sometimes winter calls for more protection. Get covered with the Assos Men's LL. habuTights_s7 Bib Tights, which feature the soft, weather-blocking elements of their shorter...
Assos LL.habuTights_s7 Bib Tights - Without Chamois - Men's
Assos omits the chamois on these LL. habuTights_s7 Bib Tights for men so that you can opt to layer them over your favorite summer shorts and, by extension, your preferred chamois. Normally, we'd suggest using chamois-free winter tights for cold-weather cross training, but given Assos' penchant...
Assos LL.milleTights_s7 Bib Tights - Men's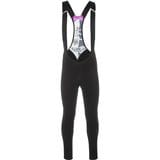 The hardest part about getting out for winter base miles is often just that -- summoning the motivation to get out the door. When motivation is in short supply, excuses never are, and the time required for gathering and donning the necessary kit for temperatures around 30 degrees Fahrenheit can...
Assos LL.works_teamTights_s7 - Men's
Celebrating the partnership between Mercedes Motorsports' internal cycling team and Assos, the Assos Works Team line acknowledges the shared quest for speed and innovation that single-seat auto racing and cycling share. With a checkered design reminiscent of the iconic black-and-white finishing...
Assos T.campionissimo_S7 Bib Shorts - Men's
Six years have passed since Assos rolled out what would become known as the pinnacle of its bib short designs. Called the _s5, this revered collection of shorts has been, to all who've ridden in them, simply the best fitting and most supportive bibs on the market. Well, in the true fanaticism...
<< Prev | Back | 1 | 2 | 3 | 4 | 5 | 6 | 7 | 8 | 9 | 10 | More | Next >>