Mens Mountain Shoes - Road Bike Shop
Shop
>
Men's Apparel Clothing
>
Men's Apparel Mountain Bike Clothing
>
Men's Apparel Mountain Shoes
Diadora Polarex Plus Cycling Shoe - Men's
When your spirit is made for winter but your feet are not, the Diadora Polarex Plus Shoes help nurture you through nature. As the snow pounds at your reddening nose, the Suprell-Tech upper keeps wind, moisture, and trail muck at bay from your toes, and the Diatex waterproof inner membrane keeps...
Diadora Spinning Gym Shoes - Men's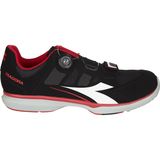 Make your favorite spin class even more effective with Diadora's Spinning Gym Shoes, which feature a fit reminiscent of your favorite outdoor shoes paired with a more forgiving sole that's compatible with the two-bolt pedals used on spin bikes. On the days you're late to class and get stuck on a...
Diadora Spinning Herz Shoes - Men's
If you've been spinning in an old, stretched-out pair of gym shoes, longingly watching your classmates clip-in with ease before a workout, we'd say it's time for an upgrade. Spinning is hard work, and it's even harder when your feet are shifting around between the pedal and the cage, wasting...
Diadora X Vortex-Racer II Shoes - Men's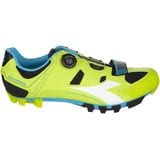 If you're running on a self-sponsored cyclist's budget but still need shoes that can take a beating on the trails or ferry you across sandpits and run-ups in your next 'cross race, we'd consider the Diadora X Vortex-Racer II Shoes. Far from an entry-level shoe, the X Vortex-Racer II features much...
Diadora X-Phantom II Shoes - Men's
Any multi-disciplinary cyclist knows that, with all the road/trail/training-specific kit available, expanding your cycling habits can be expensive. If you're looking for a shoe that you can take to spin class during the week then throw on for a road or trail ride on the weekends, Diadora's...
Diadora X-Phantom Jr Shoes - Men's
Your little ripper has somehow managed to crush another pair of mountain bike shoes, and let's face it: having to buy them a new pair so soon is a small concession to make to their burgeoning love of the sport. Diadora's X-Phantom Jr Shoes will see them through miles of blasting over singletrack...
Diadora X-Trivex Plus II Shoes - Men's
With a roomy fit and a palatable price, Diadora's X Trivex Plus II Shoes make a worthwhile addition to your mountain bike kit. Diadora constructs the shoes' uppers with rugged Suprell-Air Mesh, which is a mix of mesh paneling and perforated synthetic fabric that works to keep your feet cool on...
Diadora X-Vortex Comp Shoes - Men's
Retail Price:
$238.95
Our Price: $70.00
buy now
Refining the connection between your feet and pedals is the best way to get faster without spending a jillion dollars or almost as many hours, so Diadora's X-Vortex Comp Men's Mountain Bike Shoes are a relatively minor investment that'll help take your riding to the next level. The secret's in...
Diadora X-Vortex Pro II Shoe - Men's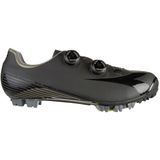 Diadora built the Men's X-Vortex Pro II Shoe with one purpose in mind--to tear up trails with ruthless speed and efficiency. Based on the first X-Vortex Pro shoe, this updated version features a sleeker, more stylish upper and upgraded Boa dials for an improved fit. Other than that, it's...
Diadora X-Vortex Pro Shoes - Men's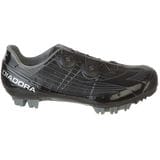 Retail Price:
$289.95
Our Price: $105.00
buy now
Diadora's ultra-stiff X-Vortex Pro Mountain Bike Shoes are designed to put maximum power to your pedals so can rip trails. Diadora uses a carbon fiber sole that registers a 10/12 on the stiffness index to provide optimal power transfer. The X-Vortex's upper features Suprell-Tech Morpho AM Cage...
<< Prev | Back | 1 | 2 | 3 | 4 | 5 | 6 | 7 | 8 | 9 | 10 | More | Next >>