Mens Mountain Shoes - Road Bike Shop
Shop
>
Men's Apparel Clothing
>
Men's Apparel Mountain Bike Clothing
>
Men's Apparel Mountain Shoes
Diadora Polaris 2 Shoes - Men's
When the arctic temperatures come knocking at your door, you can rest assured that you're prepared with Diadora's Polaris 2 Shoes. They're built with the same technical features found throughout Diadora's high-end mountain specific range, but they've been beefed up for cold-weather riding...
Diadora X Phantom Shoes - Men's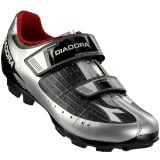 Whether you're a seasoned rider looking for an economical addition to your cycling shoe collection or you're looking to try clipping into your mountain bike for the first time, the Diadora X Phantom is up to the task. The X Phantom was constructed upon Diadora's Sport MTB sole. This sole is...
Diadora X Trail 2 Carbon Men's Shoes - Men's
Retail Price:
$249.00
Our Price: $199.20
buy now
Diadora built its new X Trail 2 Carbon Shoes with all of the durable, race-ready design cues carried over from the original X Trail, and combined them with its new carbon sole. The result is a fit that comfortably wraps and supports your feet for those brutal all-day efforts, with an...
Diadora X Trail 2 Shoe - Men's - Men's
Retail Price:
$199.95
Our Price: $99.97
buy now
Featuring all the foot-pampering goodies as its high-zoot counterpart, the Diadora X Trail 2 Shoe treats the dogs right--without the high cost of carbon.
Diadora X Trail 2 Shoes - Men's - Men's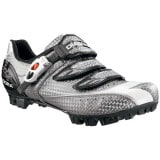 Retail Price:
$199.00
Our Price: $99.50
buy now
When Diadora built the X Trail 2 Shoes, it factored only the most important elements into its design. By not adding anything you wouldn't use anyway, the designers created a purposeful shoe that works exactly as it was intended: to comfortably support and protect your feet for all-day riding....
DMT Lynx Mountain Bike Shoes - Men's - Men's
As the successor to the Top Gear shoes, the DMT Lynx Mountain Bike Shoes have, ahem, big shoes to fill. But frankly, that's not much cause for concern, because the Lynx is in every way a worthy heir to DMT's mountain shoe throne. It keeps the stiff carbon sole, durable microfiber upper, and...
DMT Top Gear Shoes - Men's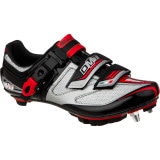 Retail Price:
$275.00
Our Price: $110.00
buy now
In two words, the DMT Top Gear shoes can be described as 'reworked innovation.' However, DMT didn't simply tinker around to say that it did. Instead, using racing team feedback, the Top Gear sees a reinvention at the carbon fiber sole, closure system, and uppers. Basically, DMT's best just got...
Fi'zi:k M1 Uomo Shoe - Men's - Men's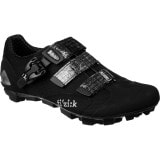 While Fi'zi:k has made quite a splash in the road bike market with its recent shoe offerings, you may not be familiar with its mountain bike footwear. Consider this your introduction. The Fi'zi:k M1 Shoes take the impeccable attention to detail that has popularized its road shoes, and applies it...
Fi'zi:k M3 Uomo Shoes - Men's - Men's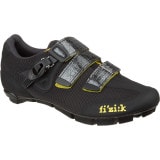 When it comes to Fi'zi:k's top-end mountain shoes, you'll notice a few differences between its M1 and M3 Uomo shoes. First, the closure on the M3 utilizes a lightweight aluminum buckle in place of the M1's SL Micrometric composite version. Second, the insole of the M3 is Fi'zi:k's Dual Density...
Fi'zi:k M5 Uomo Shoe - Men's - Men's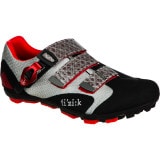 Fi'zi:k might not be known for manufacturing shoes, yet, but it is renowned for excellent anatomic design, craftsmanship, and industry-leading technology. However, we have a feeling that the Italian, handmade M5 Uomo Shoes are a perfect example of Fi'zi:k's drive to be a leader in more places...
<< Prev | 1 | 2 | 3 | 4 | 5 | 6 | 7 | 8 | 9 | Next >>