Mens Mountain Shoes - Road Bike Shop
Shop
>
Men's Apparel Clothing
>
Men's Apparel Mountain Bike Clothing
>
Men's Apparel Mountain Shoes
Shimano SH-AM41 Shoes - Men's
From dirt jumping to getting rowdy on your 8-inch-travel downhill machine, the Shimano SH-AM41 Shoe will equip your foot for the ride with its ankle-protecting mid-top design, bomb-proof lace cover, and tough synthetic upper. This shoe won't fall apart when you're scraping it against dirt or...
Shimano SH-AM45 Shoes - Men's
Shimano designed the SH-AM45 Mountain Bike Shoe so you could tackle a trail without the trail tackling you. The AM45 is built with a raised outsole that wraps around tough synthetic leather to offer added protection for rough sections of trail. The mid-top design protects your ankle while the...
Shimano SH-M065 Shoes - Men's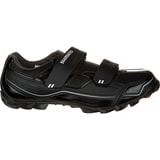 Whereas Shimano's XC line of shoes is aiming for the podium, Shimano also understands that not everyone's aspirations are competitive, and not everyone wants to waddle around off the bike in those soccer-cleat-like mountain shoes that are all too common. The company's solution comes in the form...
Shimano SH-M162 Shoes - Men's
Retail Price:
$149.95
Our Price: $74.98
buy now
A tough synthetic leather upper complete with low-profile armor give the Shimano M161G Mountain bike shoe the strength needed for off-road madness. When you find yourself slogging over the unrideable, a roomy Volume+ last, aggressive traction lugs, and flexible mid-sole gets the job done without...
Shimano SH-M163 Shoes - Men's
The Shimano SH-M163 Shoes are a pair that will appeal to practical cyclists who want a shoe that can scramble around on the trail when you're off the bike, but doesn't sacrifice performance when you're on it. The M163's upper is made of durable synthetic leather with low-profile buckle closures...
Shimano SH-M315 Shoes - Men's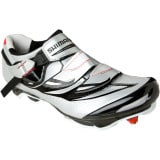 Retail Price:
$349.95
Our Price: $104.98
buy now
Buckle up the Shimano SH-M315 Shoe after heating the insoles and it'll naturally conform to your foots individual anatomic shape. After it cools you're ready to reap the benefits of not only a custom fit, but also an ultra-stiff carbon sole, grippy traction lugs, and abrasion-resistant,...
Shimano SH-MT34 Shoes - Men's
While we're big fans of Shimano's versatile M-series of shoes like the M065 or the more expensive M165, the Shimano SH-MT43 Shoes take the M series' practicality to a new level. The MT34's appearance -- of both its upper and its sole -- is not unlike a light hiking or trail-running shoe. The big...
Shimano SH-MT44 Shoes - Men's - Men's
For casual riding, you need a comfortable shoe, like the Shimano SH-MT44 shoe. With a breathable mesh upper, and an easy-to-use drawcord closure, it's perfect for recreational riding, with or without clipless pedals. And with the extra roomy toe box, you won't feel like you're cramming your feet...
Shimano SH-MW81 Shoes - Men's
Fat-tired bikes have shed new light on riding through the coldest months. Terrain that was once impassable is now challenging and inviting, provided that you have the right equipment. But, this fact still remains -- if you're going to commit to serious winter riding, and you're not intending on...
Shimano SH-XC30 Shoes - Men's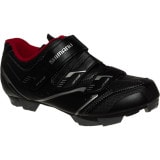 Retail Price:
$99.95
Our Price: $59.97
buy now
Year after year, Shimano provides a great bang-for-your-buck with its shoe lineup, and this year's SH-XC30 Shoes are no exception. For under $100, you might even say that it's one of the best examples of that trademark Shimano value. And given the XC30's durability, refined fit, and surprising...
<< Prev | 1 | 2 | 3 | 4 | 5 | 6 | 7 | 8 | 9 | 10 | Next >>