Mens Mountain Shoes - Road Bike Shop
Shop
>
Men's Apparel Clothing
>
Men's Apparel Mountain Bike Clothing
>
Men's Apparel Mountain Shoes
Lake MX331 Shoe - Men's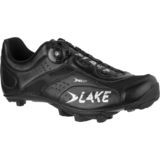 Retail Price:
$389.95
Our Price: $194.97
buy now
The Lake Men's MX331 Shoes deliver efficient power transfer and sure grip with comfortable durability. Made from equine leather lauded for its strength and durability, the upper fends off errant trail debris to provide protection for your feet through technical runs. Strategically placed mesh...
Lake MX331 Shoes - Men's
Retail Price:
$379.95
Our Price: $151.98
buy now
For its premier mountain offering, Lake used top-shelf materials and technologies to build one of the finest bike shoes available. From the soft, durable, kangaroo leather uppers to the carbon fiber outsole, Lake didn't mess around with the MX331. Of course, materials are only half the story....
Lake MXZ 303 Winter Boots - Men's
If you can't stand another basement/garage/spare room trainer session to try to maintain your fitness through the holidays, invest in a pair of Lake's MXZ 303 Winter Boots. The previous version of this boot, the 302, won accolade after accolade and has a dedicated following of winter cyclists....
Lake MXZ303 Winter Boots - Wide - Men's
While the Lake men's Wide MKZ303 Winter Boots are built with tech-heavy features that line them up more with weather-resistant mountaineering boots than your typical cycling shoes, one of the design choices that we like the most is surprisingly low-tech. The Wide version of Lake's Winter Last...
Lake MXZ400 Winter Cycling Boot - Men's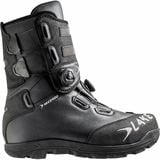 The MXZ400 Men's Winter Cycling Boot is far and away the most wintery boot Lake produces. It's built-up to stand-up to the elements, and its moto-appropriate size hints at its 400g of 3M Thinsulate and generously capacious last, which allows for more insulation in the form of thick sock layering....
Louis Garneau 0-degrees LS-100 Shoe - Men's
Based on the T-Flex LS-100 Shoes, Louis Garneau's 0-Degrees LS-100 Shoes let cold weather commuters and fat bike riders alike cut through the chill. This means that you'll enjoy the same Carbon T-Flex Power Blade and BOA L4 single rail as the LS-100, only in a package that's warmed by insulated...
Louis Garneau Copper T-Flex Shoe - Men's
Equipped with features to meet the needs of the most demanding mountain bike and cyclocross riders, the Louis Garneau Men's Copper T-Flex Shoe offers a strong frame that prevents the shoe from going soft on a muddy course and offset straps to reduce pressure on top of the foot when fastening the...
Louis Garneau Granite - Men's
Retail Price:
$159.95
Our Price: $95.97
buy now
While all of us would prefer to spend all day on the trails, that's not an option most of the time. For the rare, glorious weekend days when you have nowhere else to be but on your mountain bike, the last thing you want sending you home early is cranky feet. Louis Garneau designed its Granite...
Louis Garneau Graphite Cycling Shoe - Men's
Retail Price:
$299.95
Our Price: $179.97
buy now
Whether you're finalizing dates for your full 'cross race calendar or prefer to spend your rides roosting berms and charging through white-knuckle descents, Louis Garneau's Graphite Men's Cycling Shoe is equipped to let you get the most out of the power you're driving through your feet while...
Louis Garneau Klondike Mountain Bike Shoe - Men's
If you're into the kind of winter bikepacking and dark-side-of-the-moon-cold commuting that warrants the protection of Louis Garneau's Klondike Mountain Bike Shoe for Men, then you probably already understand that cycling in these temperatures is only possible when myriad details align. Fair...
<< Prev | Back | 1 | 2 | 3 | 4 | 5 | 6 | 7 | 8 | 9 | 10 | More | Next >>