Mens Mountain Shoes - Road Bike Shop
Shop
>
Men's Apparel Clothing
>
Men's Apparel Mountain Bike Clothing
>
Men's Apparel Mountain Shoes
Five Ten Hellcat Shoe - Men's
The Five Ten Hellcats are the shoe of choice for everyone from world-class enduro racers to casual-pace weekend warriors. Why? Pretty simple -the Hellcats give you the option to clip in, but don't falter when you don't want to. The sole is made from Five Ten's proprietary Stealth Rubber compound,...
Five Ten Impact High Men's Shoes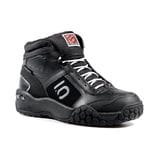 Five Ten Impact shoes are designed from to bottom to top to protect and serve freeriders and DH aficionados. Five Ten???s top-shelf freeride shoe is built for guys who go huge, so it???s designed to make taking risks a little less risky by keeping freeriders both attached to their bikes and...
Five Ten Impact Low Shoe - Men's
The buzz surrounding The Five Ten Impact Shoe is true. Here's a shoe tough enough for the burliest of rides that will fit your feet with slipper-like ease -- an unrivaled mix of freeride performance and comfort. Constructed with abrasion-resistant Action leather, The Impact Low will endure season...
Five Ten Impact VXi Clipless Shoe - Men's
Five Ten's Mi6 (yeah, like the British intelligence agency) is some of the stickiest rubber around--it's used by Hollywood stunt performers when they need serious grip--so there's no question that it'll keep you glued onto the pedals. It also provides a grippy platform that makes hike-a-bikes way...
Five Ten Impact VXi Shoe - Men's
Five Ten's Impact VXi Shoes set the stage for what a downhill or park shoe should be, and they just keep getting better. From grippy soles to a new upper, the Impacts should be first on your wish list. To up the ante, Five Ten uses Stealth Mi6 rubber for the outsoles -- the same rubber used in...
Five Ten Kestrel Clipless Shoes - Men's
If the torpedo-faced profile of Five Ten's Kestrel Clipless Shoes reminds you of a shark's nose, then you're being pointed in the right direction. With a combination of a durable upper and what Five Ten claims is its stiffest sole, the Kestrel certainly hits rock bench-laden climbs and root...
Five Ten Maltese Falcon LT Clipless Shoes - Men's
The Five Ten Maltese Falcon Race Clipless Shoes are designed for the pragmatist in all of us. Clipless pedals are faster on just about any race course, but there's still something to be said for the confidence-inspiring nature of being able to drag a foot and get it back on your pedals, fast. The...
Five Ten Maltese Falcon Shoe - Men's
The Five Ten Maltese Falcon Shoes are tough. Really tough. Bail at Rampage tough. When Five Ten set out to build the best freeride shoe in the world, they knew it'd have to have the option to take cleats for pedals, because some of the best riders want that ultra-connected, powerful feeling that...
Five Ten Sleuth Shoe - Men's
Everybody knows Five Ten makes the stickiest rubber around, but the company is more renowned for making climbing, approach, and biking shoes than casual kicks like the Sleuth Shoes. That said, Five Ten's casual is different than most brands'. The Sleuth is down to kick back, but its sticky...
Five Ten Spitfire Shoes - Men's
Though the urban wilderness may not be as fragile and untainted as an actual uncultivated landscape, the Stealth Marathon sole on Five Ten's Spitfire Shoes is still dedicated to keeping it pristine by preventing mark-up. Your fixie's tires or your skateboard's deck are another story, though, so...
<< Prev | Back | 1 | 2 | 3 | 4 | 5 | 6 | 7 | 8 | 9 | 10 | More | Next >>