Mens Mountain Shoes - Road Bike Shop
Shop
>
Men's Apparel Clothing
>
Men's Apparel Mountain Bike Clothing
>
Men's Apparel Mountain Shoes
Five Ten Freerider Contact Shoe - Men's
If the Freerider Contact Shoes look and feel like an old friend, that's because Five Ten based its design on an updated version of the VXi chassis. The big change from VXi to Contact is the addition of toe protection in the latter the equivalent of ensconcing your little piggies in a brick house...
Five Ten Freerider ELC Shoe - Men's
Five Ten loved what it had going with its original Freerider shoe so much that it decided more riders could benefit from the shoe if it made a few tweaks and changes to the design. More than a few tweaks and changes later, the Freerider line has grown considerably, and the Freerider ELC Men's...
Five Ten Freerider Elements Shoe - Men's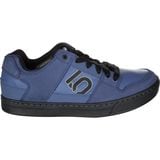 Five Ten's notoriously sticky Stealth 1 rubber is just one component that makes the Freeride Element a top choice for flat-pedal riders. The BMX-inspired Action leather upper, supportive heel cup, and cushy impact protection add to its popularity in lift lines and jump parks. This isn't a...
Five Ten Freerider EPS High Shoe - Men's
You've already got a set of three-inch rubber donuts wrapped around your plus-sized rims just waiting to dig into a snowy stretch of singletrack, so when the weekend finally rolls around, lace up the Five Ten Freerider Men's EPS High Shoes and go rally around on the trails. While everyone else...
Five Ten Freerider EPS Shoe - Men's
When everyone else packs up for the season, cleaning their bikes then storing them away in the garage citing cold and wet weather, you grab your Five Ten Freerider EPS Shoes and head out to enjoy crowd-free trails for the first time all year. You know that if you grab some beefy plus-sized tires...
Five Ten Freerider High Shoe - Men's
When you're staring down a line worthy of your dirt-devouring heroes, you want every part of your kit to be rooting for you. While your kicks may not make as big of a difference towards your overall success through the chunky stuff as say, your fork, they're still pretty important. Before...
Five Ten Freerider Pro Shoe - Men's
Stealing the throne from Five Ten's Freerider, the Freerider Pro Men's Cycling Shoe ups the ante with extra toe protection and an even faster drying, weather-resistant upper. As with its predecessor, this shoe adds subtle styling to technological features made to shred the gnarliest of trails. In...
Five Ten Freerider Shoe - Kids' - Men's
The Freerider Shoes from Five Ten are now available for the little ripper in the family, sized just right and made with the same materials as the bigger kid/parent version. This means that Five Ten's Stealth Rubber was used for the outsole. Developed for rock climbing shoes, this material...
Five Ten Freerider VCS Shoe - Kids' - Men's
Just as performance-driven as the adult size, the FiveTen Kids' Freerider VCS Shoe refuses to simplify features just because it's made for kids. In fact, this shoe maintains its pro-level design because some of our sport's pros are actually kids. Breathable suede and mesh in the upper deliver...
Five Ten Hellcat Pro Shoe - Men's
Built for battle on the trails through rain or shine, the Five Ten Men's Hellcat Pro Shoe barrels around berms and flies through pump tracks with confident comfort and protective performance. A lace and hook-and-loop closure combo cinches down the perfect fit quickly and easily, while its...
<< Prev | Back | 1 | 2 | 3 | 4 | 5 | 6 | 7 | 8 | 9 | 10 | More | Next >>