Mens Mountain Shoes - Road Bike Shop
Shop
>
Men's Apparel Clothing
>
Men's Apparel Mountain Bike Clothing
>
Men's Apparel Mountain Shoes
Shimano SH-XC31 Cycling Shoe - Men's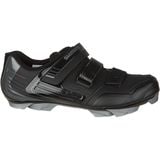 When looking for mountain biking shoes, comfort and efficiency are the two most important criteria to consider. With their solid uppers, fiberglass-reinforced soles, and inimitable Dynalast design, the Shimano SH-XC31 Mountain Bike Shoes meet them both. The XC31s' knack for smoothing the trail is...
Shimano SH-XC51 Cycling Shoe - Men's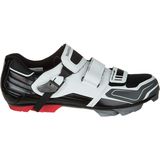 The SH-XC51 Mountain Bike Shoes are built for XC racing performance and borrow heavily from Shimano's top-shelf offerings to deliver you the latest technology at an entry-level price. Shimano's Dynalast technology delivers you the most precise and comfortable fit with the most effective power...
Shimano SH-XC61 Shoes - Men's
Retail Price:
$199.95
Our Price: $119.97
buy now
Shimano's new SH-XC61 shoes are more than just a pile of numbers and letters. They're an extremely versatile cross country shoe that can easily pull race duty or all-day, beer pace duty. At the core is Shimano's Dynalast outsole, which is carbon fiber-reinforced for stiffness, which translates...
Shimano SH-XC7 Cycling Shoe - Men's
If the SH-XC9 is Shimano's shoe equivalent to its superlative XTR drivetrain, then the SH-XC7 is analog to XT, borrowing a heap of inspiration from its top-tier sibling to bring industry leading function to those of us on a bit more of a budget. Given that the XC7 is a race-ready shoe, the...
Shimano SH-XC7 Cycling Shoe - Wide - Men's
The SH-XC7 Men's Wide Cycling Shoe isn't the top model in Shimano's cross-country line, but it does represent the greatest leap forward in a function to price ratio. In this regard, it's similar to the XT M8000 groupset, sacrificing a few grams of weight and some high-end features to XTR M9000...
Shimano SH-XC70 Shoes - Men's
Retail Price:
$269.95
Our Price: $148.47
buy now
Make no bones about it--the Shimano XC70 shoe is carbon soled race-ready footwear. The difference between, aside from the price, this shoe and its much more expensive sibling, the XC90, is the grade of carbon fiber. But, with a weight penalty of about ten grams a shoe, however, the XC70 is...
Shimano SH-XC90 Shoes - Men's
Retail Price:
$369.95
Our Price: $184.97
buy now
The SH-XC90 Shoes are Shimano's purpose-designed, cross-country race shoe. They're fully heat-moldable, which ensures a precise fit, and the Rovenica synthetic leather uppers do a good job of conforming to your foot without stretching out, so you get the same fit over the life of the shoes. The...
Shimano SH-XM700 Cycling Shoe - Men's
When you're planning an epic bikepacking adventure, you don't want to rely on just any old pair of off-road shoes to get you through it. You need shoes that will protect your feet from unexpected weather conditions, walk well, and survive the rigors of adventure. The Shimano Men's SH-XM7 Bike...
Shimano SH-XM900 Cycling Shoe - Men's
If you're lucky enough to be stocking up on gear for your next bikepacking trip or tour, Shimano's SH-MX9 Bike Shoes make a strong case as the shoes you should take along with you on your adventures. Shimano constructs the SH-MX9 with a durable nubuck leather upper, backed by a reinforced rubber...
Sidi Breeze Rain Shoe - Men's
Retail Price:
$299.95
Our Price: $119.98
buy now
While the Sidi Men's Breeze Rain Shoe technically falls under the "mountain bike" category, most riders we know would cringe at the idea of rolling through their coveted local trails in the rain. That said, our inner 'cross racer and gravel adventurer gets more than geeked at the idea of a lugged...
<< Prev | Back | 11 | 12 | 13 | More | Next >>