Mens Mountain Shoes - Road Bike Shop
Shop
>
Men's Apparel Clothing
>
Men's Apparel Mountain Bike Clothing
>
Men's Apparel Mountain Shoes
Shimano SH-CT71 Cycling Shoe - Men's
Retail Price:
$99.95
Our Price: $69.96
buy now
Pulling on a pair of $400, 170g carbon-soled slippers for a commute or spin class is excessive, so Shimano designed the SH-CT71 Men's Cycling Shoes to offer a more practical alternative for errands and utilitarian use. The shoes rate a three out of 12 on Shimano's stiffness scale, so they're not...
Shimano SH-CT80 Cycling Shoe - Men's
Stay connected to your trail-oriented passions as you commute through the urban jungle. Shimano constructs the SH-CT80 Cycling Shoes with soft, stretch-resistant leather uppers, a protective toe box, and a ladder-shaped shank plate in the sole for ease when walking. If you are in a rush, you'll...
Shimano SH-M065 Cycling Shoe - Men's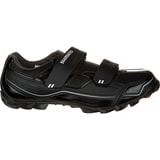 Retail Price:
$79.95
Our Price: $55.96
buy now
Whereas Shimano's XC line of shoes is aiming for the podium, Shimano also understands that not everyone's aspirations are competitive, and not everyone wants to waddle around off the bike in those soccer-cleat-like mountain shoes that are all too common. The company's solution comes in the form...
Shimano SH-M089 Cycling Shoe - Men's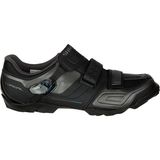 Retail Price:
$119.95
Our Price: $75.57
buy now
You want to spend your time enjoying mountain biking and getting to your destination, not obsessing over carbon layup and gram reductions. With the SH-M089 Cycling Shoe from Shimano, you will find highly adjustable, comforting ratchet and hook-and-loop closures and performance in the TORBAL nylon...
Shimano SH-M089 Cycling Shoe - Wide - Men's
Unless you're a Lycra-clad XC pro or touring the enduro circuit, chances are a day in the saddle spans all manner of terrain and conditions. Shimano's SH-M089 Wide Men's Cycling Shoe may seem out of place to the first two types of riders, but it's right at home as the hooves for the everyday...
Shimano SH-M200 Shoes - Men's
Retail Price:
$179.95
Our Price: $98.97
buy now
The Shimano Men's SH-M200 Mountain Bike Shoes combine the low weight and efficiency of XC shoes with the sturdy construction of AM shoes to protect your feet while you charge whatever trail you please. Focused on the needs of all-mountain riders, the M200s use a blend of tough synthetic leather...
Shimano SH-ME5 Cycling Shoe - Men's
The ME5 Men's Cycling Shoe is the most robust member of Shimano's beat-'em-up trail and enduro shoes, recommending it for everything up to--and often including--gravity shuttle laps. Its key technology may well be the Torbal sole, which is engineered to flex in specific ways in order to translate...
Shimano SH-ME7 Cycling Shoe - Men's
Retail Price:
$199.95
Our Price: $159.96
buy now
Striking a balance between XC lightness and enduro durability is no easy task, but Shimano is up to the challenge with its SH-ME7 Men's Cycling Shoes. They give all-mountain/enduro riders a lightweight option with ample protection and traction, without sacrificing responsiveness on the pedals....
Shimano SH-MT3 Cycling Shoe - Men's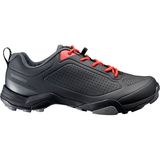 While streamlined road shoes and burly trail shoes have their place, neither is very comfortable to wear walking through the grocery store amidst an afternoon of bike-powered errands or spontaneously scrambling up the trail to a waterfall you spotted while exploring a new riding route. Get...
Shimano SH-MT5 Cycling Shoe - Men's
When roll into a beautiful campground nestled among the high mountain evergreens, it's nice to know you're wearing your Shimano Men's SH-MT5 Cycling Shoes to cover the unrideable trek to your evening's accommodations. Designed with outdoor adventuring in mind and appearing stealthily like an...
<< Prev | Back | 11 | 12 | 13 | More | Next >>