Mens Mountain Shoes - Road Bike Shop
Shop
>
Men's Apparel Clothing
>
Men's Apparel Mountain Bike Clothing
>
Men's Apparel Mountain Shoes
Diadora X-Vortex Pro Shoes - Men's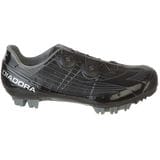 Retail Price:
$289.95
Our Price: $231.96
buy now
Diadora's ultra-stiff X-Vortex Pro Mountain Bike Shoes are designed to put maximum power to your pedals so can rip trails. Diadora uses a carbon fiber sole that registers a 10/12 on the stiffness index to provide optimal power transfer. The X-Vortex's upper features Suprell-Tech Morpho AM Cage...
Fi'zi:k M3B Uomo Boa Shoe - Men's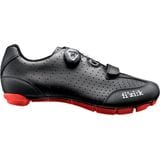 Retail Price:
$274.95
Our Price: $219.96
buy now
Despite its understated styling (and it's fun-to-say name), the Fi'z:k Uomo Boa shoe is all about the business of going fast. From the high-tech synthetic upper to its carbon fiber sole and everything in between, the Uomo Boa feels the need for speed. The Fi'z:k M3 Uomo wraps your foot in a...
Fi'zi:k M4B Uomo Boa Shoe - Men's
Seamlessly blending comfort, fit, power transfer, low weight, and trail-tough resilience, the Fi'zi:k Men's M4B Uomo Boa Shoe is ready to handle XC, all-mountain, and trail rides with aplomb. The M4B boasts a light, yet tough carbon-reinforced sole with TPU-injected studs to ensure both reliably...
Fi'zi:k M5B Uomo Boa Shoe - Men's
Retail Price:
$184.95
Our Price: $157.21
buy now
Few names in the business are as synonymous with cockpit feel as the former saddle manufacturer, Fizik. We say former saddle manufacturer not because Fizik is no longer making saddles, but because it's expanded its cockpit offerings to include every point of rider/machine contact, including kit...
Fi'zi:k M6B Uomo Boa Shoe - Men's
The men's M6B Uomo Boa Shoes bring Fizik's classy, modern style to the dirt with durability and functionality to weather hard corners and technical trails. They feature a carbon reinforced nylon sole, which isn't quite as stiff as the top-end, full carbon fare, but also carries with it a much...
Five Ten Danny MacAskill Shoe - Men's
If you spend as much time as MegaSkill riding hay bales, jumping over trees, and getting creative on the trails, you should be rallying around in his signature kicks--the Five Ten Danny MacAskill Shoes. Based on Five Ten's trail-rippin' Freeride Shoe, the Danny-optimized version features a beefed...
Five Ten Dirtbag Shoe - Men's
Given the breadth of disciplines covered by its product line, we're pretty sure Five Ten's got all five digits from both of its hands in ten difference pies. The men's Dirtbag Shoes prove there's room for overlap, though, providing a solid platform for everything from skate sessions at the park,...
Five Ten District Clipless Mountain Bike Shoe - Men's
Five Ten knows how life goes for the avid mountain biker stuck working the daily grind. Sometimes (okay, often) we have to hit the trail at the crack of dawn to make sure we get some miles dialed in before work. When you're tired of hearing your boss complain about the trail of mud you're...
Five Ten District Mountain Bike Shoe - Men's
Your lunch break at work isn't enough time for lengthy wardrobe changes into riding gear, but when your crew is hitting you up for mid-day dirt jump sessions it's hard to say no. The Five Ten District Mountain Bike Shoe is a time saver when you need it, walking the balance between fashion-forward...
Five Ten Freerider Canvas Shoe - Men's
Five Ten's men's Freerider Canvas Shoes may not be the first pair of kicks to fit in on the trail, at the park, or at the bar, but they are the first to marry the Freerider body and sole to the always-appropriate look of canvas. By cloaking a pedal-ready build with a canvas upper, the Freerider...
<< Prev | Back | 1 | 2 | 3 | 4 | 5 | 6 | 7 | 8 | 9 | 10 | More | Next >>