Mens Mountain Bike Tops - Road Bike Shop
Shop
>
Men's Apparel Clothing
>
Men's Apparel Mountain Bike Clothing
>
Men's Apparel Mountain Bike Tops
DAKINE Rail Jersey - Short-Sleeve - Men's
The DAKINE Rail Jersey is designed to keep you cool on sweltering summer rides, and features a casual cut for added style and comfort. The Rail is made with Quick Dry polyester, which is lightweight and is designed to wick moisture away from the skin to enhance evaporation. DAKINE includes mesh...
DAKINE Range Jersey - Short-Sleeve - Men's
Retail Price:
$49.95
Our Price: $27.47
buy now
It's a take-no-prisoners type of world out there on the trail, filled as it is with deer, antelope, and slow riders spitting discouraging words. At least you have Dakine's Range Men's Jersey to keep you cool and dry while you pedal after loose lil' dogies or hit the trail for an after-roundup...
DAKINE Range Jersey - Short-Sleeve - Men's
Retail Price:
$49.95
Our Price: $32.47
buy now
Ditch the city for the solace of twisty singletrack and expansive horizons with the Dakine Men's Range Jersey. As its name suggests, the Range caters to riders venturing deep into the mountains in search of the best trails. Its tailored fit reduces overall bagginess, but without sacrificing...
DAKINE Shop Rail Jersey - Short-Sleeve - Men's
Down for hitting lift-serviced laps at the local resort? How about pushing up a 2,000-foot climb for the plunging downhill that follows? Ready for any riding adventure, the Dakine Men's Shop Rail Jersey brings well-ventilated comfort and stink-free wear to your trail-shredding antics. Its...
DAKINE Tech T Jersey - Short Sleeve - Men's
Show up to the trailhead looking like you just finished wolfing down burgers at a backyard gathering and your friends will all be like "Take the lead, chubby," but Dakine's Tech T Men's Jersey will help you leave your crew in the dust no matter how much cookout fare you've recently consumed....
DAKINE Vectra Jersey - Short-Sleeve - Men's
The Dakine Men's Vectra Short-Sleeve Jersey doesn't just look good, it keeps you cool on long trail rides or hot laps on the lift. With 130g Quick Dry polyester wrapped around you, sweat will quickly wick away and evaporate into the dust you leave behind. The jersey uses Microban antimicrobial to...
De Marchi SL Base Layer - Long Sleeve - Men's
Retail Price:
$128.95
Our Price: $51.58
buy now
When the temperatures drop and the wind feels more biting than cool, layer De Marchi's long-sleeve SL Base Layer for men under your jacket to facilitate moisture transfer away from your skin and keep you warm and dry. Made in Italy with Italian-sourced materials, the base layer fits close to the...
De Marchi Superleggera Cycling Base Layer - Short Sleeve - Men's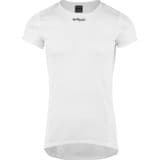 Retail Price:
$68.95
Our Price: $27.58
buy now
Choosing the right base layer can make all the difference between spending your ride time shivering and clammy, overheating and dripping sweat, or comfortably temperate and taking in the scenery. The De Marchi men's Short Sleeve Superleggera Cycling Base Layer hits the sweet spot between...
De Marchi Ultraleggera Baselayer - Men's
Retail Price:
$59.95
Our Price: $41.96
buy now
As you take inventory of kit while anticipating a late spring buildup of mileage in preparation for a busy summer, your baselayers should be an area to which you devote considerable attention. If your warm-weather baselayer has started to show its age after dutifully whisking moisture away from...
Etxeondo Labur Base Layer - Men's
Retail Price:
$56.35
Our Price: $36.63
buy now
Effortlessly layering under your favorite cycling jerseys, the Etxeondo Men's Labur Short Sleeve Base Layer keeps you blissfully cool on the warmest summer rides. Etxeondo Smooth fabric serves up a moisture-wicking blend of polypropylene and polyamide, with mesh insets for maximum breathability....
<< Prev | Back | 1 | 2 | 3 | 4 | 5 | 6 | 7 | 8 | 9 | 10 | More | Next >>