Mens Mountain Bike Tops - Road Bike Shop
Shop
>
Men's Apparel Clothing
>
Men's Apparel Mountain Bike Clothing
>
Men's Apparel Mountain Bike Tops
Assos NS.skinFoil_summer_s7 - Body Insulator - Men's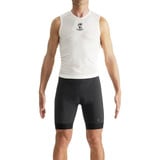 It's slightly misleading to call the Assos NS. skinFoil_summer_s7 a body insulator, because it's designed to help you stay cool on super-hot days, but we know what Assos is trying to say. "SkinFoil Body Insulator" is the catchall name for Assos' collection of baselayers, which range from...
Assos Ss.rallytrekkingJersey_evo7 with Base Layer - Men's
The Ss. rallytrekkingJersey with Base Layer represents the absolute pinnacle of Assos' mountain jersey technology. The rally trekking jersey is light, anatomically pre-shaped and protective. This moisture-wicking top layer is specifically designed to keep you cool when partnered with the included...
Assos SS.skinFoilSpring/Fall_s7 - Body Insulator - Men's
Maybe the Assos SS. skinFoilSpring/Fall_s7 Body Insulator has a handle that will tie your tongue in knots, but it's not actually that complicated if you break it down. Allow us: SkinFoil is Assos' name for its body-hugging, temperature-regulating baselayers, which are constructed with no visible...
Assos SS.skinFoilSummer_s7 - Body Insulator - Men's
Assos could have given their newest short-sleeve baselayer a simpler name, but we have to agree that the SS. skinFoilSummer_s7 Body Insulator tells you everything you need to know about itself, once you've broken it down a little bit. Allow us to help: SkinFoil is Assos' name for its body-hugging...
Biemme Sports Tank Underwear Top - Men's
Retail Price:
$98.95
Our Price: $29.68
buy now
Regardless of the weather, get out there and give it your all. The Biemme Men's Tank Underwear Top is made of a carbon-reinforced polyester that ensures thermoregulation, regardless of temperature, humidity, or the rigors of your ride. Stay cooler when it's hot and warmer when it's chilly, and...
Capo Pure Merino Short-Sleeve Baselayer - Men's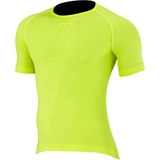 Retail Price:
$89.95
Our Price: $62.96
buy now
It's no secret that giving yourself extra insulation on the bike with a lightweight baselayer is an easy way to extend the time you get out of your summer kit. With the Pure Merino Men's Short-Sleeve Baselayer, Capo shakes up the idea that baselayers always need to come in white or black while...
Capo Torino 3D Base Layer - Short-Sleeve - Men's
Few things on the bike are worse than slaving up a massive climb, only to freeze on the descent in a frigid, sweat-logged jersey. Let the Capo Torino 3D Short-Sleeve Base Layer do the other hard work of properly regulating your body temperature. The super-light Dryarn fabric wicks away all that...
Capo Torino Carbon Base Layer - Sleeveless - Men's
The Capo Men's Torino Carbon Sleeveless Base Layer is a high-performance layer for warm-weather rides. Its Dryarn fabric actively wicks moisture off your body for a cool, airy feel, with embedded carbon particles for antistatic and antimicrobial properties.
Castelli 10m Lung Warmer Top - Men's
When you step out into the garage to pack the car on the morning of your 'cross race, you realize you can see your breath preceding you in white clouds. The grass is a little frosty in the yard, which means it's going to be even chillier under tree cover when you get to the race. Step away from...
Castelli Core Mesh 3 Baselayer - Short-Sleeve - Men's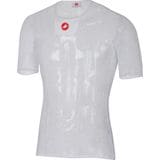 Before you assume that all baselayers are created equally, take Castelli's Core Mesh 3 Baselayer out on a spring ride with an open mind. Rather than focusing on providing breathable insulation as you ride, a warm-weather baselayer like the Core Mesh 3 actually helps you stay cooler while you ride...
<< Prev | Back | 1 | 2 | 3 | 4 | 5 | 6 | 7 | 8 | 9 | 10 | More | Next >>