Mens Mountain Bike Tops - Road Bike Shop
Shop
>
Men's Apparel Clothing
>
Men's Apparel Mountain Bike Clothing
>
Men's Apparel Mountain Bike Tops
ZOIC Libertee 20 Bike Jersey - Men's
Retail Price:
$39.95
Our Price: $23.97
buy now
Zoic's Libertee 20 Bike Jersey is a simple solution to an often over-engineered piece, with just essential features for the trail. This includes built-in sun protection and two side zippered stash pockets that, when combined with multi-pocket shorts, eliminates the need for heavy and stuffy packs...
ZOIC Nirvana 1/4-Zip Bike Jersey - Men's - Men's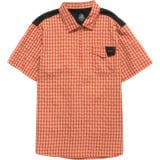 Retail Price:
$73.95
Our Price: $48.07
buy now
At one time, about 16 years ago, Zoic's woven and zipped top was the ultimate shop shirt. With a little tweaking in the technical department, the timeless Nirvana 1/4-Zip Bike Jersey is now perfect for shredding local singletrack, knocking off errands, or catching up with friends at the watering...
ZOIC Nirvana Bike Jersey - Men's - Men's
Retail Price:
$73.95
Our Price: $29.58
buy now
Since we, as mountain bikers, are blessed with the option of wearing baggy clothes while we ride, we can mix up the style a bit more than roadies. We can even wear jerseys that don't make us look like we're headed to wrestling camp. A roadie wouldn't be caught dead in something like the Zoic...
ZOIC Protege Jersey - Men's - Men's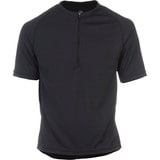 Retail Price:
$54.95
Our Price: $38.46
buy now
The Zoic Protege Jersey is the resurrection of an old garment name with new tech in homage of the company's 20-year anniversary. Back then, as now, the Protege values simplicity while still progressing what a great mountain jersey can and should be. Made of the company's proprietary ZO-Wick...
ZOIC Tradesman Flannel Jersey - Long Sleeve - Men's
Few fabrics have come to define American masculinity as much as flannel. As with its near relation denim, flannel's frontier taming, resource gathering powers have been adapted to all landscapes, from the woods to the hills to the concrete heart of the urban metropolis. With the Tradesmen Flannel...
ZOIC Transition Tech Tee - Men's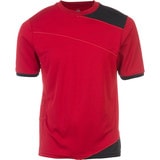 Retail Price:
$44.95
Our Price: $17.98
buy now
Looking for some new shred-ready threads? The Zoic Transition Tech Tee will break your old habits of wearing low-tech, goofy-looking gear when you head out to the park or hit the trails. Cut from the company's 100%-recycled polyester ZO-Tech fabric, the Transition is a jersey that promises...
ZOOT Performance CompressrX Top - Long-Sleeve - Men's - Men's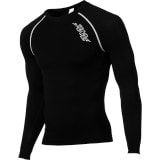 Retail Price:
$69.95
Our Price: $27.98
buy now
The term 'compression' is thrown around rather loosely within this industry, but there are a handful of true compression-driven designers out there, with one of the foremost being Zoot. Accordingly, you'll find that pieces like the Performance CompressrX Long-Sleeve Top uses compression that...
<< Prev | Back | 21 | 22 | 23 | More | Next >>