Mens Mountain Bike Tops - Road Bike Shop
Shop
>
Men's Apparel Clothing
>
Men's Apparel Mountain Bike Clothing
>
Men's Apparel Mountain Bike Tops
Kitsbow All Mountain Polo Shirt - Men's
Retail Price:
$149.95
Our Price: $89.97
buy now
Following in the footsteps of its detail-rich apparel siblings, Kitsbow's All Mountain Polo Shirt is much more than meets the eye. While on the surface it looks like a clean, fitted polo, a close examination reveals that it's actually a highly technical riding jersey -- one that seamlessly moves...
Kitsbow Icon Bike Shirt - Long-Sleeve - Men's
Urban cyclists love flannel -- let's be real, most people seem to love flannel these days -- but it's tough to find a flannel shirt that fits when you're in the saddle. Kitsbow's remedying that with the Icon Men's Bike Shirt, a classic rugged flannel that's cut with stretch shoulder gussets and...
Kitsbow Merino Mountain Hooded Sweater - Long-Sleeve - Men's
Bike layers are usually pretty much all the same thing -- polyester, Lycra, and synthetic fabrics. They work well enough, but synthetics will never match the natural softness, moisture management, and comfort of Merino wool. Kitsbow, understandably, wasn't satisfied with the state of things, so...
Kitsbow Ride Tee Jersey - Short Sleeve - Men's
Everything about the men's Ride Tee Jersey from Kitsbow is simplified. From the number of pockets ? reduced to one rear and one chest ? to the subtle branding and merino blend, the Ride Tee is meant to eliminate all the pomp and circumstance of "performance" cycling kit in favor of a tastefully...
Kitsbow Rudy Jersey - Short Sleeve - Men's
Retail Price:
$219.95
Our Price: $131.97
buy now
Take a close look at the Rudy Jersey and you'll see what Kitsbow's designers mean when they say they're obsessed with the details. On the surface it might seem to be just a sharp-looking short sleeve riding top, but further examination shows that it's much more. The best fabrics, hardware, and...
Kitsbow SASTAN Jersey - Long-Sleeve - Men's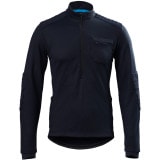 Retail Price:
$197.95
Our Price: $118.77
buy now
When Marin-based mountain bike apparel label Kitsbow launched its inaugural collection, two pieces made up the core of its line. These were the Soft Shell A/M shorts and the SASTAN long sleeve men's jersey. The designers knew that if they were to do it right, these first items put forth to the...
Louis Garneau 1001 Singlet Base Layer - Sleeveless - Men's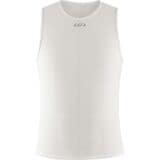 As mountain dwellers, we feel obligated to impart some hard-fought winter wisdom upon you: layering is the key to activity in frigid weather. You can always take a layer off, but a bulky jacket will have to stay on until you stop riding. One layer that needn't ever be removed is the Louis Garneau...
Louis Garneau 3002 Tee Base layer - Short-Sleeve - Men's
Competitive Cyclist presents: An Unhappy Scenario. When you head out on your first winter ride with your super-insulated, wind-blocking jacket, you're comfortable at first, but then your body warms up and you start sweating a little. After about 10 minutes, this sweat turns to clammy yuck against...
Louis Garneau Andes Jersey - Short-Sleeve - Men's
Like its high-elevation namesake suggests, the Louis Garneau Men's Andes Jersey keeps you pleasantly cool when you're ripping trails in the dead hot of summer. Its DryTex 2002 body fabric regulates your body temperature by wicking sweat to the jersey's surface where it can readily evaporate....
Louis Garneau Diamond MTB Jersey - Men's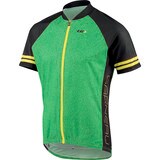 Retail Price:
$79.95
Our Price: $35.98
buy now
Perfect spring days inevitably give way to scorching summer temperatures, and you'd better be ready when the mercury starts to boil. Louis Garneau's Diamond MTB Men's Jersey is made to keep you cool, with a semi-fitted design that improves its moisture management and a full-length front zipper to...
<< Prev | Back | 11 | 12 | 13 | 14 | 15 | 16 | 17 | 18 | 19 | 20 | More | Next >>