Mens Mountain Bike Bottoms - Road Bike Shop
Shop
>
Men's Apparel Clothing
>
Men's Apparel Mountain Bike Clothing
>
Men's Apparel Mountain Bike Bottoms
ZOIC Black Market Liner Bike Short - Men's - Men's
Zoic crammed an amazing load of features into the Black Market Mountain Bike Short--unheard of at this price. A high-end, removable chamois, a built-in nylon webbing belt, and a full array of pockets are just the tip of the iceberg.The most important feature of the Black Market short is its...
ZOIC Downtown Pants - Men's - Men's
Zoic is a company run by real humans who live in the real world, too, which is why when they set out to make a casual pair of cycling pants, it's not just looser-fitting Lycra that's supposed to pass for bar-ready. No, the Zoic Downtown Pants are real-deal bottoms that have details that make them...
ZOIC Essential Liner Short - Men's - Men's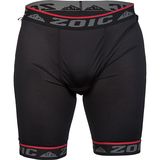 The Essential Liner Shorts are part of the Interchangeable Padded Liner (IPL) System, which makes for a seamless integration with Zoic's outer shorts. The Essential Liner features an anatomically contoured ZO-Tech chamois, treated with ZO-Wick moisture management, to ensure comfort and dryness on...
ZOIC Ether Camo Shorts - Men's - Men's
As wearers of many cycling caps, we have learned to appreciate pieces of cycling kit that don't paint themselves into corners with overly specific use restrictions. The folks at ZOIC must know us, because their Ether Camo Shorts move freely with us between cycling disciplines and demands. Or...
ZOIC Ether LT 15in Shorts - Men's - Men's
A longer version of Zoic's Ether Shorts, the 15in LT provides an additional three inches of inseam length to this durable yet supple all-mountain favorite. This is due to the DuraStretch fabric and Zoic's fusion inseam gusset that reinforces the Ether LT and eliminates snagging of the saddle. For...
ZOIC Ether Short - Men's - Men's
The ZOIC Ether Shorts are a mash-up of high-tech features, fantastic comfort, and understated style, and as per all ZOIC offerings, it's made of recycled materials wherever possible. The most important feature of the Ether short is its chamois liner. The chamois, called the Zo-Tech, is Zoic's...
ZOIC Ether Shorts - Men's - Men's
With stretchy fabric, a removable liner, and chafe-free taped seams, the Zoic Ether Mountain Bike probably sounds like the high-end offerings from other bike apparel manufacturers. Where the Ether short really shines, however, is that it has all this plus over-the-top style.The most important...
ZOIC Ether Stretch Shorts - Men's - Men's
The DuraFlex fabric found on Zoic's Ether Stretch Shorts is durable enough for all-mountain conditions, yet it's still supple enough to move with every pedal stroke. The shorts use Zoic's fusion inseam gusset to reinforce the Ether and eliminate snagging of the saddle. For versatility, the Ether...
ZOIC Hoodoo Camo Shorts - Men's - Men's
Sometimes, blending in helps you stand out. The Zoic Hoodoo Camo Shorts take the radness of the company's Hoodoo Shorts and gets them all camo'd up for your next jaunt of both style and trail. The Hoodoos are made from Zoic's tough but flexible Durastretch fabric, which is breathable enough to be...
ZOIC Hoodoo Shorts - Men's - Men's
Conjure up some drop-seat voodoo when you pull on the Men's Hoodoo Shorts, and bring the heat on your downhill sled. Vents keep you cool while you hammer switchbacks and whoops, and a grip of pockets hold your keys and good luck trinkets. Zoic added knee reinforcements, a stretchy crotch gusset,...
<< Prev | Back | 11 | 12 | 13 | 14 | More | Next >>