Mens Mountain Bike Accessories - Road Bike Shop
Shop
>
Men's Apparel Clothing
>
Men's Apparel Mountain Bike Clothing
>
Men's Apparel Mountain Bike Accessories
100% AirMatic Gloves - Men's
Retail Price:
$27.50
Our Price: $17.87
buy now
The 100% AirMatic Gloves may sound like they feature some pneumatic technologies developed in the 1950s, but we promise, they're no more and no less than great all-around mountain bike gloves. While the company's iTrack and Celium gloves are minimal in design, the AirMatics are a bit more...
100% Brisker Gloves - Men's
OK, so the Ride 100% Brisker Gloves aren't weightless, but you'll be pleasantly surprised by how light they are for how much warmth they afford. An insulated backing is the primary differentiator between the Briskers and 100%'s more traditional AirMatic gloves. There's also a moisture-wicking...
100% Celium Gloves - Men's
The 100% Celium Gloves are designed for riders who really don't want to be wearing them, but who recognize the benefits of them. With no cuffs, no closures, a super lightweight mesh backing, and a single-layer, highly tactile, perforated Clarino artificial leather, the gloves are so minimal you...
100% Celium II Full-Finger Glove - Men's
The 100% Celium II Full-Finger Men's Glove maximizes tactile grip and bar feel over burlier padded gloves you'll find downhill racers using. There is a bit of padding along the thumb, which aides in comfort when you're holding on for dear life across sketchy trails with big rocks and sudden drops...
100% iTrack Gloves - Men's
The Ride 100% iTrack Gloves aren't quite as light and minimal as the barely-there Celiums the company makes, and for some riders, that's perfect. The mesh backing is slightly heavier and more protective than that of the Celiums, and the single-layer Clarino palm isn't quite as heavily perforated....
100% Ridecamp Glove - Men's
You may not realize it, but your gloves are on the front lines of controlling your bike when you're raging down steep mountains on a perilously skinny trail. Look no further than the 100% Men's Ridecamp Glove for the very best in form-fitting comfort and tactile grip when mistakes are costly and...
100% Ridecamp Glove - Women's
Replace your bulky, mismatched gloves with the streamlined 100% Ridecamp Glove this season and enjoy miles of precise shifts and lever throws on everything from brown pow, to mud, to moon dust. This versatile trail glove comes sans padding, so there's no risk of extra bulk getting in your way of...
100% Ridefit Glove - Men's
Nonrestrictive and developed with the help of professional racers, the 100% Ridefit Glove is designed for both performance and comfort. A polymesh fabric at the back of the hand promotes airflow while wicking moisture away to keep you cool and dry. A perforated, single-layer palm provides...
100% Simi Gloves - Men's
Some rides are just too much for normal riding gloves. Thick, overgrown trails and tight singletrack through dense Aspens can be hell on your hands. Ride 100% has built the one glove that can stand up to these conditions--the Simi. While it may look like a normal glove, the Simi holds a secret....
2XU 24/7 Compression Sock - Men's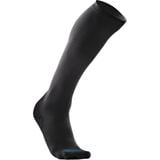 Wearing compression while you exercise can feel great for your muscles, but it's often not designed to be worn for hours after your workout is done. 2XU specifically created its 24/7 Compression Sock for that purpose, providing relief whether you're looking to improve circulation during long...
<< Prev | Back | 1 | 2 | 3 | 4 | 5 | 6 | 7 | 8 | 9 | 10 | More | Next >>