Mens Mountain Bike Accessories - Road Bike Shop
Shop
>
Men's Apparel Clothing
>
Men's Apparel Mountain Bike Clothing
>
Men's Apparel Mountain Bike Accessories
Capo Active Compression L 15cm Sock - Men's
Whether you're pushing yourself through a 200+ mile sportive or an endurance XC event, the extra cushioning in the footbeds of Capo's Active Compression L 15cm Socks add forgiveness through extra comfort. Despite that extra cushion, the ultra-thin, single-layer cuff keeps things light and the...
Capo Avante 200 Olefin Sock - Men's
Retail Price:
$19.95
Our Price: $10.97
buy now
Not many people get excited about socks, but they should. You care about your touch points when it comes to shoes, saddles, and handlebar tape, and your sock selection may be just as integral to your comfort in the saddle as any of these. Given their importance in ride comfort, we think the Capo...
Capo Euro 200 15cm Wool Sock - Men's
When chillier autumn mornings cue you to retire your ultra-light summer socks, it only makes sense to replace them with a classic wool design like the Capo Euro 200 15cm Wool Socks. A 15cm ribbed cuff, complete with an elegant horizontal stripe, lends the Euro purposeful old world charm, and its...
Capo Euro Seasonal Wool Sock - Men's
Not only is merino wool extremely comfortable in cool, in-between weather, but it's also great for a wide variety of conditions spanning from crisp fall mornings to scorching summer days. Not surprisingly, the Capo Euro Seasonal Wool Socks harness the thermo-regulating performance and natural...
Capo Gio Meryl Socks - Men's
Your old socks have seen a lot of smelly feet and sweaty days over the past few seasons, and they now turn a more indistinguishable shade of gray every time you wash them. If you want to start the season off on that note, we can't stop you, but if you want to give your hardworking feet an upgrade...
Capo Meryl 14 200 Needle Sock - Men's
Sadly, not all socks are created equally. And if you've worn a bad pair over the course of a century, you know exactly what we're talking about. Thankfully, though, Capo understands your plight, and accordingly, it created its new Meryl 14 200 Needle Socks. We understand that these socks feature...
Capo Meryl 8 200 Needle Sock - Men's
If you think that socks are 'just socks,' we feel bad for your feet. Not surprisingly, Capo shares our level of compassion and concern, and accordingly, it created its new Meryl 8 200 Needle Socks. We understand that these socks feature a rather confusing title. So, let us break it down for you....
Capo Strada 200 Sock - Men's
If you find yourself discovering a large abundance of sweat stains and worn toes as you do some early-season sifting through your sock drawer, Capo's Strada 200 Olefin Socks should probably be on your upgrade list. Stitched with 200-thread count Meryl Skinlight yarns, the socks have a contoured...
Capo Vivo Meryl Sock - Men's
We all know that a brand new pair of socks can totally change our outlook on going for a ride. If you've had a hard time convincing yourself to put your kit on and get out the door over the past few weeks, then it's probably time for a new pair, and the bright chevron stripes and smooth Meryl...
Castelli Arrivo Thermo Head Thingy Neck Gaiter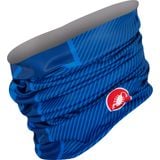 Retail Price:
$29.95
Our Price: $14.97
buy now
The nineteenth century witnessed the rise and fall of one of Western culture's most unfortunate fashions: the neck beard. The justification given for neck beards was either to ward off dire throat colds (Thoreau) or to increase sex appeal (also Thoreau). While we know for certain that neck beards...
<< Prev | Back | 1 | 2 | 3 | 4 | 5 | 6 | 7 | 8 | 9 | 10 | More | Next >>