Mens Mountain Bike Accessories - Road Bike Shop
Shop
>
Men's Apparel Clothing
>
Men's Apparel Mountain Bike Clothing
>
Men's Apparel Mountain Bike Accessories
Castelli Free 3 Socks - Men's
While cycling tends to involve enclosing your feet in a pair of shoes, Castelli's Free 3 Socks have the effect of providing at least the feeling of freedom. The use of silver-infused Meryl Skinlife yarns throughout their bodies sets the Free 3 Socks apart from competitors with permanent...
Castelli Free 6 Socks - Men's
Intended to keep your feet as cool as possible in hot conditions, the Castelli Free 6 Socks are especially light and breathable. They're made of Meryl Skinlife antimicrobial polyester fiber yarn, so they evaporate moisture extremely well and noticeably reduce the accumulation of odors in the...
Castelli Free 9 Sock - Men's
The Castelli Free 9 Sock is to regular socks as space shuttles are to balsa-wood gliders--the basic design is similar, but everything that matters is totally different. The Free 9 is woven from Meryl Skinlife fibers, which are engineered to be antimicrobial, highly breathable, and moisture...
Castelli Free Performance Cap - Men's
Retail Price:
$19.95
Our Price: $15.96
buy now
The Castelli Free Performance Cap takes the traditional cotton cycling cap style to a more technical level. The rear six panels of the cap are a lightweight polyester mesh for breathability and moisture management, and the front two are a more aggressively-wicking and absorbent microfiber...
Castelli Gregge 12 Socks - Men's
Retail Price:
$19.95
Our Price: $13.96
buy now
Full-length coverage and the versatility of Merino wool make the Castelli Gregge 12 Sock a great addition to your early- and late-season gear.
Castelli Head Thingy - Men's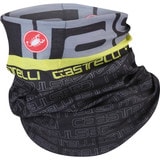 Whether you use it as a neck warmer, cap, bandana, balaclava, or headband, the Castelli Head Thingy's stretchy and moisture-wicking polyester knit fabric will keep you warm.
Castelli Head Thingy - Women's - Men's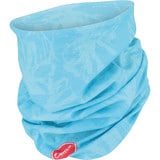 Retail Price:
$29.95
Our Price: $20.96
buy now
If you like having some protection on your head against cool breezes and bugs, but don't like how a typical cycling cap fits under your helmet, check out the Castelli Women's Head Thingy. The tubular-shaped polyester knit Head Thingy can wrap around your head to protect your ears, neck and upper...
Castelli Headband - Men's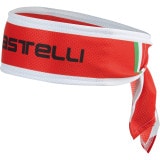 By using a headband in conjunction with your helmet, you stay cool and keep the inevitable sweat from making its way to your eyes. Castelli knows how important these seemingly small issues are for cyclists, which is why it developed the Headband as a lightweight solution. The Castelli Headband...
Castelli Logo 3 Socks - Men's
Castelli's Logo 3 Socks have one, giant advantage over other cycling socks: they don't absorb water. Any moisture that hits their yarn -- whether it's inside or out -- is shuttled to the surface and disposed of without any ceremony. This keeps your foot dry, which keeps your rides pleasant. The...
Castelli Logo 6 Socks - Men's
The Castelli Logo 6 Socks are the middle child in the polypropylene Logo line. Three centimeters shorter than the Logo 9 socks, as their name implies, their construction feels light and wicks moisture to stay dry. They are perfect for riders who don't like to wear socks but who also don't want to...
<< Prev | Back | 1 | 2 | 3 | 4 | 5 | 6 | 7 | 8 | 9 | 10 | More | Next >>