Mens Mountain Bike Accessories - Road Bike Shop
Shop
>
Men's Apparel Clothing
>
Men's Apparel Mountain Bike Clothing
>
Men's Apparel Mountain Bike Accessories
Castelli Head Thingy - Women's - Men's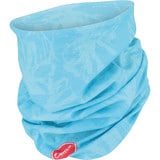 Retail Price:
$29.95
Our Price: $23.96
buy now
If you like having some protection on your head against cool breezes and bugs, but don't like how a typical cycling cap fits under your helmet, check out the Castelli Women's Head Thingy. The tubular-shaped polyester knit Head Thingy can wrap around your head to protect your ears, neck and upper...
Castelli Logo 3 Socks - Men's
Castelli's Logo 3 Socks bring a sting of moisture-wicking comfort and breathability to your daily ride with cool and dry polypropylene fabric, a compressive cuff, and a supportive mid-foot band to help out your arch as you put the miles behind you.
Castelli Logo 6 Socks - Men's
The Logo 6 Socks are part of the Castelli polypropylene line. And while they are three centimeters shorter than the Logo 9s, they feature the same lightweight polypropylene knit. This is a hollow-core fiber that works to pull moisture away from your skin to protect your toes from excessive...
Castelli Logo 9 Socks - Men's
Retail Price:
$16.95
Our Price: $13.56
buy now
There are socks, and there are Castelli socks. The Logo 9 is much, much more than your dad's white cotton ankle sock. Made from soft, hollow-core polypropylene, this 9cm sock moves moisture away from your foot efficiently and provides targeted compressive areas to cradle and support the foot.
Castelli Lowboy Socks - Men's
Comfy feet are the foundation that a good ride is built on, so finding a killer pair of socks is more necessity than luxury. Castelli's Lowboy Men's Socks fit the bill--and your feet--with a cooling, supportive design that uses Meryl Skinlife fabric to make sure your ride stays on solid footing....
Castelli Merino Socks - Men's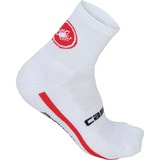 Retail Price:
$16.95
Our Price: $11.86
buy now
Extensive clinical study and mounting evidence in various fields of research has lead scientists around the industry to conclude that Merino wool is freakin' rad. It's naturally antimicrobial, extremely breathable, yet it one of the warmest fabrics per weight you can buy. Especially when ribbed...
Castelli Mezza Wool 9 Socks - Men's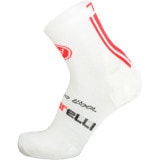 Retail Price:
$16.95
Our Price: $9.32
buy now
Have you ever set out on a chilly morning only to have temperatures rise by the middle of your ride? Thanks to the use of a lightweight 100% merino wool, Castelli Mezza Wool 9 Socks are perfect for those "in-between" rides. The Mezza 9 socks are designed to be as thin as summer socks (so they fit...
Castelli Ombra Beanie - Men's
Retail Price:
$29.95
Our Price: $14.98
buy now
Sure, you can ride in it, but the Castelli Ombra Beanie mostly just wants to keep it casual. The wool/acrylic blend will keep you warm, while its style will keep you cool.
Castelli Promessa Socks - Women's - Men's
Castelli's Promessa Socks enjoy permanent antimicrobial properties courtesy of the silver-infused Meryl Skinlife yarns used throughout their bodies. The mesh uppers provide breathability, allowing airflow to move across your feet, while the midsoles feature a band of gently compressive material...
Castelli Quindici Socks - Men's
Retail Price:
$19.95
Our Price: $13.96
buy now
Made from 100% merino wool, Castelli Quindici Soft Socks are the ideal choice for long winter rides in cold and windy conditions. By now you've hopefully learned the merits of wool. A traditional material renowned for its softness, merino wool keeps your feet warm and comfortable while letting...
<< Prev | Back | 1 | 2 | 3 | 4 | 5 | 6 | 7 | 8 | 9 | 10 | More | Next >>