Mens Mountain Bike Accessories - Road Bike Shop
Shop
>
Men's Apparel Clothing
>
Men's Apparel Mountain Bike Clothing
>
Men's Apparel Mountain Bike Accessories
Capo Meryl 8 200 Needle Socks - Men's
If you think that socks are 'just socks,' we feel bad for your feet. Not surprisingly, Capo shares our level of compassion and concern, and accordingly, it created its new Meryl 8 200 Needle Socks. We understand that these socks feature a rather confusing title. So, let us break it down for you....
Capo Strada 200 Needle Socks - Men's
Crazy patterns and clashing prints are all in good fun, but sometimes you want to reach for a pair of socks that will complement, rather than overshadow, the rest of your kit. Subtle dots and a bright range of colors suit Capo's Strada 200 Needle Socks to that description, and more importantly,...
Capo Strada 200 Olefin Socks - Men's
If you find yourself discovering a large abundance of sweat stains and worn toes as you do some early-season sifting through your sock drawer, Capo's Strada 200 Olefin Socks should probably be on your upgrade list. Stitched with 200-thread count Meryl Skinlight yarns, the socks have a contoured...
Capo Thermo Roubaix Skull Cap
Retail Price:
$39.95
Our Price: $17.58
buy now
Chances are, you don't have a 'special' helmet for the winter. Instead, you're trapped in the cold by the helmet's best summertime feature -- its ventilation. To free yourself from this conundrum, we suggest the Capo Thermo Roubaix Skull Cap. It's thin enough to fit under your helmet, but strong...
Capo Thermo Roubaix Winter Cap
Retail Price:
$49.95
Our Price: $27.99
buy now
Throughout the warmer months, your cotton cycling cap is a staple piece, so why not extend that fashion while also keeping your head from freezing? Luckily, Capo asked itself the same question, and in asnwer, the Thermo Roubaix Winter Cap was born. As its name implies, Capo's Thermo Roubaix...
Capo Vivo Meryl Socks - Men's
Reaching for a brand new pair of socks when you know you have a tough ride ahead of you can be a small but powerful piece of motivation. Capo's Vivo Meryl Socks, constructed with 200-needle Meryl Skinlife synthetic yarns, offer plenty of reassurance that your feet will be happy when you're facing...
Castelli Bandana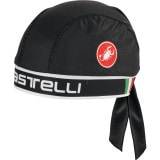 Retail Price:
$24.95
Our Price: $14.99
buy now
When your helmet pads soak through, perspiration has nowhere to go but down your face and neck. The sweat eventually moves to your sunglasses and eyes, which becomes irritating and causes you to pull your attention away from your riding. Avoid the salty streaks and burning eyes by wearing...
Castelli Duo Windstopper Socks - Men's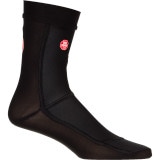 Retail Price:
$49.95
Our Price: $37.46
buy now
When you're riding in windy conditions, your feet need a little protection too. That's why Castelli dreamed up the Duo Windstopper Sock. Windstopper X-Lite fabric prevent wind chill from freezing your dogs, ultralight construction fits nicely with your shoes, and flat seams prevent discomfort on...
Castelli Estremo WS Skully Cap
Retail Price:
$39.95
Our Price: $27.88
buy now
Estremo WS Skully Cap
Castelli Free 6 Socks - Men's
Retail Price:
$14.95
Our Price: $11.21
buy now
Intended to keep your feet as cool as possible in hot conditions, the Castelli Free 6 Socks are especially light and breathable. They're made of Meryl Skinlife antimicrobial polyester fiber yarn, so they evaporate moisture extremely well and noticeably reduce the accumulation of odors in the...
<< Prev | Back | 1 | 2 | 3 | 4 | 5 | 6 | 7 | 8 | 9 | 10 | More | Next >>