Mens Mountain Bike Accessories - Road Bike Shop
Shop
>
Men's Apparel Clothing
>
Men's Apparel Mountain Bike Clothing
>
Men's Apparel Mountain Bike Accessories
Castelli Free 6 Socks - Men's
Intended to keep your feet as cool as possible in hot conditions, the Castelli Free 6 Socks are especially light and breathable. They're made of Meryl Skinlife antimicrobial polyester fiber yarn, so they evaporate moisture extremely well and noticeably reduce the accumulation of odors in the...
Castelli Free 9 Sock - Men's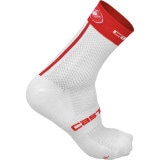 The Castelli Free 9 Sock is to regular socks as space shuttles are to balsa-wood gliders--the basic design is similar, but everything that matters is totally different. The Free 9 is woven from Meryl Skinlife fibers, which are engineered to be antimicrobial, highly breathable, and moisture...
Castelli Free Performance Cap - Men's
Retail Price:
$19.95
Our Price: $15.96
buy now
The Castelli Free Performance Cap takes the traditional cotton cycling cap style to a more technical level. The rear six panels of the cap are a lightweight polyester mesh for breathability and moisture management, and the front two are a more aggressively-wicking and absorbent microfiber...
Castelli Head Thingy - Men's
Whether you use it as a neck warmer, cap, bandana, balaclava, or headband, the Castelli Head Thingy's stretchy and moisture-wicking polyester knit fabric will keep you warm.
Castelli Head Thingy - Women's - Men's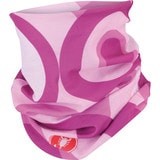 Retail Price:
$29.95
Our Price: $20.96
buy now
If you like having some protection on your head against cool breezes and bugs, but don't like how a typical cycling cap fits under your helmet, check out the Castelli Women's Head Thingy. The tubular-shaped polyester knit Head Thingy can wrap around your head to protect your ears, neck and upper...
Castelli Headband - Men's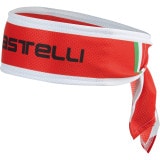 By using a headband in conjunction with your helmet, you stay cool and keep the inevitable sweat from making its way to your eyes. Castelli knows how important these seemingly small issues are for cyclists, which is why it developed the Headband as a lightweight solution. The Castelli Headband...
Castelli Logo 3 Socks - Men's
Castelli's Logo 3 Socks bring a sting of moisture-wicking comfort and breathability to your daily ride with cool and dry polypropylene fabric, a compressive cuff, and a supportive mid-foot band to help out your arch as you put the miles behind you.
Castelli Logo 6 Socks - Men's
The Logo 6 Socks are part of the Castelli polypropylene line. And while they are three centimeters shorter than the Logo 9s, they feature the same lightweight polypropylene knit. This is a hollow-core fiber that works to pull moisture away from your skin to protect your toes from excessive...
Castelli Logo 9 Socks - Men's
Retail Price:
$16.95
Our Price: $13.56
buy now
Castelli's Logo 9 Socks were introduced as part of its polypropylene line of road socks. The 9cm cuff provides plenty of coverage above the ankle, with a construction that's designed to feel light and dry fast. This makes them a great choice for warm days when you need breathable socks that have...
Castelli Lowboy Socks - Men's
Comfy feet are the foundation that a good ride is built on, so finding a killer pair of socks is more necessity than luxury. Castelli's Lowboy Men's Socks fit the bill--and your feet--with a cooling, supportive design that uses Meryl Skinlife fabric to make sure your ride stays on solid footing....
<< Prev | Back | 1 | 2 | 3 | 4 | 5 | 6 | 7 | 8 | 9 | 10 | More | Next >>