Mens Mountain Bike Accessories - Road Bike Shop
Shop
>
Men's Apparel Clothing
>
Men's Apparel Mountain Bike Clothing
>
Men's Apparel Mountain Bike Accessories
Assos yankeeSocks_G1 - Men's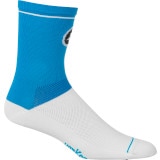 Retail Price:
$23.95
Our Price: $13.17
buy now
If you're familiar with the Assos line, you're probably thinking, "These yankeeSocks_G1 Socks share a striking resemblance to the summerSocks Mille Regular." Well, if you were thinking that, you'd be right. From a construction perspective, they're almost identical. Yes, they both share Assos'...
Attaquer Cycling Socks - Men's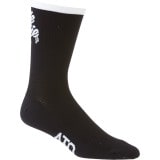 Retail Price:
$22.95
Our Price: $11.47
buy now
There's nothing standard about Attaquer's Cycling Socks. As with everything the Australian label releases, these socks were designed by a collection of street artists and fashion designers for a fresh spin on this kit-completing essential. The socks feature a generous 18cm-tall cuff composed from...
Attaquer Socks - Men's
Attaquer Socks feature embedded silver yarn technology for natural antimicrobial properties and lasting freshness on spirited rides. Moisture-wicking fabric keeps your feet pleasantly cool and dry when you're pushing through stifling summer temperatures and grinding it out on exhausting climbs.
Bliss Protection Comp Knee Pad
Bliss Protection tailors its Comp line to riders who are drawn to the steep and nasty stuff, so if you continuously find yourself staring down high-angled descents that leave most of your ride crew finding an alternate route, pay attention to the Comp Knee Pad, as it was made for you. Throw the...
Bliss Protection Team Elbow Pad
Designed for Bliss Protection's gravity team, the Team Elbow pad was made for riders who unabashedly refuse to pedal uphill, offering lightweight, solid protection for big sends and lift-accessed, apocalyptic lines. Bliss Protection's athletes trust this model on the DH race circuit, so wear the...
Bliss Protection Team Knee Pad
Every good knee pad will eventually need replacing if it's doing its job right. If your last big send left you with a few new holes in your body armor, don't leave your patella in the open on your next trip up the lifts. Instead, grab Bliss Protection's Team Knee Pad to make sure a spill doesn't...
Bliss Protection Team Knee/Shin Pad
When you're talking about whacking yourself in the shin with a pedal, one time is always one too many, and the same goes for knee scrapes. Rather than offering up leg skin as a sacrifice to the trail the next time you head up the lifts, layer up with Bliss Protection's Team Knee/Shin Pad. Part of...
Bliss Protection Vertical Elbow Pad - Women's
Leave the days of poorly-fitting, too-loose body armor behind and protect your elbows with something you'll actually want to wear out on the trails with the Bliss Protection Women's Vertical Elbow Pad. Designed specifically to accommodate women's slimmer arms without holding back on any of the...
Bliss Protection Vertical Extended Knee Pad
Leaving the trailhead with an artful arrangement of bandaids, gauze, and dirt-caked wounds is nothing to call home about for you, but even you have to admit that taking injury inventory every few minutes on a ride certainly slows things down. Instead of carrying a first aid kit with you whenever...
Bliss Protection Vertical Knee Pad
Aiming to make body armor that doesn't actually feel like body armor, Bliss Protection created the Vertical Knee Pad to protect you from all manner of unyielding trail debris when you're out rallying over berms and dicing down mentally exhausting lines. Making body armor that shields without...
<< Prev | Back | 1 | 2 | 3 | 4 | 5 | 6 | 7 | 8 | 9 | 10 | More | Next >>