Mens Mountain Bike Accessories - Road Bike Shop
Shop
>
Men's Apparel Clothing
>
Men's Apparel Mountain Bike Clothing
>
Men's Apparel Mountain Bike Accessories
Capo Thermo Roubaix Skull Cap - Men's
Retail Price:
$39.95
Our Price: $19.98
buy now
Chances are, you don't have a 'special' helmet for the winter. Instead, you're trapped in the cold by the helmet's best summertime feature -- its ventilation. To free yourself from this conundrum, we suggest the Capo Thermo Roubaix Skull Cap. It's thin enough to fit under your helmet, but strong...
Capo Thermo Roubaix Winter Cap - Men's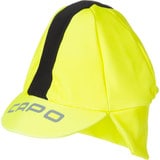 Retail Price:
$39.95
Our Price: $17.98
buy now
Throughout the warmer months, your cotton cycling cap is a staple piece, so why not extend that fashion while also keeping your head from freezing? Luckily, Capo asked itself the same question, and in asnwer, the Thermo Roubaix Winter Cap was born. As its name implies, Capo's Thermo Roubaix...
Capo Trofeo 200 Olefin Socks - Men's
Retail Price:
$20.00
Our Price: $15.00
buy now
Hot spots from your shoes have to rank as one of the most annoying experiences in cycling. To alleviate your suffering, Capo made the Trofeo 200 Olefin Socks. The Trofeo 200s have a padded footbed and a reinforced heel and toe to eliminate hot spots and create a more pleasant riding experience....
Castelli Bandana - Men's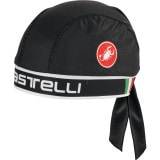 When your helmet pads soak through, perspiration has nowhere to go but down your face and neck. The sweat eventually moves to your sunglasses and eyes, which becomes irritating and causes you to pull your attention away from your riding. Avoid the salty streaks and burning eyes by wearing...
Castelli Converter Cap - Men's
Retail Price:
$39.95
Our Price: $21.97
buy now
Wearing a cycling beanie without a helmet is kind of like wearing bibs when you aren't riding. But now, you're able to get your cycling fashion fix with Castelli's Converter Cap. It's perfect for off-the-bike fashion, and it conveniently does double-duty for on-the-bike warmth. Castelli's...
Castelli Cortina Knit Women's Cap - Men's
Retail Price:
$29.95
Our Price: $13.48
buy now
We dig it when form and function come together, which is why the Castelli Cortina Knit Women's Cap appeals to us, and will to you, too. Wear it under your helmet on cold weather rides, since it's 100% acrylic knit construction is comfortable and warm, but then keep it on, since it's breathable...
Castelli Duo Windstopper Socks - Men's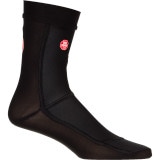 Retail Price:
$49.95
Our Price: $24.98
buy now
When you're riding in windy conditions, your feet need a little protection too. That's why Castelli dreamed up the Duo Windstopper Sock. Windstopper X-Lite fabric prevent wind chill from freezing your dogs, ultralight construction fits nicely with your shoes, and flat seams prevent discomfort on...
Castelli Free 3 Socks - Men's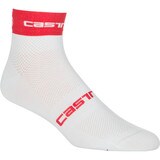 Retail Price:
$14.95
Our Price: $11.96
buy now
Feet don't get that much love, but they're the connection between your body and your bike, so you should appreciate them a little more. Do something nice for them, like pulling on Castelli's Free 3 Socks. Made of moisture-wicking and antimicrobial Meryl Skinlife, the Free 3 keep your feet feeling...
Castelli Free 6 Socks - Men's
Intended to keep your feet as cool as possible in hot conditions, the Castelli Free 6 Socks are especially light and breathable. They're made of Meryl Skinlife antimicrobial polyester fiber yarn, so they evaporate moisture extremely well and noticeably reduce the accumulation of odors in the...
Castelli Free 9 Sock - Men's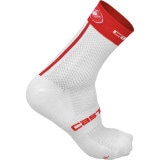 The Castelli Free 9 Sock is to regular socks as space shuttles are to balsa-wood gliders--the basic design is similar, but everything that matters is totally different. The Free 9 is woven from Meryl Skinlife fibers, which are engineered to be antimicrobial, highly breathable, and moisture...
<< Prev | Back | 1 | 2 | 3 | 4 | 5 | 6 | 7 | 8 | 9 | 10 | More | Next >>