Mens Mountain Bike Accessories - Road Bike Shop
Shop
>
Men's Apparel Clothing
>
Men's Apparel Mountain Bike Clothing
>
Men's Apparel Mountain Bike Accessories
Castelli Garmin 9 Socks - Men's
Retail Price:
$15.95
Our Price: $9.57
buy now
Castelli used Air Mesh for the main body of the Garmin 9 Cycling Sock to keep air flowing over your foot during hot rides. The Meryl Skinlife fibers contain naturally anti-bacterial silver ions that won't allow bacteria to grow in your shoes but won't harm your foot, either.
Castelli Gregge 12 Socks - Men's
Full-length coverage and the versatility of Merino wool make the Castelli Gregge 12 Sock a great addition to your early- and late-season gear.
Castelli Head Thingy - Men's
Whether you use it as a neck warmer, cap, bandana, balaclava, or headand, the Castelli Head Thingy's stretchy and moisture-wicking Softlex fabric will keep you warm.
Castelli Headband - Men's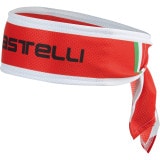 Retail Price:
$19.95
Our Price: $15.96
buy now
By using a headband in conjunction with your helmet, you stay cool and keep the inevitable sweat from making its way to your eyes. Castelli knows how important these seemingly small issues are for cyclists, which is why it developed the Headband as a lightweight solution. The Castelli Headband...
Castelli Logo 6 Socks - Men's
The Castelli Logo 6 Socks are the middle child in the polypropylene Logo line. Three centimeters shorter than the Logo 9 socks, as their name implies, their construction feels light and wicks moisture to stay dry. They are perfect for riders who don't like to wear socks but who also don't want to...
Castelli Logo 9 Socks - Men's
Retail Price:
$16.95
Our Price: $13.56
buy now
Castelli's Logo 9 Socks were introduced as part of its polypropylene line of road socks. The 9cm cuff provides plenty of coverage above the ankle, with a construction that's designed to feel light and dry fast. This makes them a great choice for warm days when you need breathable socks that have...
Castelli Luna Women's Socks - Men's
Long socks seem to be a guy thing. If you think short cuffs on socks make more sense, you might appreciate Castelli's Luna Women's Socks. They have a short 3cm cuff so you can minimize tan lines. They're made from Meryl Skinlife polyester, an anti-microbial fiber that wicks sweat and keeps...
Castelli Merino Socks - Men's
Extensive clinical study and mounting evidence in various fields of research has lead scientists around the industry to conclude that Merino wool is freakin' rad. It's naturally antimicrobial, extremely breathable, yet it one of the warmest fabrics per weight you can buy. Especially when ribbed...
Castelli Mezza Wool 9 Socks - Men's
Have you ever set out on a chilly morning only to have temperatures rise by the middle of your ride? Thanks to the use of a lightweight 100% merino wool, Castelli Mezza Wool 9 Socks are perfect for those "in-between" rides. The Mezza 9 socks are designed to be as thin as summer socks (so they fit...
Castelli Mondrian Women's Socks - Men's
If you're like us, you've found that most synthetic socks don't quite live up to all of the hype. For this reason, we've found ourselves going "au naturale" more and more often, which is why the new Castelli Mondrian Women's Socks are quickly becoming a year round classic around the office....
<< Prev | Back | 1 | 2 | 3 | 4 | 5 | 6 | 7 | 8 | 9 | 10 | More | Next >>