Mens Mountain Bike Accessories - Road Bike Shop
Shop
>
Men's Apparel Clothing
>
Men's Apparel Mountain Bike Clothing
>
Men's Apparel Mountain Bike Accessories
Assos roboCap_s7 Cycling Cap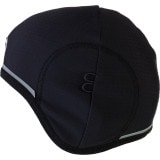 While many apparel brands focus their attention toward creating the best in terms of large core layers, Assos prides itself on doing that, and more. Clothing designers at the Swiss label know the importance of obsessing over the small, yet crucial, accessory layers, which is why they devote a...
Assos roboFoil Cap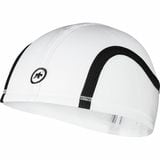 We're all in the sweaty skull crowd. After all, the perspiration has to go somewhere. The only debate is how we deal with it. Plenty of us understand the appeal of a cotton cycling cap, but it has its limitations -- the brim is hard to fit under the helmet, and the cotton stays damp after...
Assos stingerCap 607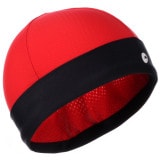 Retail Price:
$58.95
Our Price: $20.63
buy now
This is old-school head protection with a modern twist. Back in the day, serious bike riders were always helmetless. In summer months, the cotton cycling cap functioned as a sweat mop and sun protection. As the summer turned into fall, cyclists would head off to the nearest Army/Navy store and...
Assos summerCap.1 Cycling Cap
The cycling cap is a tradition in and of itself. Whether it's for the chronic fashionista or the cycling die-hard, the cycling cap will always be multiple things for multiple people. Assos aims to please the masses with the summerCap. 1. Combining neutral, stylish charm with powerful sweat...
Assos USA Cycling Cap
Demonstrate your national pride by showing up to the annual Tour party or to watch the cycling events in Rio in the Assos USA Cycling Cap. Made to celebrate this year's collaboration between the too-cool fit experts across the pond at Assos and USA cycling, the cap is part of the same collection...
Assos USA Cycling Sock - Men's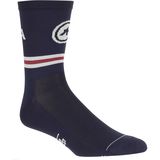 We were pretty excited to hear about Assos' recent collaboration with USA Cycling this year, and even more impressed that Assos gave us a chance to support that partnership by releasing a line of USA-branded kit on the platform of its existing designs. If you choose, you can show your...
Assos yankeeSocks_G1 - Men's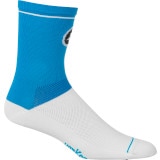 Retail Price:
$23.95
Our Price: $13.17
buy now
If you're familiar with the Assos line, you're probably thinking, "These yankeeSocks_G1 Socks share a striking resemblance to the summerSocks Mille Regular." Well, if you were thinking that, you'd be right. From a construction perspective, they're almost identical. Yes, they both share Assos'...
Attaquer Bandits Cycling Socks - Men's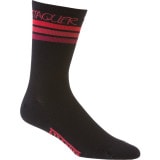 Retail Price:
$22.95
Our Price: $10.79
buy now
If you're going to steal the show, don't do it wearing ankle socks. Attaquer's Bandit Cycling Socks take your kit to a new height of style. The socks feature a generous 18cm-tall cuff composed from a buttery soft knit. This tall cuff design works to not only provide an adequate canvas for...
Attaquer Cycling Socks - Men's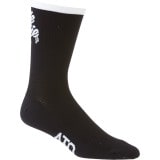 Retail Price:
$22.95
Our Price: $13.77
buy now
There's nothing standard about Attaquer's Cycling Socks. As with everything the Australian label releases, these socks were designed by a collection of street artists and fashion designers for a fresh spin on this kit-completing essential. The socks feature a generous 18cm-tall cuff composed from...
Attaquer Socks - Men's
Attaquer Socks feature embedded silver yarn technology for natural antimicrobial properties and lasting freshness on spirited rides. Moisture-wicking fabric keeps your feet pleasantly cool and dry when you're pushing through stifling summer temperatures and grinding it out on exhausting climbs.
<< Prev | Back | 1 | 2 | 3 | 4 | 5 | 6 | 7 | 8 | 9 | 10 | More | Next >>