Mens Mountain Bike Accessories - Road Bike Shop
Shop
>
Men's Apparel Clothing
>
Men's Apparel Mountain Bike Clothing
>
Men's Apparel Mountain Bike Accessories
Capo Phantom Tactel Socks - Men's
The CapoForma Phantom Tactel Socks might hide beneath your cycling shoes' cuffs, but they don't slack when it comes to wicking sweat off your hard-pedaling feet. Elastic in the arches provide support and a snug, no-wrinkle fit.
Capo Pro Skinlife Socks - Men's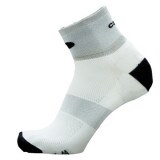 Retail Price:
$15.95
Our Price: $9.57
buy now
The Capoforma Pro Skinlife Sock offers comfort and bacteria-resistance in an ultralight ankle-height design. Meryl Skinlife fabric is smooth, stretchy and breathable for long-distance rides, and the Skinlife fiber treatment fights bacteria build-up.
Castelli Bandana - Men's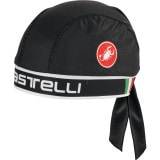 When your helmet pads soak through, perspiration has nowhere to go but down your face and neck. The sweat eventually moves to your sunglasses and eyes, which becomes irritating and causes you to pull your attention away from your riding. Avoid the salty streaks and burning eyes by wearing...
Castelli Converter Cap - Men's
Wearing a cycling beanie without a helmet is kind of like wearing bibs when you aren't riding. But now, you're able to get your cycling fashion fix with Castelli's Converter Cap. It's perfect for off-the-bike fashion, and it conveniently does double-duty for on-the-bike warmth. Castelli's...
Castelli Duo Windstopper Socks - Men's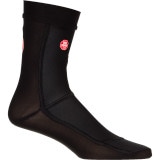 When you're riding in windy conditions, your feet need a little protection too. That's why Castelli dreamed up the Duo Windstopper Sock. Windstopper X-Lite fabric prevent wind chill from freezing your dogs, ultralight construction fits nicely with your shoes, and flat seams prevent discomfort on...
Castelli Free 9 Sock - Men's
The Castelli Free 9 Sock is woven with Meryl Skinlife antibacterial fibers. This moisture-wicking, breathable fabric pulls sweat away form your skin to keep you dry and comfortable. The top of the foot is a diaphanous web, ultra-thin and extremely breathable. In the middle of the foot, the arch...
Castelli Free Cap - Men's
On the bike, the Free Cap is quite practical. Shield your skull from the sun, protect your eyes from both the sun and rain, warm your noggin during a race, or keep sweat out of your eyes when mastering your spin on the rollers indoors. Wash them in the machine; so long as you keep them out of a...
Castelli Free X9 Sock - Men's
Whoever thought knitting socks could be a technologically engineered endeavor? Castelli's Free X9 are the lastest in a line of footwear that is knit to fit your feet like a second skin. The Free X9 features Meryl Skinlife in its knit. This is bacteriostatic, meaning that its fibers maintain a...
Castelli Garmin 13cm Socks - Men's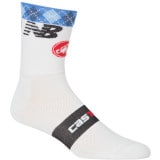 Retail Price:
$17.95
Our Price: $10.77
buy now
If the "high sock" fad hasn't quite grabbed your fashion sensibilities, the Garmin 13cm sock may be just the finishing touch you're looking for. They are knit from Meryl Skinlife yarns that are infused with Silver ions. These fibers are bacteriostatic, which means that they inhibit the growth of...
Castelli Garmin 6cm Socks - Men's
Retail Price:
$13.95
Our Price: $6.97
buy now
Complete your look all the way to your toes with Castelli's Garmin 6cm socks. The socks are constructed of Meryl Skinlife, and infused with Silver ions. This knit is both hypoallergenic and bacteriostatic, which means that the fibers will not allow bacteria from sweat to grow in your shoes. This...
<< Prev | Back | 1 | 2 | 3 | 4 | 5 | 6 | 7 | 8 | 9 | 10 | More | Next >>