Mens Mountain Bike Accessories - Road Bike Shop
Shop
>
Men's Apparel Clothing
>
Men's Apparel Mountain Bike Clothing
>
Men's Apparel Mountain Bike Accessories
Assos rainCap_S7
Before we tell you about the Assos rainCap_S7, we need to reminisce. In the early days of the internet, we came across a list of items the Motorola team were selling as they cleared out their American service course at the end of their sponsorship. One item immediately caught our attention --...
Assos roboCap_s7 Cycling Cap
While many apparel brands focus their attention toward creating the best in terms of large core layers, Assos prides itself on doing that, and more. Clothing designers at the Swiss label know the importance of obsessing over the small, yet crucial, accessory layers, which is why they devote a...
Assos roboFoil Cap
We're all in the sweaty skull crowd. After all, the perspiration has to go somewhere. The only debate is how we deal with it. Plenty of us understand the appeal of a cotton cycling cap, but it has its limitations -- the brim is hard to fit under the helmet, and the cotton stays damp after...
Assos Superleggerasocks_evo8 - Men's
Sock height choice is a contentious subject, and with cycling-specific cuffs soaring ever higher, it's easy to forget that multisport is in the sock game too. Although its best known for its on-bike fare, Assos makes sure to keep triathletes in mind with its Superleggerasocks_evo8. With a...
Assos superleggeraSocks_S7 - Men's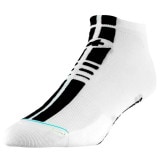 Retail Price:
$24.00
Our Price: $15.60
buy now
The Assos superleggeraSocks_S7 are for the days that you feel more like you're swimming in a pool of sweat than riding a bike. With your feet being covered in leather, bound by fabrics, and constantly in a harmony of friction and kinetic energy as you spin the cranks, Assos knew that it had a...
Assos Tiburuheadband_evo8
When you look out the window and anticipate a spring ride only to realize that the air temperature still feels more like winter, get back inside and grab the Assos Tiburuheadband_evo8 before you go. This stretchy headband was made for the in-between days that are common during spring and fall...
Assos Tiburusocks_evo8 - 2-Pack - Men's
When the alarm goes off at 5:00 a. m. in late March, it's easy to lose perspective on your training plan, hit snooze, and roll back into the warm sheets. Assos' tiburuSocks_evo8 take (some of) the sting out of the chilly, pre-work training rides of spring by offering your feet some soft, warm...
Assos USA Cycling Cap
Demonstrate your national pride by showing up to the annual Tour party, your group ride, or even a Fourth of July barbecue in the Assos USA Cycling Cap. Made to celebrate the collaboration between the too-cool fit experts across the pond at Assos and USA cycling, the cap is part of the same...
Bliss Protection Vertical LD Day Top
Retail Price:
$159.95
Our Price: $79.97
buy now
No one gets overly excited about layering up with back protection on a hot day, but you always realize it was worth the effort a few hours later as you're trying to stay on the right side of your bars on high-angle descents. Zip on Bliss Protection's Vertical LD Day Top the next time you're...
Buff Merino Wool 3/4 Buff
Retail Price:
$26.95
Our Price: $20.21
buy now
Designed to keep you cool in the summer and warm in the winter, the Buff Merino Wool 3/4 Buff is made with nature's own technical fabric for any and all of your outdoor pursuits. The fabric wicks moisture away from your skin for dry comfort, and is naturally anti-microbial to keep the stink away,...
<< Prev | Back | 1 | 2 | 3 | 4 | 5 | 6 | 7 | 8 | 9 | 10 | More | Next >>