Mens Mountain Bike Accessories - Road Bike Shop
Shop
>
Men's Apparel Clothing
>
Men's Apparel Mountain Bike Clothing
>
Men's Apparel Mountain Bike Accessories
Mavic Cosmic Mid Socks - Men's
Retail Price:
$14.95
Our Price: $10.46
buy now
Mavic is a pretty traditional company, often preferring to stand quietly by while the fads wash over the rest of the industry in so many product cycle waves. The 6in cuffs on the Cosmic Mid Socks stay relatively true to that ethos while allowing for a slightly higher cuff than traditional cycling...
Mavic Crossmax High Sock - Men's
Riding past prickly vegetation can take a toll on your legs, leading to small scrapes and cuts that seemingly come out of nowhere. Realizing that trail riders need extra coverage, the Mavic Crossmax Socks feature a higher cut for added protection from thick, brush-lined trails. Upgraded over...
Mavic Crossmax Pro Glove - Men's
Retail Price:
$49.95
Our Price: $37.46
buy now
You don't have time for unnecessary frills when you take your enduro rig out for a day of high-speed descents in preparation for your next race. Frankly, you'd prefer to just have the protection you need when you crash, with none of the bulk. Mavic's Crossmax Pro Glove won't coddle your hands on...
Mavic Crossride Protect Glove - Men's
Retail Price:
$39.95
Our Price: $29.96
buy now
Ideal for all-mountain riders pummeling through chunky rock gardens, the Mavic Crossride Protect Gloves strike an optimal balance between burly toughness and cushy shock-absorption. Dampening harsh vibration coming through your handlebars, the Crossride Protect Glove features an EVA-cushioned...
Mavic Inferno Sock - Men's
Retail Price:
$24.95
Our Price: $17.46
buy now
Leave your summer weight socks at home when the temperatures drop and wrap your feet in cozy comfort with Mavic's Inferno Socks. While they may not crank up the heat quite as much as their name suggests, they're touted as Mavic's warmest socks and incorporate copper fibers to reflect heat back...
Mavic Ksyrium Carbon Sock - Men's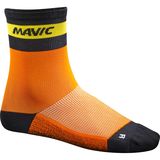 Retail Price:
$16.95
Our Price: $12.71
buy now
Often overlooked, yet extremely important when you're training and racing, socks serve as the foundation for comfortable pedaling. Realizing this, the Mavic Ksyrium Carbon Socks emphasize quick-drying comfort and light compression when you're cranking out mile after blissful mile on the road....
Mavic Ksyrium Merino Sock - Men's
Wrapping your feet in the cozy-warmth of merino wool, the Mavic Ksyrium Merino Socks are aptly suited for cranking up chilly alpine passes and riding through cooler transitional seasons. Merino wool not only retains thermal warmth, but it also wicks moisture and naturally combats odor build-up....
Mavic Roadie Cap
Retail Price:
$29.95
Our Price: $22.46
buy now
Whether you're planning a long training day with plenty of low-angle sun or packing up your bag to head to a race, you can't go wrong taking a style cue from the cycling-capped heroes of yesteryear and bringing along Mavic's Roadie Cap. An eternally classic cycling accessory, this elastic-backed...
Mavic Spring Underhelmet Cap
Early season races often fall in that in-between weather where it's too warm for your deep winter thermals, but just a hint too cold to go capless under your helmet. On those days, you'll be happy you packed your Mavic Spring Underhelmet Cap, with its lightweight yet warm fabric that tucks...
Mavic Winter Underhelmet Cap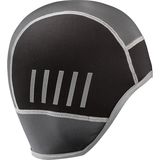 Retail Price:
$34.95
Our Price: $24.46
buy now
Ah, summer. With hot days, sunny skies, and ventilated helmets, it's a great time to ride. But as the calendar rolls over into the winter months, those helmet vents no longer appeal when some ominous darkness on the horizon is threatening to drop an unwelcome payload on your already chilly...
<< Prev | Back | 41 | 42 | 43 | 44 | 45 | 46 | 47 | 48 | 49 | 50 | More | Next >>