Mens Mountain Bike Accessories - Road Bike Shop
Shop
>
Men's Apparel Clothing
>
Men's Apparel Mountain Bike Clothing
>
Men's Apparel Mountain Bike Accessories
Pearl Izumi Transfer Balaclava
Retail Price:
$26.95
Our Price: $20.21
buy now
For those days when the wind is howling and the cold is pounding, hammer back with the Peal Izumi Transfer Balaclava. Built with a stretch fit and moisture-wicking fabric, the Transfer feels suspiciously like a warm hug for your face.
Pearl Izumi Transfer Lite Headband
Retail Price:
$11.95
Our Price: $8.96
buy now
Pearl Izumi's Transfer Lite Headband has one job: to keep your brow dry and your eyes sweat-free. Its active technology toward this end is Pearl's Minerale fabric treatment, which incorporates crushed volcanic rock into the material's synthetic fibers. This makes the yarn porous for a structure...
Pinarello Cotton Cap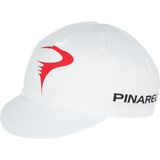 Retail Price:
$15.00
Our Price: $9.00
buy now
Every day you're kitted out in the latest carbon-infused, moisture-wicking, four-way stretch, dimpled super-fabric with microscopic hexagonal ventilation pockets that repel gamma rays and beam your exact speed, coordinates, calorie consumption, and ride time to the World Wide Web. After your ride...
Pinarello FRC Mid Cuff Socks - Men's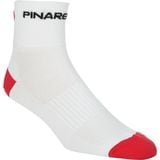 Retail Price:
$13.00
Our Price: $7.15
buy now
Who says you can't wear the best? Even if you're stuck riding the department store 10-speed that your dad bought you in 1981, you can get geared up in your Pinarello FRC (FormaRed Carbon) Mid Cuff Socks and stomp those fancy lads who you ride with.
Pinarello FRC Tall Cuff Socks - Men's
Retail Price:
$16.00
Our Price: $10.40
buy now
You're going to be wearing socks anyway, so they might as well be awesome. Pinarello's FRC (FormaRed Carbon) Tall Cuff Socks tell the world that you're a discriminating cyclist from head to toe, even when you're off the bike.
POC AVIP Cap
Retail Price:
$24.95
Our Price: $19.96
buy now
A good cap is the sign of a serious cyclist, and the POC AVIP Cap is A Very Important Piece of your on-the-podium kit. The cotton and polyester blend is comfortable and breathable, and reflective details help you stay safe when you're wearing it in the saddle.
POC Bone VPD Arm Guard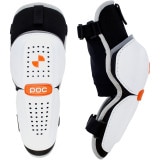 Retail Price:
$79.95
Our Price: $63.96
buy now
POC designed the Bone VPD Arm Guard to protect your forearm and elbow from your upper arm to your glove. The combination of VPD material and polypropylene shells makes a sturdy, lightweight, comfortable guard. Generally speaking, there are two types of body armor: soft, flexible armor that's...
POC Bone VPD Leg Protectors
The ultimate lower leg protection is achieved with a hardshell shin/knee combo like the POC Bone VPD Leg Guards. Don't be tempted to ride with less just because the guys on the videos do it. This is exactly what you'll be wishing for at the moment you hang your front tire in a soft berm at warp...
POC Hip VPD 2.0 Shorts
POC VPD (Visco-Elastic Polymer Dough) makes wearing body armor feel like not wearing body armor, until you crash. Hip VPD 2. 0 shorts are actually liner shorts that you can wear under baggies, boardshorts, walkshorts, or even jeans to provide hardshell protection without the bulk or uncomfortable...
POC Index Air Adjustable Gloves - Men's
Retail Price:
$49.95
Our Price: $39.96
buy now
Most mountain-bike gloves are either too moto-influenced or excessively roadish, but the POC Index Air Adjustable Glove strikes a nice balance between the two. Its simple and clean look is classic POC, and the design is as clean as the aesthetic. A body made of nylon mesh helps keep your hands...
<< Prev | Back | 41 | 42 | 43 | 44 | 45 | 46 | 47 | 48 | 49 | 50 | More | Next >>