Mens Mountain Bike Accessories - Road Bike Shop
Shop
>
Men's Apparel Clothing
>
Men's Apparel Mountain Bike Clothing
>
Men's Apparel Mountain Bike Accessories
Troy Lee Designs KG 5400 Knee Guard - Men's
Knee pads can be a real pain in the, well, in the knee. They're hot, bulky, and they constantly move around so you spend the better part of your day pulling your pads up. That's what the chairlift is for, right? Not anymore. The Troy Lee Designs KG5400 Knee Guard is made with sweat-wicking...
Troy Lee Designs KG 5450 Knee/Shin Guard Guard - Men's
Integrated knee/shin guards are notoriously bad about staying put. No matter how much adjusting you do on the chairlift, they are usually down around your ankles by the time you're two turns into your run. The good folks at Troy Lee Designs recognized this problem and decided to put a stop to it...
Troy Lee Designs Lopes Signature Knee Guard - Men's
Brian Lopes used to make his own knee guard by hand. Now he has the Troy Lee Designs Lopes Signature Knee Guard, and you can have it too. This knee guard consists of an inner neoprene sleeve and an outer, custom molded polycarbonate shell backed by ventilated foam. The comfortable inner sleeve...
Troy Lee Designs Method Knee Gaurd - Men's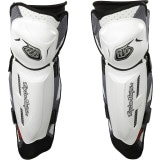 The Troy Lee Designs Method Knee Guard offers up full protection, with a slip-free fit that's hard to come by in full coverage pads. Underneath the highly protective hard-shell outer layer, there's a nylon knee gasket that holds the whole works in place. And that means you won't have to deal with...
Troy Lee Designs SE Elbow Guard - Adult - Men's
The next time you find yourself hurtling toward the dirt, make sure you're protected with Troy Lee Designs SE Elbow Guard. Thanks to an injection-molded plastic shell and a padded, ballistic-nylon-covered bio-foam, your elbows will keep on elbowing.
Troy Lee Designs SE Elbow Guard - Kids' - Men's
If the Big-Wheel-plus-steep-hill ER visit was any personality-type indication of your little ripper, you'll want to set 'em loose on a two wheeler with Troy Lee Designs Kids' SE Elbow Guards to help prevent future, unwanted trips.
Troy Lee Designs Semenuk Knee Gaurds - Men's
Semenuk goes huge -- anyone who has ever seen the kid ride knows that. So it makes perfect sense that Troy Lee Designs borrowed his experience in designing the Semenuk Knee Guards. These low-profile guards are designed to fit under jeans, so, needless to say, they're slim. But unlike many other...
Troy Lee Designs T-Bone Knee Guard - Men's
Low profile and lightweight, Troy Lee Designs' T-Bone Knee Guard provides protection without restricting movement. This means they'll layer under jeans and pants without causing binding. The T-Bone Knee uses breathable Air-Prene to achieve a flexible, comfortable, and streamlined fit. The Troy...
Troy Lee Designs WS 5205 Wrist Support - Men's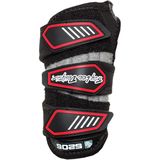 Unfortunately, we all make mistakes while we're riding. Often the wrist is the part of the body that pays dearly for these mistakes. You probably already have a helmet, elbow guards, knee guards, shin guards, and gloves. Why leave your wrists' cheese out in the wind? Protect them in comfort with...
TYR Running Cap - Men's
Unless you're preparing to run for the very first time, we don't need to tell you about the advantages of wearing a cap. However, given that all caps are not created equal, we're happy to tell you of the advantages to running in the TYR Running Cap. Starting at the front panel, sweat band, and...
<< Prev | Back | 41 | 42 | 43 | 44 | More | Next >>