Mens Mountain Bike Accessories - Road Bike Shop
Shop
>
Men's Apparel Clothing
>
Men's Apparel Mountain Bike Clothing
>
Men's Apparel Mountain Bike Accessories
Kali Protectives Aazis Soft Knee Guard
Keep your knees safe with the Kali Protective Aazis Soft Knee Guards. Think of them as little armored guards for those all-important joints. They're built to withstand the toughest of conditions and absorb impacts so your knees don't have to. As an added bonus, these guards are fully washable and...
Kali Protectives Veda Soft Elbow Guard
Give your wings a fighting chance with Kali Protectives' Veda Soft Elbow Guard. Using perforated neoprene with a soft-shell cup, lined with Nitrex high-density foam, the Veda protects without restricting movement. In abrasive zones, an Aramid weave expands protection and ensures durability. The...
Kitsbow Race Stripe Socks - Men's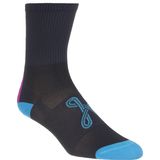 Retail Price:
$24.95
Our Price: $12.47
buy now
If there's any color palette that could claim to encompass 21st century enduro aesthetics, surely pink, light blue, and fluo green combined on a field of not-quite-black, super-saturated navy would be it. Kitsbow proves its trend-setting cache by combining those colors in its breathable,...
Leatt 3DF 5.0 Elbow Guard
Leatt strikes an admirable balance between protection and practicality with its 3DF collection, and the company redesigned its 3DF 5. 0 Elbow Guard this year to have a slimmer profile without sacrificing protection. The next time you take your trail bike or enduro rig out for a day of berms,...
Leatt 3DF 5.0 Junior Knee Guard
Your hard-charging trail monster has been complaining that their old knee guards are starting to feel a little small, and now that you think of it, those old knee guards have seen more than a few good spills. As they get bigger and push their limits more on the trails, you want them to be wearing...
Leatt 3DF 5.0 Knee Guard
Your old pair of knee guards loyally served you for a few seasons, but after your last explosive crash on a rock-encrusted section of trail, you realized they were practically begging for retirement. Choosing which set of knee guards to invest in exposes you to an intimidatingly huge range of...
Leatt 3DF Hybrid Elbow Guards
Leatt's 3DF pads are light, comfortable, and easy to ride in, and that was before Leatt tacked on some extra arm protection and named it the 3DF Hybrid Elbow Guards. This sleeve has the same flexible 3DF pad on the elbow, but rocks an additional 3DF Hard Shell below, for extra forearm protection...
Leatt 3DF Hybrid Enduro Knee Guard
Instead of doubling up on separate knee and shin pads, pull on the Leatt 3DF Hybrid Enduro Knee Guard when you're heading out for a DH shred session. Larger than a knee pad but shorter than a full-on shin guard, the Hybrid combines soft, pedaling-friendly 3DF knee protection with a rugged 3DF...
Leatt 3DF Hybrid EXT Knee Guard
You love your shins and knees equally, so choosing which to protect is never easy. Luckily, Leatt's new 3DF Hybrid EXT Knee Guard covers both, so you don't have to make any more hard decisions when you're gearing up. The knee pad rocks softer plastic-reinforced 3DF padding for protection and...
Leatt 3DF Junior Body Protector - Kids'
Junior's showing no signs of slowing down on the trails, and you'd like to keep it that way, as long as they stay safe. Trying to convince young riders to stop moving long enough to put on some padding isn't always easy though, so you might have an easier time convincing them if you show them...
<< Prev | Back | 41 | 42 | 43 | 44 | 45 | 46 | 47 | 48 | 49 | 50 | More | Next >>