Mens Mountain Bike Accessories - Road Bike Shop
Shop
>
Men's Apparel Clothing
>
Men's Apparel Mountain Bike Clothing
>
Men's Apparel Mountain Bike Accessories
Assos stingerCap 607 - Men's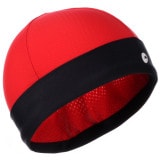 This is old-school head protection with a modern twist. Back in the day, serious bike riders were always helmetless. In summer months, the cotton cycling cap functioned as a sweat mop and sun protection. As the summer turned into fall, cyclists would head off to the nearest Army/Navy store and...
Assos suisseOlympiakos Cap - Men's
Assos's new suisseOlympiakos Cap was created specifically for the Swiss team's participation last year in London's events. So, if you're a lover of all things Swiss and want to support the dedicated national team of riders who ride, train, and holiday under the Assos banner, reach for their cap...
Assos suisseOlympiakos Socks - Men's
If you were paying attention to the London Games, you most likely noticed Switzerland falling within the top 10 in the road race, and their Silver in the men's cross country. Now, we're not so outrageous as to say that the Assos suisseOlympiakos Socks that they were wearing created these results,...
Assos Summer Mille High Sock - Men's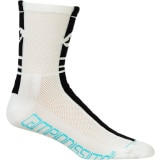 High socks are still on the growth curve these days. So for those high cycling socks fans, Assos produces the Summer Mille High Socks. It's just like the regular Mille, only 3cm higher, for a cuff height of 15cm. The Assos Summer Mille High Socks were woven from a 70% polyester, 30% elastic fiber...
Assos summerCap.1 - Men's
The cycling cap is a tradition in and of itself. Whether it's for the chronic fashionista or the cycling die-hard, the cycling cap will always be multiple things for multiple people. Assos aims to please the masses with the summerCap. 1. Combining neutral, stylish charm with powerful sweat...
Assos SummerSocks Mille regular - Men's
Assos' Summer Mille Regular Socks are designed to complete any Assos ensemble, but they're great socks on their own. And for people looking for a little luxury, they're a fine way to style. Their skinweb design dictates that the bottom is a thin layer of fabric and the top is mesh. The mesh runs...
Assos superleggeraSocks_S7 - Men's
The Assos superleggeraSocks_S7 are for the days that you feel more like you're swimming in a pool of sweat than riding a bike. With your feet being covered in leather, bound by fabrics, and constantly in a harmony of friction and kinetic energy as you spin the cranks, Assos knew that it had a...
Assos winterSock - Men's
Assos' winterSocks use a thoughtful blend of natural and synthetic fibers for their construction. Blending old and new, a majority of the socks' composition is comprised of tried-and-true wool. Renowned for its incredible thermo-regulation and moisture transferring properties, wool has been the...
Assos yankeeSocks_G1 - Men's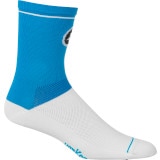 If you're familiar with the Assos line, you're probably thinking, "These yankeeSocks_G1 Socks share a striking resemblance to the summerSocks Mille Regular." Well, if you were thinking that, you'd be right. From a construction perspective, they're almost identical. Yes, they both share Assos'...
Attaquer Bandits Cycling Socks - Men's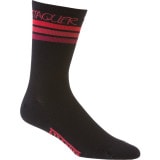 If you're going to steal the show, don't do it wearing ankle socks. Attaquer's Bandit Cycling Socks take your kit to a new height of style. The socks feature a generous 18cm-tall cuff composed from a buttery soft knit. This tall cuff design works to not only provide an adequate canvas for...
<< Prev | Back | 1 | 2 | 3 | 4 | 5 | 6 | 7 | 8 | 9 | 10 | More | Next >>