Mens Mountain Bike Accessories - Road Bike Shop
Shop
>
Men's Apparel Clothing
>
Men's Apparel Mountain Bike Clothing
>
Men's Apparel Mountain Bike Accessories
Leatt 3DF Junior Body Protector - Kids'
Junior's showing no signs of slowing down on the trails, and you'd like to keep it that way, as long as they stay safe. Trying to convince young riders to stop moving long enough to put on some padding isn't always easy though, so you might have an easier time convincing them if you show them...
Leatt 3DF Knee Guard
The ground loves to take a little bit of your skin as payment for letting you ride on it, but Leatt's 3DF Knee Guards can help put an end to these types of involuntary donations. They feature a soft knee pad composed of Leatt's proprietary 3DF foam, which offers a flexible fit along with impact...
Leatt Airflex Elbow Guard
Big, bulky body armor is effective, but it's no good to pedal in and not very fun to wear when it's warm outside. Leatt's Airflex Elbow Guard, on the other hand, is slim, cool, and comfortable, largely because of its Armorgel padding, which only becomes hard on impact, protecting your 'bows from...
Leatt Airflex Knee Guard
Riding hard is synonymous with crashing, which means the Leatt Airflex Knee Guard is synonymous with not ripping your kneecaps off when you take a spill, or something. Synonyms aside, the Airflex is a seriously light knee pad, at under eight ounces per pair, and the sleeve is made from...
Leatt Airflex Pro Knee Guard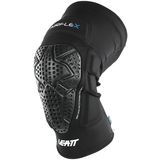 Situated in the middle of Leatt's product line, the Airflex Pro Knee Guard provides more protection than its lighter sibling, the Airflex, and less than the brand's range of hard shell options, presenting itself as a versatile knee shield that won't weigh you down on your trail, enduro, or...
Leatt DBX 4.5 Neck Brace
Worn by serious downhill racers and dirt jumpers with an appetite for going big, the Leatt DBX 4. 5 Neck Brace allows you to focus on shaving time off downhill runs and expanding your bag of tricks without wrecking your neck in the process. Its fiberglass-reinforced nylon construction protects...
Leatt DBX 5.5
Leatt knows how to prevent catastrophic neck injuries, and the DBX 5. 5 is one of the best ways to keep your spine intact when you have a wreck. The DBX series is the benchmark in comfortable, effective neck protection, and the DBX 5. 5 offers more adjustability than the rest of the series. The...
Leatt DBX 5.5 Junior Neck Brace.
Youngsters go for it just as hard as their elders -- if not harder -- so it's no surprise that they take their share of spills. Enter the Leatt DBX 5. 5 Junior Neck Brace, a fiberglass-reinforced nylon protection system that keeps heads and necks from bending too far in the wrong directions. It...
Leatt DBX 6.5 Neck Brace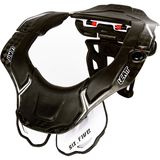 Safety shouldn't feel like a burden, especially when you're going big. The DBX 6. 5 Neck Brace builds upon the success of the Pro Lite and 5. 5 braces to offer Leatt's lightest, most ventilated neck brace yet. The DBX 6. 5 features an ultra lightweight carbon Kevlar and fiberglass-reinforced...
Leatt Junior 3DF 5.0 Elbow Guard
Your little ripper's knobby elbows are a constant source of concern during their regular crashes out on the trails, but your trail-devouring miniature doesn't much like being restricted by too much padding while they seek out brown pow. Plus, scars are cool. You could prove them wrong by sending...
<< Prev | Back | 31 | 32 | 33 | 34 | 35 | 36 | 37 | 38 | 39 | 40 | More | Next >>