Mens Mountain Bike Accessories - Road Bike Shop
Shop
>
Men's Apparel Clothing
>
Men's Apparel Mountain Bike Clothing
>
Men's Apparel Mountain Bike Accessories
Leatt 3DF Elbow Guard
Sitting somewhere between full-on body armor and a lightweight protective sleeve, the Leatt 3DF Elbow Guard offers lightweight, flexible, and tough protection to downhillers who want to go light or enduro riders looking for pedal-friendly protection. The 3DF foam protects the elbow from impacts...
Leatt 3DF Hybrid Elbow Guards
Leatt's 3DF pads are light, comfortable, and easy to ride in, and that was before Leatt tacked on some extra arm protection and named it the 3DF Hybrid Elbow Guards. This sleeve has the same flexible 3DF pad on the elbow, but rocks an additional 3DF Hard Shell below, for extra forearm protection...
Leatt 3DF Hybrid Enduro Knee Guard
Instead of doubling up on separate knee and shin pads, pull on the Leatt 3DF Hybrid Enduro Knee Guard when you're heading out for a DH shred session. Larger than a knee pad but shorter than a full-on shin guard, the Hybrid combines soft, pedaling-friendly 3DF knee protection with a rugged 3DF...
Leatt 3DF Hybrid EXT Knee Guard
You love your shins and knees equally, so choosing which to protect is never easy. Luckily, Leatt's new 3DF Hybrid EXT Knee Guard covers both, so you don't have to make any more hard decisions when you're gearing up. The knee pad rocks softer plastic-reinforced 3DF padding for protection and...
Leatt 3DF Junior Body Protector
Junior's showed no signs of slowing down on the trails, and you'd like to keep it that way, as long as they stay safe. Trying to convince young riders to stop moving long enough to put on some padding isn't always easy though, so you might have an easier time convincing them if you show them...
Leatt 3DF Knee Guard
The ground loves to take a little bit of your skin as payment for letting you ride on it, but Leatt's 3DF Knee Guards can help put an end to these types of involuntary donations. They feature a soft knee pad composed of Leatt's proprietary 3DF foam, which offers a flexible fit along with impact...
Leatt 3DF Knee Guard - Kids'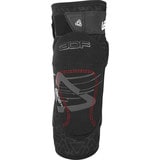 Leatt's 3DF Youth Knee Guard offers lightweight and flexible protection for young rippers' knees, so they'll be able to take their inevitable crashes with a little less ouch. The 3DF foam padding provides front and side protection to cover all sorts of impacts, and the MoistureCool wicking fabric...
Leatt Airflex Elbow Guard
Big, bulky body armor is effective, but it's no good to pedal in and not very fun to wear when it's warm outside. Leatt's Airflex Elbow Guard, on the other hand, is slim, cool, and comfortable, largely because of its Armorgel padding, which only becomes hard on impact, protecting your 'bows from...
Leatt Airflex Knee Guard
Riding hard is synonymous with crashing, which means the Leatt Airflex Knee Guard is synonymous with not ripping your kneecaps off when you take a spill, or something. Synonyms aside, the Airflex is a seriously light knee pad, at under eight ounces per pair, and the sleeve is made from...
Leatt Airflex Pro Knee Guard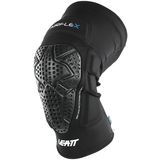 Situated in the middle of Leatt's product line, the Airflex Pro Knee Guard provides more protection than its lighter sibling, the Airflex, and less than the brand's range of hard shell options, presenting itself as a versatile knee shield that won't weigh you down on your trail, enduro, or...
<< Prev | Back | 31 | 32 | 33 | 34 | 35 | 36 | 37 | 38 | 39 | 40 | More | Next >>