Mens Mountain Bike Accessories - Road Bike Shop
Shop
>
Men's Apparel Clothing
>
Men's Apparel Mountain Bike Clothing
>
Men's Apparel Mountain Bike Accessories
POC Spine VPD Vest - Men's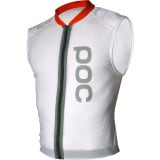 The super-streamlined POC Spine VPD Vest Body Armor protects your back from a bad fall while you ski down the headwall at Mach speed or after you huck yourself off a cliff. Modified dual-density polyurethane back plate is thicker over the spine and thinner to the sides, thus maximizing freedom of...
Rouleur Rouleur Cap - Men's
Retail Price:
$24.00
Our Price: $19.20
buy now
Your cycling cap says a lot about you. It can fly the flag for a beloved brand, a favorite team, or, in the case of the Rouleur Cap, it tells those in the know that you're discerning when it comes to your cycling media. And since this classic cap comes in a variety of accent colors, it's easy to...
Santa Cruz Bicycles Stacked Logo Socks - Men's
Made of a merino wool and polyester blend, the Santa Cruz Stacked Logo Socks don't just look spiffy, they're great riding socks, wicking moisture quickly and fighting odor while staying supportive and durable. They're made by Capo in Italy, and they have a 12cm cuff.
Santini 6Five Socks - Men's
Santini's new 6Five Socks were designed to round out your full-on Italian kit, but you'll still benefit from their innovative materials and supportive fit regardless of what you're wearing up top. Engineered as extra-light summer socks, the 6Fives keep you fresh and dry through the even the...
Santini Dragon Socks - Men's
While we can't guarantee that you'll inherit any magic powers from a pair of socks, we'll agree that having dry, comfortable feet makes you feel invincible. Slay your competition in Santini's Dragon Socks. Santini's Dragon socks were knit from the polypropylene Dryarn fabric. Dryarn is a...
Santini Dry Carb Socks - Men's
Sometimes it's the unassuming styles that sneak up and steal the show. Not too tall and not too short, Santini's new Dry Carb Socks were built with a medium-length cuff that doesn't follow the trends set by anyone else. Instead, these summer socks rely on their innovative materials to do the...
Santini Krios WInter Cap - Men's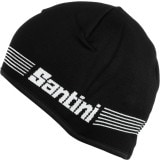 Retail Price:
$59.95
Our Price: $35.97
buy now
Santini knows you aren't going to give up your outdoor training rides due to a little adverse weather, which is why it created the new Krios Winter Cap. It was made to be worn with or without a helmet, ensuring that your head will remain protected from the cold during all of your fall and winter...
Santini Lempur Socks - Men's
A midweight sock that's heavy-duty warm, the Santini Lempur Socks are made of a blend of cotton, plus Santini's own special fabrics. Lempur polyester is highly insulating and soft, and Dryarn keeps feet warm by helping to accelerate the evaporation of heat-robbing moisture that accumulates within...
Santini Piuma Winter Cap - Men's
Retail Price:
$74.95
Our Price: $44.97
buy now
Santini created its new Piuma Winter Cap to be the ideal under-the-helmet layer for cold and wet riding conditions. It was made with a brim, ear-coverage band, and a blend of Santini's most advanced fabrics, making it the ideal cap for all of your late-season rides. The Piuma Winter cap was...
Santini Rainbow Socks - Men's
Retail Price:
$19.95
Our Price: $12.97
buy now
The UCI is in the throes of revamping cycling -- with a new Women's Commission formed and the stage set for a cleaner era of sport, show them support with Santini's Rainbow Socks. These above-ankle socks were knit from a moisture-wicking Coolmax yarn to keep your feet dry during heated...
<< Prev | Back | 31 | 32 | 33 | 34 | 35 | 36 | 37 | 38 | 39 | 40 | More | Next >>