Mens Mountain Bike Accessories - Road Bike Shop
Shop
>
Men's Apparel Clothing
>
Men's Apparel Mountain Bike Clothing
>
Men's Apparel Mountain Bike Accessories
POC AVIP Socks - Men's
The POC AVIP Sock can't promise that you won't sweat when you're riding, but it can guarantee serious comfort and performance. Its Tactel blend fabric is designed to be odor resistant, so you won't stink up the group ride, the flat toe seam helps prevent irritation, and the ventilated breathe...
POC Bone VPD Arm Guard - Men's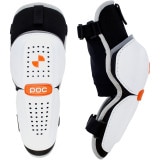 POC designed the Bone VPD Arm Guard to protect your forearm and elbow from your upper arm to your glove. The combination of VPD material and polypropylene shells makes a sturdy, lightweight, comfortable guard. Generally speaking, there are two types of body armor: soft, flexible armor that's...
POC Bone VPD Leg Protectors - Men's
The ultimate lower leg protection is achieved with a hardshell shin/knee combo like the POC Bone VPD Leg Guards. Don't be tempted to ride with less just because the guys on the videos do it. This is exactly what you'll be wishing for at the moment you hang your front tire in a soft berm at warp...
POC Hip VPD 2.0 Shorts - Men's
Delivering reliable tailbone and hip protection without compromising the ability to move, POC's Hip VPD 2. 0 Short uses state-of-the-art technology. Its high-tech VPD 2. 0 (Visco-Elastic Polymer Dough) is a pliable, lightweight material that offers industry-leading impact absorption. When...
POC Index Air Adjustable Gloves - Men's
For riders who want the basics, with no frills or fancy graphics, POC's Index Air Adjustable Gloves fit the bill. They cover your hands with a durable and breathable nylon mesh, with a palm made of perforated synthetic suede. It's textured to offer a supreme grip on your bars, so you'll be able...
POC Index Air Gloves - Men's
Instead of a scratchy or pinching hook-and-loop strap, POC's Index Air Gloves use a soft spandex-covered hem and elastic gusset to keep them in place. They're plenty light for XC use, yet they feel sturdy enough for dirt jumping, street riding, and multi-day adventures in the high mountains. The...
POC Index Flow Gloves - Men's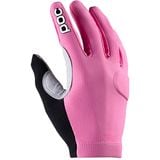 For all the beauty of POC's downhill gloves, some of us find ourselves preferring something a bit lighter, more flexible, and with a more sensitive feel for the bar. The Index Flow Gloves are lightweight and feature knuckle protection not found in other similar gloves. The Index Flow Gloves have...
POC Joint Ankle Guard - Men's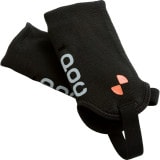 You kicked a snowpile and quickly found a fire hydrant hiding within that snowpile--protect your ankle with the POC Joint Ankle Guard when you want to spend your energy on a more satisfying activity like mountain biking. Made from Visco-Elastic Polymer Dough, this ankle guard cushions your...
POC Joint VPD 2.0 DH Elbow Guard - Men's
POC designed the Joint VPD 2. 0 DH Elbow Guard to withstand just about any crash. The DH version uses the same incredible VPD material as the standard elbow pad, but adds a flexible hard shell cap to really crank up the protection level. The DH Elbow Guard provides all the safety of a big, burly...
POC Joint VPD 2.0 DH Knee Guard - Men's
When it comes to designing body armor, the good folks at POC don't mess around. The DH line is their toughest. By using a flexible hard shell over their incredible VPD padding, POC's designers have built one of the toughest, most comfortable knee pads we've ever seen. And to further the...
<< Prev | Back | 31 | 32 | 33 | 34 | 35 | 36 | 37 | 38 | 39 | 40 | More | Next >>