Mens Mountain Bike Accessories - Road Bike Shop
Shop
>
Men's Apparel Clothing
>
Men's Apparel Mountain Bike Clothing
>
Men's Apparel Mountain Bike Accessories
Giordana Thermosquare Winter Hat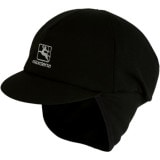 Just because it's winter and cold enough for a warm cap doesn't mean that it's not sunny enough for a cap with a bill. Though it is not impossible to double up on caps -- wear a summer cap under your winter beanie -- who wants to do that and bulk-up under your helmet. With the Giordana...
Giordana Trade Cycling Cap
You wouldn't wear a pith helmet to the opera, so why would you wear a baseball cap on the podium or in the pits? You're better served wearing the cotton Giordana Trade Cycling Cap, which is classic, appropriate, and seriously sexy.
Giordana Trade Mid Cuff Socks - Men's
We like the versatility of the Giordana Trade Mid-Cuff Socks; they're a happy medium, height-wise, for on- or off- road excursions. They can also be worn under pants without exposing shin or the logo graphics when you sit down. After all, it's important to remain professional when wearing...
Giordana Trade Short Cuff Women's Socks
This anklet is a classic. The Giordana Sagittarius logo, the cuff, the mesh, the contrasting toe and heel: this sock has been around. The Giordana Trade Women's Socks are a continuation of a tradition spanning the better part of twenty years. The Trade Socks have been updated with 65% New Life...
Giordana Trade Tall Cuff Socks - Men's
Other functions aside, there's just something nostalgic about the shorts/high socks combo. The Giordana Trade Tall-Cuff Socks remind us of childhood excursions through the woods and into town in three-striped cotton crews hiked up to the calf to protect from poison ivy, thorns, and chainrings. By...
Giro Classic Cotton Cap
Nothing says that you're a cyclist like Giro's Classic Cotton Cap. On or off the bike, this cap offers a bit of shade from the sun, a cover from wind and rain, and a layer of insulation when it's cool. It also wicks sweat when the heat rises. The Giro Classic Cotton Cap is one-size-fits-all and...
Giro Classic Cotton Grinduro Cap
If after hearing about all the fun this year, you're already dreaming about the unconventional mix of gravel, mud, and anything else that you'll encounter at Giro's second annual Grinduro race, wearing the Classic Cotton Grinduro Cap might make the months go by a little faster. We can't make any...
Giro Classic Racer Low Sock - Men's
Unless you take great pride in a pronounced sockline, there isn't a great reason to wear tall socks in the summer. Of course, protection from UV rays is important, but that's what sun block is for. The Giro Classic Racer Low Sock covers you where you need coverage-inside your shoe where abrasion...
Giro Classic Racer Socks - Men's
Made with soft, moisture-wicking Meryl Skinlife fibers and constructed with a classic three-inch cuff, the Giro Classic Racer Socks will accompany you to start lines, finish lines, and hill repeats without allowing an ounce of discomfort.
Giro Comp Racer High Rise Limited Edition Sock - Men's
Step in to unique style and eye-catching patterns with the Giro Comp Racer High Rise Limited Edition Socks. Made from soft, comfortable fabric, these socks breathe easily and whisk moisture away to keep you cool and dry through long training rides and races. At the cuff, Giro utilizes a perfectly...
<< Prev | Back | 31 | 32 | 33 | 34 | 35 | 36 | 37 | 38 | 39 | 40 | More | Next >>