Mens Mountain Bike Accessories - Road Bike Shop
Shop
>
Men's Apparel Clothing
>
Men's Apparel Mountain Bike Clothing
>
Men's Apparel Mountain Bike Accessories
Ion BD-Socks 2.0
Give your shins a break from unwieldy pedals and stray rocks with the Ion BD-Socks 2. 0. Designed to fit like a classic bike sock, but with the bonus of added protection, the BD-Socks incorporate thin HD Memory Foam panels into the front, and ankle, to give you just the right amount of...
Ion Dude Glove - Men's
Sweet gloves with a low profile design are all the rage these days, and Ion hit the nail on the head with its Dude gloves. Made from a lightweight synthetic blend, the gloves shield your hands from stray branches and trail debris, and help you keep your grip locked on for long rides. The palm is...
Ion E-Lite Arm Pad
When things go terribly wrong on the trail, you'll be glade you're rocking the Ion E-Lite Arm Pad with its SAS-Tec padding and hidden hardcap for rugged protection from nasty spills. This low-key elbow pad slips over your forearm and elbow without restricting critical movements when you're...
Ion E-Sleeve
Designed to be as low-profile and flexible as possible, the Ion E-Sleeve is pattered with advanced tailoring that adapts to the shape of your upper arms, elbows, and forearms for unrestricted mobility when you're hucking in the bike park and dropping into technical descents on the mountain. This...
Ion K-Lite Knee Pad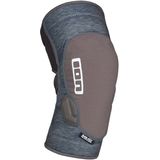 Save some skin when you're getting rowdy on the trail with the Ion K-Lite Knee Pads. Designed for every day riding, the K-Lite pads are lightweight, breathable, and happy to pedal up your favorite trails with their slim profile that fits under shorts with ease, and proven protection, so you're...
Ion K-Lite R Knee Pad
Wearing knee pads is somewhat like wearing a superhero cape. They might not actually alter your natural born abilities, but they sure do give you the confidence to try harder than without them, so you can explore what you really are capable of doing. When you want to test the limits and push a...
Ion K-Lite Zip Knee Pad
Pedal-able protection is hard to nail down, but Ion manages to get the job done with the K-Lite Zip Knee Pads. With the same over all, lightweight construction of the regular K-Lite pad, the K-Lite Zip offers a hardcap over your kneecap for extra support against big crashes, firm 3D foam along...
Ion K-Pact Select Knee Pad
The Ion K-Pact Select Knee Pad is designed for the aggressive trail rider and enduro racer seeking an optimal balance between pedaling mobility and rugged protection against nasty spills. Ion painstakingly developed the K-Pact Select Knee Pad with separate knee and shin panels (i. e. what Ion...
Ion K-Pact Zip Knee Pad
When you're heading out for a ride, protection shouldn't be an afterthought, but none the less we often forget to put on our knee pads before we get our shoes laced up, which is why the designers at Ion made the K-Pact Zip Knee Pads. Enabling us to enjoy the coverage and confidence that is...
Ion K-Sleeve
There are days for the full on body armor, but pedal-heavy trail days are not them. For the days when pedaling to the top sends you up thousands of feet, but you want some protection on the descent, reach for the Ion K-Sleeve. Super-lightweight, the K-Sleeve is made from 3D shaped mesh, with...
<< Prev | Back | 31 | 32 | 33 | 34 | 35 | 36 | 37 | 38 | 39 | 40 | More | Next >>