Mens Mountain Bike Accessories - Road Bike Shop
Shop
>
Men's Apparel Clothing
>
Men's Apparel Mountain Bike Clothing
>
Men's Apparel Mountain Bike Accessories
Leatt 3DF Elbow Guard - Men's
Sitting somewhere between full-on body armor and a lightweight protective sleeve, the Leatt 3DF Elbow Guard offers lightweight, flexible, and tough protection to downhillers who want to go light or enduro riders looking for pedal-friendly protection. The 3DF foam protects the elbow from impacts...
Leatt 3DF Elbow Guard - Youth - Men's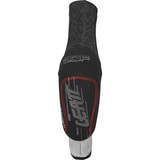 Crashes hurt no matter how big you are, but the Leatt 3DF Youth Elbow Guard can help take the sting out of skin-scraping falls on gravel, dirt, and rock. The soft and flexible 3DF foam padding keeps little shredders' elbows from getting mangled, while MoistureCool fabric helps wick away sweat and...
Leatt 3DF Hybrid Elbow Guards - Men's
Leatt's 3DF pads are light, comfortable, and easy to ride in, and that was before Leatt tacked on some extra arm protection and named it the 3DF Hybrid Elbow Guards. This sleeve has the same flexible 3DF pad on the elbow, but rocks an additional 3DF Hard Shell below, for extra forearm protection...
Leatt 3DF Hybrid Enduro Knee Guard - Men's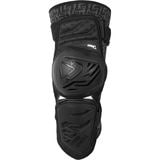 Instead of doubling up on separate knee and shin pads, pull on the Leatt 3DF Hybrid Enduro Knee Guard when you're heading out for a DH shred session. Larger than a knee pad but shorter than a full-on shin guard, the Hybrid combines soft, pedaling-friendly 3DF knee protection with a rugged 3DF...
Leatt 3DF Hybrid EXT Knee Guard - Men's
You love your shins and knees equally, so choosing which to protect is never easy. Luckily, Leatt's new 3DF Hybrid EXT Knee Guard covers both, so you don't have to make any more hard decisions when you're gearing up. The knee pad rocks softer plastic-reinforced 3DF padding for protection and...
Leatt 3DF Knee Guard - Men's
The ground loves to take a little bit of your skin as payment for letting you ride on it, but Leatt's 3DF Knee Guards can help put an end to these types of involuntary donations. They feature a soft knee pad composed of Leatt's proprietary 3DF foam, which offers a flexible fit along with impact...
Leatt 3DF Knee Guard - Youth - Men's
Leatt's 3DF Youth Knee Guard offers lightweight and flexible protection for young rippers' knees, so they'll be able to take their inevitable crashes with a little less ouch. The 3DF foam padding provides front and side protection to cover all sorts of impacts, and the MoistureCool wicking fabric...
Leatt Airflex Elbow Guard - Men's
Big, bulky body armor is effective, but it's no good to pedal in and not very fun to wear when it's warm outside. Leatt's Airflex Elbow Guard, on the other hand, is slim, cool, and comfortable, largely because of its Armorgel padding, which only becomes hard on impact, protecting your 'bows from...
Leatt Airflex Knee Guard - Men's
If you ride, you'll crash, and if you crash, you'll tear up your knees, unless you rock the Leatt Airflex Knee Guard on your 'caps. The Airflex is one of the lightest knee guards out there, at under four ounces per, and it features MoistureCool wicking and breathable fabric to keep sweat from...
Leatt DBX 4.5 Neck Brace - Men's
Crashing's inevitable when you're pushing the limit, which is why Leatt's DBX 4. 5 Neck Brace is a standard piece of gear for big-time downhillers and dirt jumpers. The fiberglass-reinforced nylon chassis provides a rigid platform that prevents your neck from bending in ways it wasn't designed to...
<< Prev | Back | 31 | 32 | 33 | 34 | 35 | 36 | 37 | 38 | 39 | 40 | More | Next >>