Mens Mountain Bike Accessories - Road Bike Shop
Shop
>
Men's Apparel Clothing
>
Men's Apparel Mountain Bike Clothing
>
Men's Apparel Mountain Bike Accessories
G-Form Pro-X Elbow Pad - Kids'
Your pint-sized ripper doesn't like to slow down on the trails for anything, and they've had a few good crashes to prove it. Junior's going to ride fast no matter what, so you might as well give him or her some protection that they'll actually want to wear while they're chasing jumps and ripping...
G-Form Pro-X Elbow Pads
The G-Form Pro-X Elbow Pads don't rely on excessive padding to protect you. Instead, it uses a technology called RPT to provide flexibility when you're riding, with impact protection the moment you hit the deck. This technology is rate-dependent. This means that the molecules, which make up the...
G-Form Pro-X Knee Pads
Big, bulky knee pads make riding tougher than it needs to be, and on most rides, you just want a little extra protection, not a hockey goalie setup. The G-Form Pro-X Knee Pads are perfect for all-mountain rides -the RPT Impact Protection hardens on impact, and protects your skin and bones from...
G-Form Pro-X Knee Pads - Kids'
Your mini ripper may not think they need extra protection on the trails, but you'd rather not wait for tears and bandages to prove them wrong. G-Form's Pro-X Knee Pads won't slow them down when they're ripping berms or railing around tight corners, but the pads will protect their knobby knees...
G-Form Pro-X Knee-Shin Guard
When you're steering your downhill rig into destructive terrain, you're ready for whatever unknown you're heading towards. That being said, you'll feel a lot better when you're wearing protection like G-Form's Pro-X Knew-shin Guard. You can count on the Pro-X to save you from leaving too much...
Giordana Astana Team Cap
Maybe it's the beautiful baby blues or the old Astana videos that inspired you to cycle in the first place, but you can't help sporting Giordani's Astana Team Cap on casual, sunny training days. In reality, this cap is simply a comfy, breathable option; in your imagination, Scarponi is demanding...
Giordana Classic Trade Mid Cuff Socks - Men's
The Giordana Classic Trade Socks are a good commodity to stock up on for your summer days that all seem to blend into one another. After all, more time doing laundry equals less time on the bike. These socks perform well and at a great value. The toe is extra-smooth to reduce abrasion. CoolMax...
Giordana Cotton Cycling Cap
Retail Price:
$20.00
Our Price: $11.00
buy now
When sitting at your desk all day, co-workers have no way of knowing that you're a two-wheeled fanboy ... unless, of course, they see a Giordana Cotton Cycling Cap sticking out above the cubical while perched on your head.
Giordana EXO Mid Cuff Sock - Men's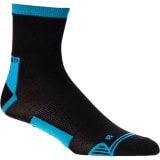 When its time to start baring forearms and knees, it's time to switch to the thinnest, best wicking, most breathable socks in your sock drawer. Giordana has designed the EXO Men's Mid Cuff Sock to occupy that spot in your clothing matrix. The sock is woven from a blend of Meryl Skinlife and Lycra...
Giordana EXO Tall Cuff Compression Sock - Men's
Giordana's EXO Men's Tall Cuff Compression Socks keep you company from ride to recover -- adding another way to maximize your marginal gains. Woven from a blend of Meryl Skinlife and Lycra, these socks are designed to support the muscles in your feet, ankles, and lower calves. Held in place by...
<< Prev | Back | 31 | 32 | 33 | 34 | 35 | 36 | 37 | 38 | 39 | 40 | More | Next >>