Mens Mountain Bike Accessories - Road Bike Shop
Shop
>
Men's Apparel Clothing
>
Men's Apparel Mountain Bike Clothing
>
Men's Apparel Mountain Bike Accessories
Kali Protectives Veda Soft Elbow Guard - Men's
Give your wings a fighting chance with Kali Protectives' Veda Soft Elbow Guard. Using perforated neoprene with a soft-shell cup, lined with Nitrex high-density foam, the Veda protects without restricting movement. In abrasive zones, an Aramid weave expands protection and ensures durability. The...
Kitsbow Herringbone Socks - Men's
It's no accident that the Kitsbow Herringbone Socks' titular pattern becomes decidedly more jagged as it approaches the metatarsus. That's where your foot contacts the pedal and all your passion for cycling is transformed into kinetic energy. The herringbone mimics your heart rate, spiking when...
Leatt DBX Comp 4 - Men's
Retail Price:
$359.00
Our Price: $251.30
buy now
The Leatt DBX Comp 4 is completely different from the Ride 4 and Pro Lite in that it has a unique split front design and four-way adjustability. It uses high-impact Polymer like the Ride 4, instead of the Pro Lite's carbon fiber, so it's a few grams heavier than the top-shelf brace and a few...
Louis Garneau 3002 Hat - Men's
The Louis Garneau 3002 Hat is perfect for wearing under your helmet on brisk days. Built from a brushed, four-way stretch fabric, it allows for a layer of warm air to keep your core temperature up, while it keeps you dry and comfy. Plus, the antimicrobial silver fibers keep it from getting funky,...
Louis Garneau C-Cycling Socks - Men's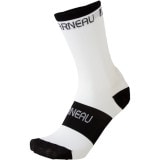 On race day, science-backed gear can give you that split second you need to lunge across the line. The Louis Garneau C-Cycling Sock adds an intelligent edge to your racing arsenal. Active compression and control zones at the toe and heel encourage healthy circulation by flushing blood to the...
Louis Garneau Conti Long Socks - Men's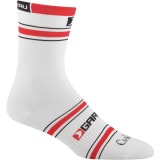 When are socks not just socks? Far be it from us to answer this profound question, but the Louis Garneau Conti Long Socks are straddling that fine line. Made from a blend of Coolmax, polyester, nylon, and elastane, they breathe fantastically to keep your feet dry and cool. And the crew length...
Louis Garneau Course Racer Cap - Men's
The Louis Garneau Course Racer Cap is Garneau's take on the classic cycling cap. Made of cotton, with a low-profile polyester brim, it keeps your brow dry and your eyes free from excess glare and precipitation. There's a reason that everyone in the know owns a couple of good caps. And if you didn...
Louis Garneau Course Socks - Men's
If you're of the mindset that socks are "just socks," we feel sorry for your feet. Although, there are the occasional nuts that can ride sock-less for centuries at a time, us mere mortals need a strong layer of defense between our shoes and our skin. This is where the Louis Garneau Course Socks...
Louis Garneau Ear Covers - Men's
It's common knowledge that heat escapes from your head faster than anywhere else. Knit caps are great for sedentary winter activities because they trap that heat. But when you're hammering away on the bike, full knit caps can cause you to overheat quickly. Consider the Louis Garneau Ear Cover 2...
Louis Garneau Edge Glove - Men's - Men's
The next time you find yourself smashing down a narrow, technical piece of singletrack, you'll be glad to have the extra protection of the Louis Garneau Edge Mountain Bike Glove. Garneau placed protection strategically to keep the glove as lightweight as possible, but it covers the typical areas...
<< Prev | Back | 21 | 22 | 23 | 24 | 25 | 26 | 27 | 28 | 29 | 30 | More | Next >>