Mens Mountain Bike Accessories - Road Bike Shop
Shop
>
Men's Apparel Clothing
>
Men's Apparel Mountain Bike Clothing
>
Men's Apparel Mountain Bike Accessories
Giro DND Grinduro Glove - Men's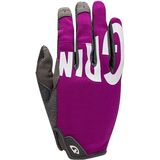 The acronym in Giro's DND Grinduro Gloves stands for "Down and Dirty," and riding that way is exactly what Giro expects you to do in its rugged all-around trail gloves. Now available in the purple popularized by Giro's little-bit-of-everything Grinduro race -- not just road, not just gravel, not...
Giro HRc Team Socks - Men's
If you aren't thinking about your feet on the bike, chances are, they're happy, which is exactly what Giro's HRc Team Socks help you achieve. Knit with ultralight Meryl Skinlife synthetic fibers, the socks ward off offensive odors by working to subdue bacteria while continuously wicking moisture....
Giro LX LF Cycling Gloves - Men's
Like a pair of supple leather driving gloves, Giro's LX Long-Finger Cycling Gloves are the finishing touch to your road ensemble. Suited for the days you want to stay warm in style, the gloves use gel padding inserted in a durable Pittards WR100X leather palm to protect your hands from road...
Giro Merino Winter Cap
On or off the bike, the Giro Merino Wool Cap is a cyclist's staple. The wool cap insulates to keep your head warm, but the X-Static liner breathes well and wicks moisture away from your skin. It's substantial enough to wear alone off the bike, and thin enough to wear under your helmet for a...
Giro Merino Winter Sock - Men's
Stay warm this winter with the Giro Merino Winter Sock. This mid-calf sock fits comfortably with tights and leg warmers to keep your feet warm when you're cycling in the depths of winter. As always merino wool is naturally warm, breathable, and stink free allowing you to peddle in comfort till...
Giro Merino Wool Hightower Socks - Men's
Giro's Merino Wool Hightower Socks look like cold-weather socks at first glance, and though their thin construction and height suits them well to being layered under winter tights, they have their place on the trails year-round. Their soft, merino wool blend exhibits excellent breathability and...
Giro New Road Merino Seasonal Wool Socks - Men's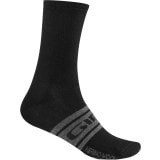 As the name implies, Giro's Merino Seasonal Wool Socks were constructed using a blend of smooth "seasonal weight" wool. The merino wool in the makeup helps the socks breathe, wick moisture, and resist the buildup of odors, while also providing medium-weight insulation for cool-weather conditions....
Giro Peloton Cap
You need a cycling cap, so it may as well look good. The Giro Peloton Cap keeps it classy with a time-tested fit and modern patterns. It'll keep your hair in check and keep the sweat out of your eyes, so you can concentrate on dropping the hammer. Best of all, when you stop for coffee, everyone...
Giro Remedy X Glove - Men's
Giro designed the Remedy X Gloves to handle the hardest gravity and enduro-style riding. The gloves feature reinforced palms and Poron XRD padding, which stiffens to provide full-protection in the event of an impact. The perforated mesh on the back of the glove is both durable and breathable, and...
Giro Rivet II Glove - Men's
The Giro Rivet II Gloves check a lot of boxes for a lot of riders. Pittard's synthetic leather palm, no padding, and four-way stretch fabric on the back of the hand add up to a glove that provides good trail feedback and bar-feel while protection your hands in the event of a crash. They pull on,...
<< Prev | Back | 21 | 22 | 23 | 24 | 25 | 26 | 27 | 28 | 29 | 30 | More | Next >>