Mens Mountain Bike Accessories - Road Bike Shop
Shop
>
Men's Apparel Clothing
>
Men's Apparel Mountain Bike Clothing
>
Men's Apparel Mountain Bike Accessories
Giro Coolmax Hi-Rise Sock - Men's
Retail Price:
$12.95
Our Price: $5.18
buy now
The Giro Coolmax Hi-Rise Sock is the ideal sock for warm weather cycling. When you've been jonesing to ride all day, but can't fathom pushing the peddles when the temps are hovering close to 100, then wait for the sun to settle a bit on the horizon and pump your way to the pass. Coolmax fabric...
Giro DND Gloves - Men's
When you pull on the DND Gloves, you're treating your hands to technical features, expert craftsmanship, and Giro quality. So, how did this enticing level of perfection come into existence? Simple. The DND Super Fit design has evolved with Giro's diverse team of cyclists and engineers on trails...
Giro Merino Winter Cap - Men's
Frosty rides are less so when you're pushing the pedals with a Giro Merino Winter Cap under your helmet. Classic styling and an Australian wool blend make this cap perfect for winter conditions, whether you're riding or not.The cap is relatively light, so it's easy to toss in a pocket if you're...
Giro Remedy X Gloves - Men's
The Giro Remedy X Gloves were built with a single-minded focus on keeping your hands protected in hairy terrain. They feature reinforced palms and Poron XRD padding, meaning that neither a baseball slide nor any mighty shrubbery will be a threat to your digits. And since they use Giro's Super Fit...
Giro Rivet Glove - Men's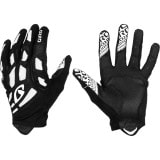 Retail Price:
$34.95
Our Price: $19.22
buy now
There's much contributing to the quality of your ride, and gloves are one of the more important factors. A poorly placed seam, too much padding, or a closure that pinches the wrist might not be a big deal 15 miles in, but when distance really starts stacking up, those small annoyances can lead to...
Giro Rivet II Gloves - Men's
On a technical downhill or tricky singletrack, a glove flub can be the difference between navigating a tight switchback and catapulting into the trees. Giro's Rivet II Gloves are built around a minimalist palm that eschews padding and uses Giro's bunch-free Super Fit engineering to avoid that...
Giro Xen Gloves - Men's
Retail Price:
$39.95
Our Price: $23.97
buy now
None of us wants to end up with raw paws during riding season, and luckily, Giro's gone the extra mile with its full-finger Xen Gloves. When these puppies are wrapped around your grips, you'll enjoy not only protection, but also effective ventilation and unrestricted movement. In terms of...
Gore Bike Wear Alp-X 2.0 Glove - Men's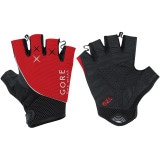 Retail Price:
$49.95
Our Price: $39.96
buy now
Gore Bike Wear is one of the most respected names in bike gear and clothing. It's made quite a name for itself in the worlds of cold-weather cycling and mountain biking. Less well-known, but just as meticulously well-made are Gore Bike Wear's warm-weather products. The Alp-X 2. 0 Glove is made...
Gore Bike Wear Alp-X SO Light Gloves - Men's
Retail Price:
$65.95
Our Price: $52.76
buy now
If you're a control freak who demands a comfortable and protective glove, while maintaining absolute command over your bike as you guide it down the mountain, the Gore Bike Wear Alp-X SO Light Glove is your zero-compromise answer. Comfort features like gel padding in the palms absorb trail...
Gore Bike Wear Countdown 2.0 Summer Men's Gloves - Men's
Retail Price:
$45.95
Our Price: $36.76
buy now
Gore Bike Wear's Countdown apparel line is concentrated on the versatility required for all-mountain trail riding. Along these lines, each piece is focused on providing the right tool for the task at hand. And in the case of the Countdown 2. 0 Summer Gloves, Gore focused on providing heightened...
<< Prev | Back | 21 | 22 | 23 | 24 | 25 | 26 | 27 | 28 | 29 | 30 | More | Next >>