Mens Mountain Bike Accessories - Road Bike Shop
Shop
>
Men's Apparel Clothing
>
Men's Apparel Mountain Bike Clothing
>
Men's Apparel Mountain Bike Accessories
Fox Racing Reflex Gel Gloves - Men's
Gel gloves have traditionally been the best friends of bike path cruisers and weekend casualistas, but the Fox Racing Reflex Men's Gel Gloves see things a little differently. Sure, they sport comfortable gel padding in strategic spots, but they manage to do so without losing the responsiveness...
Fox Racing Reflex Gel Short Gloves - Men's
Gloves shouldn't be a prison for your fingers. With Fox Racing's Reflex Gel Short Gloves, you'll have all the protection you need for long XC rides and the finger freedom to snap photos and identify items in your rear pockets by touch. Like the regular Reflex gloves, the Reflex Shorts have an...
Fox Racing Sidewinder Polar Glove - Men's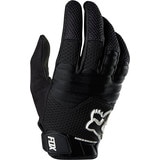 Retail Price:
$44.95
Our Price: $26.97
buy now
With the standard Sidewinder glove a proven favorite of dirt lovers everywhere, Fox has taken steps to make a version that can withstand not just mud and grime, but the cold, too, with the Fox Sidewinder Polar Gloves. Fox uses its proprietary Airprene padding over the knuckles for sufficient...
Fox Racing Titan Sport Elbow Guards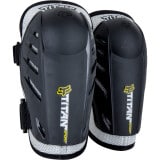 The Fox Titan Sport Elbow Guard combines simplicity with smart design for maximum protection and comfortable fit. The tough hardshell design lets you throw an elbow into any number of trees, endangered and otherwise, without ending up in the ER, and the combination slip-on/strap-secured design...
Fox Racing Titan Sport Jacket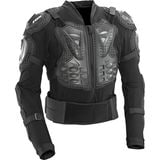 You'd be hard-pressed to find more protective under-jersey coverage than the Fox Titan Sport Jacket has. The Titan features high-impact-plastic shoulder and elbow coverage, along with an anatomic two-piece chest plate that will keep you from getting impaled like a shish-kabob when you nail a...
Fox Racing Titan Sport Sleeveless Jacket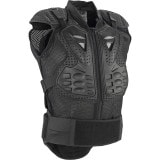 Retail Price:
$129.95
Our Price: $77.97
buy now
Wrap your vitals in a thick candy shell with the Fox Titan Sport Sleeveless Jacket. The Sleeveless Titan Sport protects your spine and organs without limiting your range of motion or getting in the way as you flail your arms in mid-air.
Fox Racing Unabomber Gloves - Men's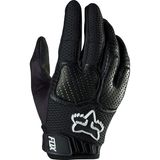 Retail Price:
$49.95
Our Price: $27.47
buy now
The combination of perforated leather and molded Kevlar knuckle protection makes the Fox Racing Unabomber Gloves a hot-weather favorite for aggressive riders. This construction allows air to flow freely through the gloves so your hands remain dry and in control, and the padding, only in spots you...
G-Form Pro-X Elbow Pads
The G-Form Pro-X Elbow Pads don't rely on excessive padding to protect you. Instead, it uses a technology called RPT to provide flexibility when you're riding, with impact protection the moment you hit the deck. This technology is rate-dependent. This means that the molecules, which make up the...
G-Form Pro-X Knee Pads
Big, bulky knee pads make riding tougher than it needs to be, and on most rides, you just want a little extra protection, not a hockey goalie setup. The G-Form Pro-X Knee Pads are perfect for all-mountain rides -the RPT Impact Protection hardens on impact, and protects your skin and bones from...
G-Form Pro-X Shin Pads
It's a sure thing that your shins are going to get bashed, smashed, bloodied, and beaten when you're riding flat pedals, unless you're wearing the G-Form Pro-X Shin Pads. The RPT Impact Protection takes the sting out when your feet slip off the pedals, and you can throw them in the washing...
<< Prev | Back | 21 | 22 | 23 | 24 | 25 | 26 | 27 | 28 | 29 | 30 | More | Next >>