Mens Mountain Bike Accessories - Road Bike Shop
Shop
>
Men's Apparel Clothing
>
Men's Apparel Mountain Bike Clothing
>
Men's Apparel Mountain Bike Accessories
DeFeet Do Epic Shit 5in Sock - Men's
In the case of DeFeet's Do Epic Shit Aireator Socks, the name really does say it all. Designed on the platform of DeFeet's long-lasting Aireator, these socks are made with a blend of hardworking synthetic fibers that include recycled CoolMax EcoMade, nylon, and Lycra, all of which combine to wick...
DeFeet Dottie - Men's
If we had to guess, we'd say DeFeet may have taken a cue from the gelatinous bubbles of lava lamps while designing the Dottie sock, but we'll never know for sure. Either way, the graphics make an eye-catching addition to these resilient socks, which were designed on the platform of DeFeet's...
DeFeet Framework Socks - Men's
DeFeet's Framework Socks build on the established base of the Aireator model with some optically challenging graphics that would be equally at home in an Escher painting or a screen saver background. In the realm of plain, staid, sponsor-laden cycling socks, they definitely stand out, hypnotizing...
DeFeet High Ball 6in - Men's
We don't always want our socks to stand out, but on the days we do, something from DeFeet's High Rouleur collection would achieve the intended effect. With grayscale graphics reminiscent of an optical illusion, the High Ball 6in socks were designed on the platform of DeFeet's long-lasting...
DeFeet Hipster - Men's
We think it's a good idea to keep a few pairs of DeFeet's Hipster socks around for gift-giving occasions. After all, your uber-hip brother probably already has all of the trendiest books (but no genre fiction), movies (he'll call them "films"), and music (Vinyl only. Obviously.), but he probably...
DeFeet Jitter Bug 4in Sock - Men's
We can't promise they'll give you the perfect rhythm of a veteran track cyclist, but DeFeet's Jitter Bug socks will undoubtedly add a bit of jazz to your next ride with high-energy graphics and the promise of longevity reminiscent of their namesake dance. Though it wouldn't mind an evening in a...
DeFeet Jitter Bug 6in Sock - Men's
Give your ankles some flair with the DeFeet Jitter Bug 6in socks, featuring a perfectly on-trend six-inch length and an edgy pattern of contrasting colors to spice up your ride. DeFeet utilizes its renowned Aireator platform for the Jitter Bugs for exceptional comfort all day long. With DeFeet's...
DeFeet Joy Rides Sock - Men's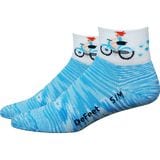 Retail Price:
$10.95
Our Price: $8.21
buy now
Sometimes, we take a spin on our bikes just to get outside and take in the scenery, but we still don't want to sacrifice comfort by wearing sub-par gear. Inspired by low-key rides but built for your most strenuous workouts, DeFeet's Joy Ride socks have the style for your easy days with all of the...
DeFeet Knee High - Men's
Get sheep-y and go full wool in the DeFeet Knee High Woolie Boolie socks. Touted as DeFeet's thickest, warmest socks, the merino Knee Highs take the Woolie Boolie platform to the max with a super-tall and extra-warm length that hits just below the knee for complete lower-leg protection out on the...
DeFeet Levitator 5in - Men's
Retail Price:
$12.95
Our Price: $9.71
buy now
Add some cool style to hot rides with the DeFeet Levitator 5in socks. Built on DeFeet's Levitator Light platform, they feature 360-degree airflow around the midfoot and a thinner cuff than the renowned Aireator, making them the company's thinnest, most ventilated cycling socks. Wear them on their...
<< Prev | Back | 21 | 22 | 23 | 24 | 25 | 26 | 27 | 28 | 29 | 30 | More | Next >>