Mens Mountain Bike Accessories - Road Bike Shop
Shop
>
Men's Apparel Clothing
>
Men's Apparel Mountain Bike Clothing
>
Men's Apparel Mountain Bike Accessories
DeFeet Levitator Print Trail 6in Socks - Men's
For the Levitator Print Trail 6-inch Socks, DeFeet incorporated Coolmax EcoMade material into a stretchy synthetic blend for a highly wicking, highly breathable fabric that'll keep you dry for an entire day of trail riding. The forefoot is padded for a bit of cushion without stifling your foot,...
DeFeet Levitator Trail 6in Socks - Men's
Retail Price:
$13.95
Our Price: $10.46
buy now
DeFeet's latest addition to its All-Mountain category is known as the Levitator Trail. Designed with subtle padding and a tall cuff, the Levitator Trail 6-inch Socks are perfect for keeping your feet comfortable and supported during all of your trail rides, adventure tours, and gravel adventures....
DeFeet Levitator Trail Irie 6in Sock - Men's
When it designed its Irie socks, DeFeet was inspired by long, reckless days on the trail complete with the friendly greetings of fellow cyclists at the trailhead. The socks aren't just about trail-ready looks though -- made out of a blend of synthetic fibers including DeFeet's recycled CoolMax...
DeFeet Memphis 6in Sock - Men's
Retail Price:
$14.95
Our Price: $6.73
buy now
Memphis 6in Sock
DeFeet On The Rocks 6in Sock - Men's
Whether you prefer to sip cocktails on the porch after a day on the trails, bunker down with a book of equations, or just admire the symmetrical beauty of a well-proportioned geometric design, the DeFeet On The Rocks socks are the perfect pairing for the cubically inclined. Their six-inch cuff...
DeFeet Recon 6in Sock - Men's
Whether you're doing some early-season reconnaissance or lying low around fifth wheel, the DeFeet Recon socks' digital camo will help you fly under the radar until the time is right. They're made from a blend of synthetics featuring CoolMax EcoMade, which keeps your feet cool, dry, and funk-free...
DeFeet Run Cushion Tabby - Men's
Retail Price:
$12.95
Our Price: $9.71
buy now
Some of us love running for its freeing adrenaline rush and simplicity of equipment. For others (ahem, cyclists), it's a necessary evil to get through winter training or appropriately prepare for those lung-burning run-ups and pesky barrier sections found on the cyclocross course. DeFeet makes it...
DeFeet Saturn - Men's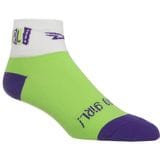 Retail Price:
$10.95
Our Price: $8.21
buy now
DeFeet took inspiration from a fellow member of our solar system when designing the Saturn cycling socks on its popular Aireator platform, adding stripes reminiscent of rings along the four-inch cuff. Made with a blend of synthetic fibers, almost half of which are made from recycled materials,...
DeFeet Share the Road Sock - Men's
Stay the course and show your support for peaceful roadway interactions in the DeFeet Share the Road socks. DeFeet opts for a three-inch cuff height to wrap your ankles in harmonious advocacy for safer thoroughfares and avoid the unsightly mid-calf tan lines so often associated with the swanky...
DeFeet Speak Easy 4in Sock - Men's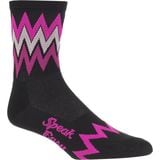 Retail Price:
$14.95
Our Price: $11.21
buy now
We can't promise you'll be able to carry on a comfortable conversation when you're hammering to the county line sprint wearing the DeFeet Speak Easy 4in socks, but we can guarantee you'll be rolling in style. The four-inch cuff sits at the perfect height to show off some colorful style out on the...
<< Prev | Back | 21 | 22 | 23 | 24 | 25 | 26 | 27 | 28 | 29 | 30 | More | Next >>