Mens Mountain Bike Accessories - Road Bike Shop
Shop
>
Men's Apparel Clothing
>
Men's Apparel Mountain Bike Clothing
>
Men's Apparel Mountain Bike Accessories
DeFeet Tenspeed Hero Aireator 6in Sock - Men's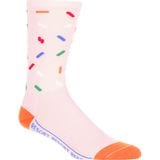 Retail Price:
$14.95
Our Price: $12.71
buy now
Venturing away from the hum-drum narratives of standard cycling apparel, the DeFeet TenSpeed Hero Aireator 6in Sock lends visual inspiration with its vibrant argyle, dreamy clouds, and delicious sprinkle prints. It takes stylistic cues from the tight-knit band of cyclists known as TenSpeed Hero,...
DeFeet Thermeator Hollow Core 6in Socks - Men's
The Thermolite polyester at the heart of DeFeet's Thermeator Hollow Core 6-inch Socks are a synthetic version of merino wool. If extraterrestrial sheep aren't just fantasies of our winter-addled minds, they'll probably be covered in something like it. Thermolite works by creating pockets of...
DeFeet Wooleator 3in D-Logo Sock - Men's
Retail Price:
$14.95
Our Price: $11.36
buy now
DeFeet's Wooleator 3in D-Logo sock is never not the right choice for a ride. It incorporates breathable wool that keeps feet fresh on summer days and provides more insulation than 100% synthetics under winter booties. It's also finished with a three-inch StayFast cuff that strikes the middle...
DeFeet Wooleator 6in Camo Sock - Men's
Wrap your hardworking toes in a sock that adapts to the volatile temps of early spring when you get back out on the roads or trails. DeFeet's proven Wooleator 6in Camo Sock's adaptable blend of USA wool and synthetic fibers help regulate your temperature when you go from sweating on a climb to...
DeFeet Wooleator Argyle Hi-Top 5in Sock - Men's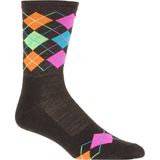 Retail Price:
$14.95
Our Price: $11.51
buy now
Set aside the sweater vest and step into some updated argyle style with the DeFeet Wooleator Argyle Hi-Top socks. Boasting all the comfort we've come to love from the classic Aireators, these socks up the ante by swapping out the CoolMax fabric for super soft, cozy warm, and breathable merino...
DeFeet Wooleator High Top 5in Socks - Men's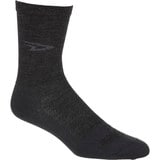 Retail Price:
$14.95
Our Price: $10.46
buy now
Wool used to be the material of choice for cyclists, then it was phased out in favor of synthetics, and now it's back in a big way. It's not just for your feet, either, but that doesn't mean wool socks aren't the best. Defeet's Wooleator High Top 5in Men's Socks combine merino wool, nylon, and...
DeFeet Woolie Boolie 1in Sock - Men's
Like their taller siblings, DeFeet's Woolie Boolie 1 inch socks take advantage of merino wool's nearly mythical properties to ensure feet stay warm and dry in winter's most inhospitable riding or running conditions. By blending the wool with synthetic fibers, the midweight socks achieve a close,...
DeFeet Woolie Boolie 4in Socks - Men's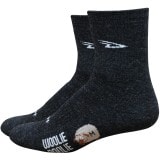 Retail Price:
$15.95
Our Price: $12.76
buy now
Whether you're dancing on your pedals, or to the '60s rock song bearing a similar-sounding name, DeFeet's Woolie Boolie 4-inch Socks were designed to keep your feet warm, dry, and comfortable. As the name implies, DeFeet's Woolie Boolies were constructed using a blend of ultra-fine New Zealand...
DeFeet Woolie Boolie Baaad Sheep Sock - Women's
As you saddle up in the morning chill, the merino wool Defeet Women's Woolie Boolie Bike Sock help to insulate your toes while continuing to regulate your heat and moisture throughout your entire sunny spring ride.
DeFeet Zombie Sock - Men's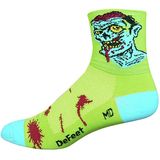 The undead styling of DeFeet's Zombie socks reminds us of cycling's highs -- like the multiple deaths and revivals Voeckler experienced to hold onto yellow atop Plateau de Beille in 2004 -- and lows -- like the inability of Voeckler's antagonist's career that day to stay in the grave. Whether you...
<< Prev | Back | 21 | 22 | 23 | 24 | 25 | 26 | 27 | 28 | 29 | 30 | More | Next >>