Mens Mountain Bike Accessories - Road Bike Shop
Shop
>
Men's Apparel Clothing
>
Men's Apparel Mountain Bike Clothing
>
Men's Apparel Mountain Bike Accessories
DeFeet Bone Shaker Socks - Men's
Shake up your next ride and wrap your ankles in line-dancing skellies with the DeFeet Bone Shaker socks, guaranteed to up the festive factor on any day. DeFeet gives our favorite skeletons a three-inch canvas on which to cut a rug, while avoiding the ever unappealing tan lines so often found...
DeFeet Champion Of The World Aireator Hi Top 5in Sock - Men's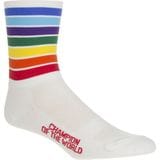 Paying tribute to Sonya Looney's 2015 championship, the DeFeet Champion Of The World Aireator Hi Top 5in Sock keeps your feet pleasantly cool and comfortable in podium-crushing style. CoolMax EcoMade recycled yarns wick moisture for airy-cool comfort during the most intense efforts. Ventilated...
DeFeet Charleston 4in Sock - Men's
Cut a rug and dance on the pedals in the DeFeet Charleston 4in socks. Like their namesake dance, these socks boast enduring style and durability to last through miles and miles of spinning to the rhythm of the road. Their four-inch cuff sits at the perfect height -- tall enough to show off some...
DeFeet Checkerboard - Men's
The DeFeet Checkerboard socks are based on the Speede sock platform, which incorporates CoolMax EcoMade throughout its body and a light mesh weave across the top of the foot for lightweight breathability. The unobtrusively low StayFast cuff follows suit, making for a pair of socks that you'd...
DeFeet Cool Bikes 2 Sock - Men's
Show the world your passion for all things bike with a dose of fun flair in the DeFeet Cool Bikes 2 socks. With a more traditional three-inch height, these socks hug your ankles without the awkward half-calf tan lines that go along with all those trendy, high cuff options out there. Made with...
DeFeet Cool Bikes Sock - Men's
Built on the platform of its popular Aireator design, DeFeet's Cool Bikes socks feature a three-inch cuff and are constructed with a blend of synthetic fibers, almost half of which are made from recycled materials. They have a contoured fit that helps them to quickly pull moisture away from your...
DeFeet Crash Test Dummy 5in Sock - Men's
Retail Price:
$10.95
Our Price: $8.21
buy now
We're not entirely sure what the connection is between a Crash Test Dummy and DeFeet socks, but we think it has something to do with safety. We certainly hope it's not a celebration of crashes and car/cyclist collisions. Whatever their inspiration, the socks use DeFeet's indestructible Aireator...
DeFeet Cyclismo 1in Socks - Men's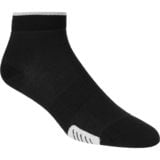 Retail Price:
$14.95
Our Price: $11.21
buy now
The ultimate "modern cycling sock" was the main objective when DeFeet set out to create the Cyclismo 1-inch Socks. In other words, DeFeet combined its best materials and innovative fit technologies together in the form of a streamlined, comfortable, and versatile cycling sock design. The Cyclismo...
DeFeet Cyclismo 3in Bike Sock - Men's
The Cyclismo 3in Bike Sock takes full advantage of Defeet's sock prowess to keep your feet comfy and cool when mashing pedals. Perfect for rides on the hottest part of the day, Defeet made the Cyclisomo light and thin to keep you cool. An ergonomic, foot-specifit fit ensures the Defeet Cyclismo...
DeFeet Cyclismo 5 in w/Reflective - Men's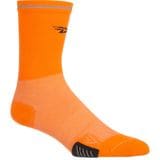 In another industry first, the innovative foot-comfort fetishists at DeFeet have developed a feature they're calling Reflector, which involves the incorporation of a stripe of reflective yarns in the seamless, breathable Cyclismo platform. The results are the Cyclismo 5 in w/Reflective socks,...
<< Prev | Back | 21 | 22 | 23 | 24 | 25 | 26 | 27 | 28 | 29 | 30 | More | Next >>