Mens Mountain Bike Accessories - Road Bike Shop
Shop
>
Men's Apparel Clothing
>
Men's Apparel Mountain Bike Clothing
>
Men's Apparel Mountain Bike Accessories
DeFeet Framework Socks - Men's
DeFeet's Framework Socks build on the established base of the Aireator model with some optically challenging graphics that would be equally at home in an Escher painting or a screen saver background. In the realm of plain, staid, sponsor-laden cycling socks, they definitely stand out, hypnotizing...
DeFeet High Ball 4in Sock - Men's
DeFeet takes inspiration from optical illusion with its High Ball 4in socks, adding eye-catching graphics to the platform of its long-lasting Aireator style. Made with a synthetic blend that includes DeFeet's recycled CoolMax EcoMade fibers in a vented mesh weave, the socks are designed to pull...
DeFeet Jitter Bug 4in Sock - Men's
We can't promise they'll give you the perfect rhythm of a veteran track cyclist, but DeFeet's Jitter Bug socks will undoubtedly add a bit of jazz to your next ride with high-energy graphics and the promise of longevity reminiscent of their namesake dance. Though it wouldn't mind an evening in a...
DeFeet Jitter Bug 6in Sock - Men's
Give your ankles some flair with the DeFeet Jitter Bug 6in socks, featuring a perfectly on-trend six-inch length and an edgy pattern of contrasting colors to spice up your ride. DeFeet utilizes its renowned Aireator platform for the Jitter Bugs for exceptional comfort all day long. With DeFeet's...
DeFeet Joy Rides Sock - Men's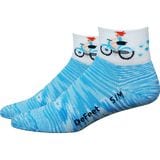 Sometimes, we take a spin on our bikes just to get outside and take in the scenery, but we still don't want to sacrifice comfort by wearing sub-par gear. Inspired by low-key rides but built for your most strenuous workouts, DeFeet's Joy Ride socks have the style for your easy days with all of the...
DeFeet Levitator Lite 5in Socks - Men's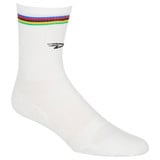 Lightweight is the name of DeFeet's sock game, and the Levitator Lite 5-inch Socks come out on top. Based on the Aireator model, the Levitator introduces even more ventilating mesh material for 360 degrees of airflow around the middle of the foot without compromising durability at the toe and...
DeFeet Levitator Trail Bigfoot 6in Sock - Men's
Keep your eyes peeled on your next trail ride for the mythical woodland ape with the fun-loving look of the DeFeet Levitator Trail Bigfoot 6in Sock. This crew-length sock is decked out in special-edition graphics by the legendary California artist known as Bigfoot. It's a fresh spin on DeFeet's...
DeFeet Levitator Trail Irie 6in Sock - Men's
When it designed its Irie socks, DeFeet was inspired by long, reckless days on the trail complete with the friendly greetings of fellow cyclists at the trailhead. The socks aren't just about trail-ready looks though -- made out of a blend of synthetic fibers including DeFeet's recycled CoolMax...
DeFeet Levitator Trail USA1 6in Sock - Men's
The DeFeet Levitator Trail USA1 6in Sock brings a patriotic vibe and plush cushioning to rugged trail rides. It's an enduro-specific sock, complete with a high-density forefoot pad for superior shock absorption when you're rallying across chunky rock gardens and railing turns around sweeping...
DeFeet Mad Alchemy Aireator 6in Sock - Men's
Designed for the speed demon inside all of us, the DeFeet Mad Alchemy Aireator 6in Sock fuels your spirited riding and racing pursuits with its lightweight, ventilated feel and vibrant graphics. It's a collaborative sock with the embrocation wizards at Mad Alchemy, complete with their signature...
<< Prev | Back | 21 | 22 | 23 | 24 | 25 | 26 | 27 | 28 | 29 | 30 | More | Next >>