Mens Mountain Bike Accessories - Road Bike Shop
Shop
>
Men's Apparel Clothing
>
Men's Apparel Mountain Bike Clothing
>
Men's Apparel Mountain Bike Accessories
Giordana Gradual Compression Socks - Men's
One often reads about the benefits of compression in cycling shorts. The gentle squeezing of the muscles promotes healthy blood flow, which lessens the impact of fatigue and promotes speedier recovery. The Giordana Gradual Compression Knee-High Socks extend the benefits of compression to your...
Giordana Knitted PolyPro Balaclava - Men's
How many times have you tried riding in cold of winter with a balaclava on, only to suffer from a combination of steamy glasses and wet, saliva covered fleece brushing up against your mouth? If you're like us, you probably answered "too often." That's why Giordana created its Knitted PolyPro...
Giordana Knitted PolyPro Ear Covers - Men's
If you always seem to catch a headwind on your rides, your ears, no doubt, have probably been bitten by Jack Frost more than once. So, if you've already declared that enough is enough, the Giordana Knitted PolyPro Ear Covers will serve as the perfect mid-weight layer for under-the-helmet ear...
Giordana Knitted PolyPro Skull Cap - Men's
With a polypropylene construction, Giordana's Knitted Skull Cap checks off all the boxes for winter protection. Its breathable composition provides warmth without overdoing it, and the fabric wicks away sweat to keep your skin dry underneath your helmet. Giordana designed the skull cap with a low...
Giordana Merino Wool Socks - Men's
Wool socks have become a winter staple for us, and we love the stylized fashion of longer cuffs, which are the two main reasons we love Giordana's Merino Wool Socks work not only for our cycling shoes, but our casual shoes, running shoes, even dress shoes. The five-inch cuff helps with both...
Giordana PolyPro Knitted Neck Gaiter - Men's
Sometimes you just need a little extra layer to keep cold air from creeping into your winter jacket. And lucky for you, the Giordana PolyPro Neck Gaiter does just that. Constructed from polypropylene, this seemingly simple tube-shaped accessory slips over your head and tucks into your jacket...
Giordana Roubaix Balaclava - Men's
The Giordana Roubaix Balaclava helps you keep your commuting routine going when the fierce winds of winter threaten the very core of your bicycle idealism. The plush-backed Roubaix fabric blocks wind, wicks sweat, and holds heat to keep you from freezing on your way to work.
Giordana Sport Cycling Cap - Men's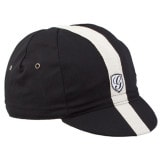 Cycling caps transcend the sport. They've been gracing the heads of riders in heat, in sun, in cold, in snow, pretty much since the first safety bicycle hit the unpaved road. Today, though, the caps are only associated with pro teams, and most of what you can find reflects the blatantly...
Giordana Sport Socks - Men's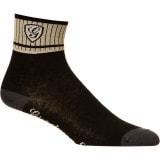 Retail Price:
$17.95
Our Price: $12.57
buy now
The Giordana Sport Socks hold a retro look that complements the rest of their Sport line. But for those of us who merely appreciate the visual cues, it's good to know that retro is more than skin deep. The socks are a wool blend, taking that classic, time-tested fiber and mixing it with modern,...
Giordana Thermosquare Winter Hat - Men's
Just because it's winter and cold enough for a warm cap doesn't mean that it's not sunny enough for a cap with a bill. Though it is not impossible to double up on caps -- wear a summer cap under your winter beanie -- who wants to do that and bulk-up under your helmet. With the Giordana...
<< Prev | Back | 21 | 22 | 23 | 24 | 25 | 26 | 27 | 28 | 29 | 30 | More | Next >>