Mens Mountain Bike Accessories - Road Bike Shop
Shop
>
Men's Apparel Clothing
>
Men's Apparel Mountain Bike Clothing
>
Men's Apparel Mountain Bike Accessories
DeFeet Tenspeed Hero Aireator 6in Sock - Men's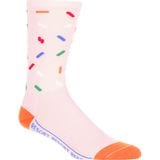 Retail Price:
$14.95
Our Price: $10.91
buy now
Venturing away from the hum-drum narratives of standard cycling apparel, the DeFeet TenSpeed Hero Aireator 6in Sock lends visual inspiration with its vibrant argyle, dreamy clouds, and delicious sprinkle prints. It takes stylistic cues from the tight-knit band of cyclists known as TenSpeed Hero,...
DeFeet Thermeator Hollow Core 6in Socks - Men's
The Thermolite polyester at the heart of DeFeet's Thermeator Hollow Core 6-inch Socks are a synthetic version of merino wool. If extraterrestrial sheep aren't just fantasies of our winter-addled minds, they'll probably be covered in something like it. Thermolite works by creating pockets of...
DeFeet Wooleator 3in D-Logo Sock - Men's
Retail Price:
$14.95
Our Price: $11.36
buy now
DeFeet's Wooleator 3in D-Logo sock is never not the right choice for a ride. It incorporates breathable wool that keeps feet fresh on summer days and provides more insulation than 100% synthetics under winter booties. It's also finished with a three-inch StayFast cuff that strikes the middle...
DeFeet Wooleator 6in Camo Sock - Men's
Wrap your hardworking toes in a sock that adapts to the volatile temps of early spring when you get back out on the roads or trails. DeFeet's proven Wooleator 6in Camo Sock's adaptable blend of USA wool and synthetic fibers help regulate your temperature when you go from sweating on a climb to...
DeFeet Wooleator Do Epic Shit 6in Sock - Men's
Retail Price:
$14.95
Our Price: $12.86
buy now
We'd like to take this opportunity to echo DeFeet's delightfully obscene imperative by inviting you to Do Epic Shit. Whether your own personal interpretation of this mandate is to clean sick lines, enjoy cross-training turns in knee-high pow, or sleep in and hit up Ronald's house for all-day...
DeFeet Woolie Boolie 1in Sock - Men's
Like their taller siblings, DeFeet's Woolie Boolie 1 inch socks take advantage of merino wool's nearly mythical properties to ensure feet stay warm and dry in winter's most inhospitable riding or running conditions. By blending the wool with synthetic fibers, the midweight socks achieve a close,...
DeFeet Zombie Sock - Men's
The undead styling of DeFeet's Zombie socks reminds us of cycling's highs -- like the multiple deaths and revivals Voeckler experienced to hold onto yellow atop Plateau de Beille in 2004 -- and lows -- like the inability of Voeckler's antagonist's career that day to stay in the grave. Whether you...
Fox Racing 4in Trail Sock - Men's
Fox Racing's 4in Trail Socks are, simply put, socks that don't suck. If that's your key criterion for deciding on socks for your dirty trail deeds, then stop reading and start riding. If you're still here, it's probably because we've either put you to sleep or you're interested in the technical...
Fox Racing 6in Trail Sock - Men's
This guy right here, the 6in Trail Sock, represents the center-of-the-road cuff height for Fox Racing's sock line. He's a neatly symmetrical two inches taller than and shorter than Fox's other two cuff height options, making him remarkable only in so far as he is unremarkably average, height-wise...
Fox Racing 8in Trail Sock - Men's
Stand tall on the trail with Fox Racing's 8in Trail Socks. Or feel a bit better about life when agro trail furniture lays you low with a swipe at your (happily covered) shins. Either way, the breathable, wicking construction and ventilating mesh inserts have your back during long, sweaty days in...
<< Prev | Back | 21 | 22 | 23 | 24 | 25 | 26 | 27 | 28 | 29 | 30 | More | Next >>