Mens Mountain Bike Accessories - Road Bike Shop
Shop
>
Men's Apparel Clothing
>
Men's Apparel Mountain Bike Clothing
>
Men's Apparel Mountain Bike Accessories
DeFeet Aireator Mashup Hi-Top 5in Sock - Men's
Brighten your kit with the funky clashing stripes and polka-dots of the DeFeet Mash-Up Aireator Hi Top 5in Sock. CoolMax EcoMade recycled yarns actively wick moisture to promote evaporative cooling. Mesh ventilation rapidly cools your feet when you're pushing up steep grades and riding through...
DeFeet Aireator Sugar Skull Hi-Top 5in Sock - Men's
Add some festive flair to the day's ride with the DeFeet Sugarskull socks. Featuring a five-inch cuff, these socks sit at just the right height for any cycling adventure and boast DeFeet's renowned Aireator platform for exceptional comfort throughout the day. With DeFeet's signature mesh weave,...
DeFeet Aireator USA Hi-Top 5in Sock - Men's
Your feet are your foundation, and the Aireator USA Hi-Top Socks want to bring a little patriotism to the pedaling party. In addition to representing your national affiliation, the USA Hi-Tops cool your foot with Defeet's classic mesh weave, offer light heel and toe padding, and are made from...
DeFeet Banana Bike Socks - Men's
Banana seats and bicycles go together like peanut butter and jelly, and we're excited to see DeFeet throwing a bit of a dance party in honor of that classic design with the Banana Bike socks. Keeping with tradition, DeFeet opts for a three-inch height at the cuff to hug your ankles with nostalgic...
DeFeet Bicycle Crumbs Concentric Circles 6in Sock - Men's
Go all-in with hi-viz and step into a pair of DeFeet Bicycle Crumbs Concentric Circles 6in Socks. Their six-inch cuff hits a perfectly on-trend, aesthetically pleasing height in the sweet spot between triathlete low and Texan tall. DeFeet's renowned Aireator platform means that in addition to...
DeFeet Blaze 4in Socks - Men's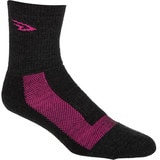 DeFeet has a lock on two categories in our cycling wardrobe: knit gloves and wool socks. The latter accolade comes courtesy of the Blaze 4-inch Socks, which use a blend of American merino wool, nylon, and Lycra for a blend that stretches, reforms, and has all the antibacterial, all-temperature...
DeFeet Blurred 4in Sock - Men's
Focus on the winding road ahead with the DeFeet Blurred 4in Sock keeping your feet blissfully cool and comfortable. Taking design cues from DeFeet's original Aireator, the Blurred 4in Sock maintains cool-wearing comfort with its venting mesh weave. CoolMax EcoMade fibers actively wick moisture to...
DeFeet Blurred 6in Sock - Men's
Distractions on the road are numerous, with cars buzzing past you, jarring potholes, and loose gravel threatening to throw you off-balance. Stay focused on the road ahead with the cool-wearing comfort of the DeFeet Blurred 6in Sock. Striking a balance between coolness and optimal coverage, the...
DeFeet Bone Shaker Socks - Men's
Shake up your next ride and wrap your ankles in line-dancing skellies with the DeFeet Bone Shaker socks, guaranteed to up the festive factor on any day. DeFeet gives our favorite skeletons a three-inch canvas on which to cut a rug, while avoiding the ever unappealing tan lines so often found...
DeFeet Charleston 4in Sock - Men's
Cut a rug and dance on the pedals in the DeFeet Charleston 4in socks. Like their namesake dance, these socks boast enduring style and durability to last through miles and miles of spinning to the rhythm of the road. Their four-inch cuff sits at the perfect height -- tall enough to show off some...
<< Prev | Back | 21 | 22 | 23 | 24 | 25 | 26 | 27 | 28 | 29 | 30 | More | Next >>