Mens Mountain Bike Accessories - Road Bike Shop
Shop
>
Men's Apparel Clothing
>
Men's Apparel Mountain Bike Clothing
>
Men's Apparel Mountain Bike Accessories
DeFeet D-Logo Double Cuff - Men's
A little extra visibility never hurts, and the high-visibility cuff on DeFeet's five inch D-Logo Double Cuff socks will help you stay seen as you pedal at all hours of the day. As their name suggests, the socks have a double cuff that that's thicker and more plush than the classic Aireater cuff...
DeFeet D-Logo Double Cuff Stripes - Men's
Spice up your ride with some rockin' stripes in the DeFeet D-Logo Double Cuff Stripes socks. Their five-inch cuffs sit at just the right length to show off some contrasting colors without falling into the too-tall sock trap. DeFeet built the socks on its signature Aireator platform, which...
DeFeet Damsel Fly - Men's
Swoop through the valleys and fly over the mountains in the DeFeet Damsel Fly socks. Fashioned with a two-inch cuff height, these socks sit at a more traditional height for cyclists and triathletes alike who want to avoid tall sock tan lines yet still flash some style out on the road. For maximum...
DeFeet Dazed Donut Aireator Hi Top 6in Sock - Men's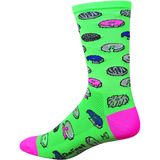 Treat your feet to the tantalizing style and airy-cool comfort of the DeFeet Dazed Donut Aireator Hi Top 6in Socks before embarking on your next ride. CoolMax EcoMade recycled yarns actively wick moisture to promote evaporative cooling. Mesh ventilation rapidly cools your feet when you're riding...
DeFeet De-Line - Men's
DeFeet designed its De-Line socks to be a versatile addition to a team kit or everyday riding kit. Their subtle accenting doesn't compete with other logos or graphics, so you're free to match them appropriately. The De-Line is constructed on the platform of the Aireator, which means it has the...
DeFeet DO EPIC SHIT Aireator - Men's
In the case of DeFeet's Do Epic Shit Aireator Socks, the name really does say it all. Designed on the platform of DeFeet's long-lasting Aireator, these socks are made with a blend of hardworking synthetic fibers that include recycled CoolMax EcoMade, nylon, and Lycra, all of which combine to wick...
DeFeet DO EPIC SHIT Wooleator - Men's
We'd like to take this opportunity to echo DeFeet's delightfully obscene imperative by inviting you to Do Epic Shit. Whether your own personal interpretation of this mandate is to clean sick lines, enjoy cross-training turns in knee-high pow, or sleep in and hit up Ronald's house for all-day...
DeFeet Dottie - Men's
If we had to guess, we'd say DeFeet may have taken a cue from the gelatinous bubbles of lava lamps while designing the Dottie sock, but we'll never know for sure. Either way, the graphics make an eye-catching addition to these resilient socks, which were designed on the platform of DeFeet's...
DeFeet Flowerchild - Men's
Embrace springtime and fresh flowers whether your ride takes you through an urban jungle or along rambling country lanes with DeFeet's Flowerchild socks. Built on the platform of the brand's beloved Aireator design, the socks feature a traditional two-inch cuff and are made with a blend of...
DeFeet Framework Socks - Men's
DeFeet's Framework Socks build on the established base of the Aireator model with some optically challenging graphics that would be equally at home in an Escher painting or a screen saver background. In the realm of plain, staid, sponsor-laden cycling socks, they definitely stand out, hypnotizing...
<< Prev | Back | 21 | 22 | 23 | 24 | 25 | 26 | 27 | 28 | 29 | 30 | More | Next >>