Mens Mountain Bike Accessories - Road Bike Shop
Shop
>
Men's Apparel Clothing
>
Men's Apparel Mountain Bike Clothing
>
Men's Apparel Mountain Bike Accessories
Fox Racing Priory Socks - Men's
We're not particularly inclined to believe in conspiracy theories, Ouija boards, or speaking in tongues, but we're pretty convinced the bizarre symbols on the Fox Priory Socks are trying to tell us something. We just don't know what, so we'll leave that up to you. Made of 85% cotton and 15%...
Fox Racing Recoil Sock - Men's
Camo never really goes out of style, and nor will the Fox Recoil Socks. Made of 85% cotton and 15% elastane, the socks have reinforced heels and toes so they'll last.
Fox Racing Sidewinder Polar Glove - Men's
With the standard Sidewinder glove a proven favorite of dirt lovers everywhere, Fox has taken steps to make a version that can withstand not just mud and grime, but the cold, too, with the Fox Sidewinder Polar Gloves. Fox uses its proprietary Airprene padding over the knuckles for sufficient...
Fox Racing Source Tech Socks - Men's
A ribbed ankle, hemmed cuff, and sweet colors make the Fox Source Tech Socks an easy choice, but there's more than meets the eye here. The socks are made of Coolmax, a high-tech fabric that rapidly evacuates moisture from within, keeping your feet drier and more comfortable. The top of the foot...
Fox Racing Titan Sport Elbow Guards - Men's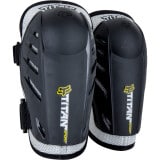 The Fox Titan Sport Elbow Guard combines simplicity with smart design for maximum protection and comfortable fit. The tough hardshell design lets you throw an elbow into any number of trees, endangered and otherwise, without ending up in the ER, and the combination slip-on/strap-secured design...
Fox Racing Titan Sport Jacket - Men's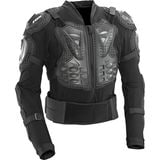 You'd be hard-pressed to find more protective under-jersey coverage than the Fox Titan Sport Jacket has. The Titan features high-impact-plastic shoulder and elbow coverage, along with an anatomic two-piece chest plate that will keep you from getting impaled like a shish-kabob when you nail a...
Fox Racing Titan Sport Sleeveless Jacket - Men's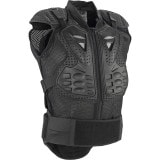 Wrap your vitals in a thick candy shell with the Fox Titan Sport Sleeveless Jacket. The Sleeveless Titan Sport protects your spine and organs without limiting your range of motion or getting in the way as you flail your arms in mid-air.
G-Form Pro-X Elbow Pads - Men's
Your elbows are often the first thing to hit when you take a spill, so you don't want to skimp on padding. The articulated G-Form Pro-X Elbow Pads offer low-profile RPT Impact Protection to keep your skin n' bones in one piece, breathe well and wick moisture, and can be tossed in the washing...
G-Form Pro-X Knee Pads - Men's
If you're riding hard, crashing is an inevitability, which makes the G-Form Pro-X Knee Pads a necessity. Sure, they're lightweight, breathable, and machine washable, but maybe even better is the articulated RPT Impact Protection, which lets you pedal hard and keeps your 'caps from getting busted...
G-Form Pro-X Knee-Shin Combo Pad - Men's
Slim down your kit and beef up your protection with the G-Form Pro-X Knee-Shin Combo Pad. With an articulated sleeve that uses Vented Air-Flow technology to keep you cool, the Pro-X also rocks articulated RPT Impact Protection along the shin and over the knee to keep you safe from pedal strikes...
<< Prev | Back | 21 | 22 | 23 | 24 | 25 | 26 | 27 | 28 | 29 | 30 | More | Next >>