Mens Mountain Bike Accessories - Road Bike Shop
Shop
>
Men's Apparel Clothing
>
Men's Apparel Mountain Bike Clothing
>
Men's Apparel Mountain Bike Accessories
DeFeet Charleston 4in Sock - Men's
Cut a rug and dance on the pedals in the DeFeet Charleston 4in socks. Like their namesake dance, these socks boast enduring style and durability to last through miles and miles of spinning to the rhythm of the road. Their four-inch cuff sits at the perfect height -- tall enough to show off some...
DeFeet Charleston 6in Sock - Men's
Like their enduring, foot-tapping namesake, DeFeet's Charleston 6 inch cycling socks have staying power. Constructed in DeFeet's Aireator design, the socks feature a trademarked venting mesh weave to facilitate airflow and a StayFast cuff to maintain fit as you pedal. DeFeet also reinforces the...
DeFeet Cool Bikes 2 Sock - Men's
Show the world your passion for all things bike with a dose of fun flair in the DeFeet Cool Bikes 2 socks. With a more traditional three-inch height, these socks hug your ankles without the awkward half-calf tan lines that go along with all those trendy, high cuff options out there. Made with...
DeFeet Cosmic 6in Sock - Men's
Solid socks have never been your thing. When you're gritting your teeth on a snaking, winding climb, glancing down to see a bold pop of color goes a long way in getting you through the pain cave. If you're looking to refresh your collection this year, grab the DeFeet Cosmic 6in Sock. Built on the...
DeFeet Craze 6in Sock - Men's
When you're feeling especially wired after a long day inside, slip on the DeFeet Craze 6in Sock and go burn some serious energy on an evening trail ride. With a memorable black-and-white pattern atop DeFeet's proven Aireator platform, the Craze will keep your toes cool and dry while you attack...
DeFeet Cyclismo 5in Socks - Men's
Toss lesser socks aside for the premium performance and comfort of the DeFeet Cyclismo 5in Socks. Designed in conjunction with DeFeet's professional athletes, these cycling socks feature a lightly compressive 5-inch cuff for optimal blood flow and support, with a left- and right-specific design...
DeFeet Cyclismo Wool 5in Socks - Men's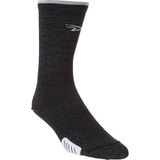 The original Cyclismo was the result of DeFeet setting out to create the ultimate "modern cycling sock." In other words, DeFeet combined its best materials and innovative fit technologies together in the form of a streamlined, comfortable, and versatile cycling sock design. This concept has been...
DeFeet D-Evo Crew Sock - Men's
While logging serious miles on your bike is crucial for progress, the DeFeet D-Evo Crew Sock makes the argument that playing and enjoying downtime is just as important. Bringing you the best of both worlds, this sock's stretchy CoolMax construction keeps the fit snug and plush while...
DeFeet D-Logo 5in Double Cuff Sock - Men's
DeFeet is a brand that heartily embraces adding eye-catching colors and patterns to a kit, but thankfully, it does understand that sometimes we like to match. Though the graphics may be basic, the D-Logo 5in Double Cuff socks design has the same attention to detail we'd expect from DeFeet. It's...
DeFeet D-Logo Sock - Men's
Some days we want wild patterns, neon colors, and flashy style adorning our ankles, but every once in a while we just want something simple and understated out on the road. The DeFeet D-Logo socks -- available in classic black or white with a contrasting logo -- are just the ticket. DeFeet opts...
<< Prev | Back | 11 | 12 | 13 | 14 | 15 | 16 | 17 | 18 | 19 | 20 | More | Next >>