Mens Mountain Bike Accessories - Road Bike Shop
Shop
>
Men's Apparel Clothing
>
Men's Apparel Mountain Bike Clothing
>
Men's Apparel Mountain Bike Accessories
Fox Racing Stealth Bomber Gloves - Men's
Retail Price:
$64.90
Our Price: $34.98
buy now
Blow up rides all over the North Shore while your hands stay protected by the Fox Racing Men's Stealth Bomber Glove. Impact protection on the knuckles takes the brutality out of nasty falls, and the suede palms minimize the potential of gnarly road rash. Mellow rides or hairy rollers, the suede...
Fox Racing Titan Race Elbow Guards - Men's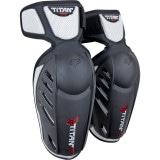 Retail Price:
$29.95
Our Price: $17.97
buy now
The Fox Titan Race Elbow Guard provides hard-shell protection for your elbow and forearm with added upper arm protection for a no-slip fit. Fox even added silicone print to the liner for an even more secure fit, so you can forget about constantly adjusting your annoying elbow guards while you ride.
Fox Racing Titan Sport Elbow Guards - Men's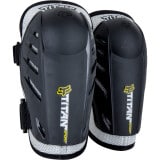 Retail Price:
$21.95
Our Price: $16.46
buy now
The Fox Titan Sport Elbow Guard combines simplicity with smart design for maximum protection and comfortable fit. The tough hardshell design lets you throw an elbow into any number of trees, endangered and otherwise, without ending up in the ER, and the combination slip-on/strap-secured design...
Fox Racing Titan Sport Jacket - Men's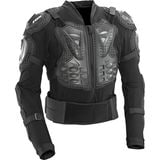 You'd be hard-pressed to find more protective under-jersey coverage than the Fox Titan Sport Jacket has. The Titan features high-impact-plastic shoulder and elbow coverage, along with an anatomic two-piece chest plate that will keep you from getting impaled like a shish-kabob when you nail a...
Fox Racing Titan Sport Sleeveless Jacket - Men's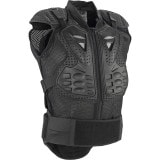 Wrap your vitals in a thick candy shell with the Fox Titan Sport Sleeveless Jacket. The Sleeveless Titan Sport protects your spine and organs without limiting your range of motion or getting in the way as you flail your arms in mid-air.
Fox Racing Trail Socks - Men's
After the hammering that you give them all summer, don't your feet deserve a little love? Show your appreciation with the Fox Racing Trail Sock.
Fox Racing Unabomber Gloves - Men's - Men's
The combination of perforated leather and molded plastic knuckle and finger protection makes the Fox Racing Unabomber Gloves a hot-weather favorite for aggressive riders. This construction allows air to flow freely through the gloves so your hands remain dry and in control. For the palm,...
G-Form Crash Short - Men's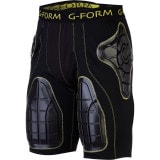 Retail Price:
$89.99
Our Price: $71.99
buy now
There have always been two schools of thought when it comes to body armor: bulky hard shells that focus on protection or low-profile soft shells that focus on comfort. Because of this, body armor has either been uncomfortable or it lacked adequate protection. G-Form is trying to change that with...
G-Form Elbow Pads - Men's
As trails get faster and bikes get more capable, it only makes sense that protective gear needs to evolve at even rate. That's where the G-Form Elbow Pads enter the picture. When you put them on, they feel like summer-weight arm warmers. However, the rate-dependent pads stiffen under impact. So,...
G-Form Knee Pads - Men's
Toss the the hot, uncomfortable hard shell body armor. Ditch the flimsy, inadequate soft shell knee pads. There's a new sheriff in town, and it's called the G-Form Knee Pad with Reactive Protection Technology. Because of the glaring inadequacies of hard- and soft-shell body armor, the good folks...
<< Prev | Back | 11 | 12 | 13 | 14 | 15 | 16 | 17 | 18 | 19 | 20 | More | Next >>