Mens Mountain Bike Accessories - Road Bike Shop
Shop
>
Men's Apparel Clothing
>
Men's Apparel Mountain Bike Clothing
>
Men's Apparel Mountain Bike Accessories
Colnago Tall Socks - Men's
The collaboration that produced Colnago's Tall Socks may not have been a guaranteed eventuality, but -- given the two brands' contributions to their respective fields -- it sure is a welcome one. Colnago built one of the first carbon frames way back in 1986; DeFeet's Aireator socks pioneered the...
Competitive Cyclist Pro Peloton Sock - Men's
The Competitive Cyclist Pro Peloton socks let everyone know where you go for the best selection of premium cycling goods on the planet. They're built from nylon, with a touch of spandex to keep them snug. The nylon construction helps them pull moisture away from your skin, to keep your feet dry...
Craft Active Extreme WindStopper Skull Hat - Men's
Retail Price:
$44.95
Our Price: $31.46
buy now
Cycling in the cold weather makes it difficult to strike a proper balance between being too hot and too cold. We want to keep our core temperature at the right level, but wearing too much protection means we risk making ourselves too hot and getting sweaty. As you know, too-cold can quickly...
Craft Active Face Protector - Men's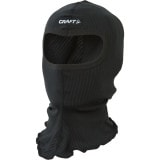 Retail Price:
$29.95
Our Price: $17.97
buy now
Gear up for brutally cold rides with the Craft ZERO Face Protector. Designed to block piercing winds and to wick perspiration, the ZERO Face Protector lets you spin pedals when others seek shelter.
Craft Active Skull Hat - Men's
Retail Price:
$24.95
Our Price: $17.46
buy now
The Craft ZERO Skull hat is so warm you'll think you're sitting under a dryer at the beauty salon. But the beauty of the Zero Skull cap is that it's thin enough to wear under your helmet without making you feel like you're wearing two helmets. GORE WindStopper material prevents cool air from...
Craft Active WindStopper Head Band - Men's
Retail Price:
$39.95
Our Price: $27.96
buy now
If you're like us, you don't like it when your head gets too hot, but you also have sensitive ears. You've probably also discovered that headbands are the way to go. The Craft Zero Windstopper Headband will give you the sort of sweat-wicking moisture management that a summer time headband offers,...
Craft Bike Tech Hat - Men's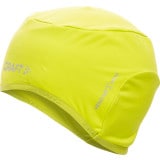 Retail Price:
$39.95
Our Price: $23.97
buy now
Craft's roots are in Sweden, so you can trust that the Bike Tech Hat is proven both in the lab and the field. In a country where polar nights mean as few as four hours of winter daylight, they know about keeping heads warm and out of the wind. The Tech part of Bike Tech Hat refers to the Flex...
Craft Brilliant Headband - Men's
Made of a lightweight and advanced polyester/elastic blend, the Craft Brilliant Headband is soft, warm, and comfortable against the skin. It also does a great job of evacuating perspiration. The bright, high-visibility tones and reflective graphic elements are designed specifically to help you...
Craft COOL Socks - Men's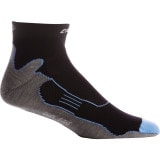 Retail Price:
$24.95
Our Price: $12.48
buy now
When the day calls for long miles in the saddle, pull on the Craft Cool Bike Sock for ventilation, support, and perspiration-management.
Craft COOL XC Skiing Socks - Men's
Retail Price:
$24.95
Our Price: $14.97
buy now
No matter what cold-weather sport you're participating in, chances are good that your feet are a key link in the chain of athletic performance. Treat them right with Craft's Cool XC Skiing Socks, which -- despite the targeted name -- lend themselves to virtually any winter endurance activity. The...
<< Prev | Back | 11 | 12 | 13 | 14 | 15 | 16 | 17 | 18 | 19 | 20 | More | Next >>