Mens Mountain Bike Accessories - Road Bike Shop
Shop
>
Men's Apparel Clothing
>
Men's Apparel Mountain Bike Clothing
>
Men's Apparel Mountain Bike Accessories
CEP Dynamic Plus Quad Sleeves - Men's
Retail Price:
$60.00
Our Price: $36.00
buy now
CEP designed the Dynamic Plus Quad Sleeves for triathlon trainers, runners, swimmers, and cyclists. Featuring Medi Compression, these sleeves provide more energy and coordination, enhance performance, prevent further pain, repair muscles, and reduce muscle trauma and vibration. They are...
CEP Run + Recover Compression Combo Pack - Women's - Men's
The CEP Women's Run + Recover Compression Combo Pack contains calf sleeves that provide ample support while running and socks that minimize swelling afterwards. The sleeves have a high spandex content, which compresses your muscles for increased performance and reduced fatigue. It also helps to...
Chrome Merino Ankle Socks - Men's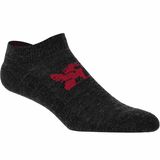 It's springtime--warm in the afternoons but still chilly in the morning during your ride to work. The Chrome Merino Ankle Sock is just what you need to keep your feet from freezing. Made from merino wool with added Lycra for stretch, the Chrome Ankle socks won't let you down even when it's...
Chrome Merino Crew Socks - Men's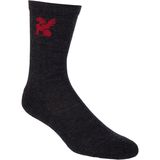 Chrome took the durability and style found in its messenger bags and applied them to feet with the Chrome Merino Crew Sock. Made from warm and cozy New Zealand merino wool, the Chrome Merino Crew Sock is ready to tackle the chilly November commute your cotton socks couldn't handle. Lightweight...
Colnago Short Socks - Men's
Colnago knows how to build frames better than anyone else in the world. Happily, this doesn't get to the Italian manufacturer's head, and it outsourced the design of its socks to the pros at DeFeet. The Colnago Short Socks are built on the Aireators, which are the socks that started the mesh vent...
Colnago Tall Socks - Men's
The collaboration that produced Colnago's Tall Socks may not have been a guaranteed eventuality, but -- given the two brands' contributions to their respective fields -- it sure is a welcome one. Colnago built one of the first carbon frames way back in 1986; DeFeet's Aireator socks pioneered the...
Competitive Cyclist Competitive Cyclist Beanie - Men's
Retail Price:
$17.95
Our Price: $11.67
buy now
From the pits, to the sidelines, to the coffee shop, let everyone know your online bike shop of choice with the Competitive Cyclist Beanie. It'll keep your head warm, which is highly important for a wide range of athletic and casual pursuits. But perhaps more importantly, it makes a statement...
Competitive Cyclist Pro Peloton Sock - Men's
The Competitive Cyclist Pro Peloton socks let everyone know where you go for the best selection of premium cycling goods on the planet. They're built from nylon, with a touch of spandex to keep them snug. The nylon construction helps them pull moisture away from your skin, to keep your feet dry...
Craft Active Extreme WindStopper Skull Hat - Men's
Retail Price:
$44.95
Our Price: $26.97
buy now
Cycling in the cold weather makes it difficult to strike a proper balance between being too hot and too cold. We want to keep our core temperature at the right level, but wearing too much protection means we risk making ourselves too hot and getting sweaty. As you know, too-cold can quickly...
Craft Active Face Protector - Men's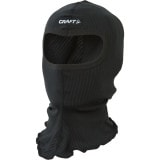 Retail Price:
$29.95
Our Price: $17.97
buy now
Gear up for brutally cold rides with the Craft ZERO Face Protector. Designed to block piercing winds and to wick perspiration, the ZERO Face Protector lets you spin pedals when others seek shelter.
<< Prev | Back | 11 | 12 | 13 | 14 | 15 | 16 | 17 | 18 | 19 | 20 | More | Next >>