Mens Mountain Bike Accessories - Road Bike Shop
Shop
>
Men's Apparel Clothing
>
Men's Apparel Mountain Bike Clothing
>
Men's Apparel Mountain Bike Accessories
Castelli Duo Windstopper Sock - Men's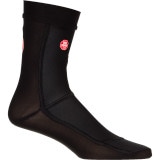 When you're riding in windy conditions, your feet need a little protection too. That's why Castelli dreamed up the Duo Windstopper Sock. Windstopper X-Lite fabric prevent wind chill from freezing your dogs, ultralight construction fits nicely with your shoes, and flat seams prevent discomfort on...
Castelli Estremo WS Skully Cap
When you crest over the last little kicker into the flat and take the full brunt of a mid-winter wind gust, you'll be glad to have your Castelli Estremo WS Skully Cap tucked warmly under your helmet. Panels of breathable Windstopper X-Fast fabric on the front and sides boast a water-repellant...
Castelli Fatto 12 Sock - Men's
Some days, all we need is a thin, streamlined pair of socks with just a little bit of extra warmth, but on the really frigid and snowy days, we want all the insulated protection we can stuff into our favorite pair of cycling shoes. On those days, pull on a pair of Castelli Fatto 12 Socks and bask...
Castelli Free 6 Sock - Men's
In the heat of summer, it can feel like your feet will never be cool again. In Castelli's Free 6 Socks, though, you might start to feel a little better about the sweltering dog days of summer. Castelli used Meryl Skinlife, an ultra-light, ultra-breathable fabric, which also happens to be...
Castelli Free 9 Sock - Men's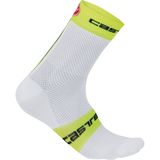 The Castelli Free 9 Sock is to regular socks as space shuttles are to balsa-wood gliders--the basic design is similar, but everything that matters is totally different. The Free 9 is woven from Meryl Skinlife fibers, which are engineered to be antimicrobial, highly breathable, and moisture...
Castelli Free Cycling Cap
Retail Price:
$14.95
Our Price: $10.46
buy now
Castelli's Free Cycling Cap updates the classic, cotton silhouette we've admired on peloton fashion icons from Coppi to Boonen, welcoming it into the 21st century with understated, asymmetrical styling and a contrasting border on the brim.
Castelli Free Kit 13 Sock - Men's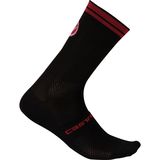 Retail Price:
$17.95
Our Price: $11.67
buy now
The Castelli Free Kit 13 Socks epitomize clean, race-ready style with double-century conquering comfort. Made from durable, quick-drying Meryl Skinlife yarn, these socks whoosh away moisture and fight off stink-producing bacteria to keep your feet dry and fresh-feeling on even the hottest of days...
Castelli Gregge 12 Sock - Men's
Full-length coverage and the versatility of Merino wool make the Castelli Gregge 12 Sock a great addition to your early- and late-season gear.
Castelli Head Thingy - Women's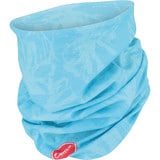 If you like having some protection on your head against cool breezes and bugs, but don't like how a typical cycling cap fits under your helmet, check out the Castelli Women's Head Thingy. The tubular-shaped polyester knit Head Thingy can wrap around your head to protect your ears, neck and upper...
Castelli Headband
More than just a fashion statement from the '80s, the Castelli Headband serves a very real purpose--it keeps stinging sweat from dripping into your eyes. The Headband is made with Castelli's Prosecco Strada fabric, which is used in many of Castelli's jerseys because of its elasticity and...
<< Prev | Back | 11 | 12 | 13 | 14 | 15 | 16 | 17 | 18 | 19 | 20 | More | Next >>