Mens Mountain Bike Accessories - Road Bike Shop
Shop
>
Men's Apparel Clothing
>
Men's Apparel Mountain Bike Clothing
>
Men's Apparel Mountain Bike Accessories
Castelli Lowboy Sock - Men's
Comfy feet are the foundation that a good ride is built on, so finding a killer pair of socks is more necessity than luxury. Castelli's Lowboy Men's Socks fit the bill--and your feet--with a cooling, supportive design that uses Meryl Skinlife fabric to make sure your ride stays on solid footing....
Castelli Merino Light Seta 13 Sock - Men's
Retail Price:
$19.95
Our Price: $13.96
buy now
Colorful leaves and chilly wind gusts usher in the season for added layers and the Castelli Merino Light Seta 13 Socks. Made from a breathable and exceptionally cozy blend of Merino wool infused with silk for an extra dose of softness, these socks feature a streamlined fit to tuck neatly shoes,...
Castelli Performance Cycling Cap
On those scorchingly-hot days, the classic cycling cap just won't do. It gets saturated, drips all over, and generally makes your head hotter than it needs to be. The Castelli Performance Cycling Cap protects your head from the sun, while also wicking moisture away, and allowing cooling air to...
Castelli Podio Cap
Showing your membership in the cult of the red scorpion has never been easier thanks to Castelli's Podio Cap. Whether you've just finished a race and are hanging out for hard-earned drinks and awards, or you're enjoying a post-ride espresso al fresco in the sun, the Podio will shield your eyes...
Castelli Primaloft 13 Sock - Men's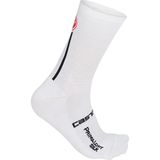 Retail Price:
$24.95
Our Price: $18.71
buy now
As the mercury creeps lower and morning rides require more and more layers, wrap your feet in the cozy warmth of Castelli's Primaloft 13 Socks. Made from light, insulated PrimaLoft fabrics, these socks cut a clean profile and feature added silk for extra softness. Reinforcement at the heel and...
Castelli Quattro 6 Sock - Men's
Wrap your ankles in cool comfort and style with the Castelli Quattro 6 Socks. Made from durable and moisture-wicking polypropylene yarn with mesh paneling across the bottom of the foot, these socks whoosh away moisture to keep your feet cool and dry. A mid-foot support band circles the arch for...
Castelli Quindici Sock - Men's
Retail Price:
$19.95
Our Price: $14.96
buy now
Made from 100% merino wool, Castelli Quindici Soft Socks are the ideal choice for long winter rides in cold and windy conditions. By now you've hopefully learned the merits of wool. A traditional material renowned for its softness, merino wool keeps your feet warm and comfortable while letting...
Castelli Risvolto Winter Cap
Retail Price:
$39.95
Our Price: $21.97
buy now
As winter rolls in, we tend to get excited about the big, flashy items like the Alpha Jacket or the Sorpasso Bib Tights. Meanwhile, the less-readily apparent things like toe and ear protection slip under the radar right up until we realize that no amount of Windstopper fabric on our chest will...
Castelli Rosso Corsa 13 Sock - Men's
Retail Price:
$17.95
Our Price: $8.97
buy now
Reserving its Rossa Corsa title for premium apparel only, the Castelli Rosso Corsa 13 Socks are sure to delight your feet with their supportive 13cm cuff, signature scorpion logo, and Meryl Skinlife antimicrobial fabric. Besides preventing the growth of odor-causing microbes from taking residency...
Castelli Rosso Corsa 6 Sock - Men's
Retail Price:
$14.95
Our Price: $8.22
buy now
Rosso Corsa is Castelli's designation for its best gear, and the Rosso Corsa 6 Sock is the shortest in the Italian brand's superlative line. The Rossa Corsa is woven with Meryl Skinlife fibers to fight odors, and the top of the foot is an open mesh to keep you as cool as possible. In the arch,...
<< Prev | Back | 11 | 12 | 13 | 14 | 15 | 16 | 17 | 18 | 19 | 20 | More | Next >>