Mens Mountain Bike Accessories - Road Bike Shop
Shop
>
Men's Apparel Clothing
>
Men's Apparel Mountain Bike Clothing
>
Men's Apparel Mountain Bike Accessories
Capo Gio Meryl Socks - Men's
Your old socks have seen a lot of smelly feet and sweaty days over the past few seasons, and they now turn a more indistinguishable shade of gray every time you wash them. If you want to start the season off on that note, we can't stop you, but if you want to give your hardworking feet an upgrade...
Capo GS Cycling Cap
Few items embody cycling tradition more than the cycling cap. Drawing on its deep admiration of cycling's roots, Capo brought the tradition to the modern age with the GS Capo Cycling Cap. Face it; the cycling cap is a statement piece proclaiming your cyclist status (never mind its brief...
Capo LE Koppenberg Socks - Men's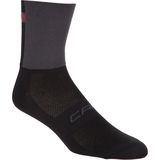 Retail Price:
$19.95
Our Price: $8.98
buy now
Small details can derail your kit, which is why we teamed with Capo to put time, effort, and a bit of Flandrian flair into designing the LE Koppenberg Socks. The Belgian tricolor covers your Achilles heel so that, even if you're flagging on the stones up the Paterberg, your momentary weakness won...
Capo Meryl 14 200 Needle Sock - Men's
Sadly, not all socks are created equally. And if you've worn a bad pair over the course of a century, you know exactly what we're talking about. Thankfully, though, Capo understands your plight, and accordingly, it created its new Meryl 14 200 Needle Socks. We understand that these socks feature...
Capo Meryl 8 200 Needle Sock - Men's
If you think that socks are 'just socks,' we feel bad for your feet. Not surprisingly, Capo shares our level of compassion and concern, and accordingly, it created its new Meryl 8 200 Needle Socks. We understand that these socks feature a rather confusing title. So, let us break it down for you....
Capo Strada 200 Needle Socks - Men's
Crazy patterns and clashing prints are all in good fun, but sometimes you want to reach for a pair of socks that will complement, rather than overshadow, the rest of your kit. Subtle dots and a bright range of colors suit Capo's Strada 200 Needle Socks to that description, and more importantly,...
Capo Strada 200 Sock - Men's
If you find yourself discovering a large abundance of sweat stains and worn toes as you do some early-season sifting through your sock drawer, Capo's Strada 200 Olefin Socks should probably be on your upgrade list. Stitched with 200-thread count Meryl Skinlight yarns, the socks have a contoured...
Capo Thermo Roubaix Winter Cap
Retail Price:
$49.95
Our Price: $22.48
buy now
Throughout the warmer months, your cotton cycling cap is a staple piece, so why not extend that fashion while also keeping your head from freezing? Luckily, Capo asked itself the same question, and in asnwer, the Thermo Roubaix Winter Cap was born. As its name implies, Capo's Thermo Roubaix...
Capo Vivo Meryl Sock - Men's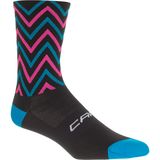 Reaching for a brand new pair of socks when you know you have a tough ride ahead of you can be a small but powerful piece of motivation. Capo's Vivo Meryl Socks, constructed with 200-needle Meryl Skinlife synthetic yarns, offer plenty of reassurance that your feet will be happy when you're facing...
Castelli Arrivo Thermo Head Thingy Neck Gaiter
The nineteenth century witnessed the rise and fall of one of Western culture's most unfortunate fashions: the neck beard. The justification given for neck beards was either to ward off dire throat colds (Thoreau) or to increase sex appeal (also Thoreau). While we know for certain that neck beards...
<< Prev | Back | 11 | 12 | 13 | 14 | 15 | 16 | 17 | 18 | 19 | 20 | More | Next >>