Wheels - Road Bike Shop
Shop
>
Components
>
Wheels, Tires, Tubes
>
Wheels
Ambrosio Ambrosio Excellence Rim
Retail Price:
$99.95
Our Price: $85.00
buy now
Aside from the brutal weather, die-hard fans, and legendary cobbled sectors, nothing signifies the Spring Classics quite like those traditional box-section rims trusted by professional riders year after year. Sure, we've seen carbon hoops begin their inevitable takeover in all facets of road...
AX-Lightness Premium 27.5in Tune Hub Clincher Wheelset
The weight competition between common mountain bike frames, drivetrain components, saddles, bars, and the like is pretty close -- a few grams here and there separate the Clydesdales from the pencil necks. With the AX-Lightness Premium 27. 5in Tune Hub Wheelset, though, you're talking a few...
AX-Lightness Premium 29in Tune Hub Clincher Wheelset
When you combine a barely-believable claimed weight of 1,255 grams with the aggressive rolling and confident contact patch of 29-inch tires, the effect is a ride that's as forgiving and lightweight as riding on clouds. At least, that was our experience on AX-Lightness's Premium 29in Tune Hub...
AX-Lightness Premium 38T Tune Hub Tubular Wheelset
The AX-Lightness Premium 38T Tubular Wheelset uses the Stream 38 rims, which enjoy a profile informed by the same fluid dynamic considerations AX-Lightness pours into its motor sport designs. They swell to 26 millimeters at their widest and terminate in a blunt, round shape rather than a point....
AX-Lightness Premium 55T Tune Hub Tubular Wheelset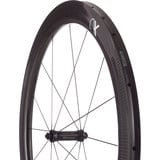 AX Lightness's Premium 55T Tune Hub Tubular Wheelset is designed to plow through the wind with the same enthusiasm with which Admiral Farragut once famously confronted torpedoes. Given that he was in a boat at the time, the Admiral's storied bravery may have been on the foolish side; however, the...
AX-Lightness Ultra 24T Extralite Hub Tubular Wheelset
When setting out to design the Ultra 24T Tubular Wheelset, AX-Lightness wanted to create the superlative climbing wheel: light, stiff, and safe. With a claimed weight of under 800 grams for the set, they, well, they succeeded. To put that into perspective, the newest iteration of the same wheels...
AX-Lightness Ultra 28C Extralite Hub Clincher Wheelset
AX-Lightness is a one of those rare, boutique operations that operate on the fringe of the mass-produced cycling industry. It brings unrivaled Bavarian meticulousness to bear on each individual piece it manufactures, and the entire process -- from conceptualization to construction -- takes place...
AX-Lightness Ultra 45C Extralite Hub Clincher Wheelset
AX-Lightness is making quite a statement by claiming that the new Ultra 45C Clincher Wheelset built with Extralight Hubs are "a novelty." After all, the market is flooded with similar wheelsets -- or so you might think just by looking at them. But as the advantages tick off (carbon expertise,...
Borealis Bikes FH1 XD Driver
Join the one-by revolution on your fatbike with the Borealis FH1 XD Driver. This three-pawl driver allows you to mount up SRAM's eleven speed mountain cassettes to your Borealis FH1 rear hub, adding crucial gear range, and adding even more versatility to your prized mega-tire machine.The Borealis...
Campagnolo Bora One 35 Wheelset - Tubular
The Bora One 35 Wheelset is essentially a smooshed version of Campagnolo's flagship, 50-millimeter rims. They're shallower for an ideal balance of low rotational weight and wind-fooling aerodynamics that recommend them for use by cyclists who enjoy long climbs, fast flats, and blistering sprints...
<< Prev | Back | 1 | 2 | 3 | 4 | 5 | 6 | 7 | 8 | 9 | 10 | More | Next >>