Wheels - Road Bike Shop
Shop
>
Components
>
Wheels, Tires, Tubes
>
Wheels
HED H3D FR Carbon Road Wheel - Tubular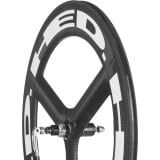 There's a lot of physics knowledge required for a seriously in-depth discussion about the HED H3D FR Carbon Tubular Road Wheel, but we're not scientists, so we'll sum it up as best we can: it's damn fast. That said, it excels in fairly specific conditions, so you should be sure about how you're...
HED H3D FR Carbon Wheel - Clincher
If you're racing a triathlon that doesn't allow full-disc wheels, the HED H3D FR Carbon Wheels are a great option. They're the fastest wheels HED makes, save for the full discs, and being one of HED's fastest wheels is certainly something to brag about. The wheels are not only fast, but they're...
HED Jet 4 Plus Black
The advantages of deep, carbon rims are evident to anyone who has ever held 20-25 mph on flat, straight roads for an extended period. The disadvantages are equally evident, and they usually manifest as unresponsive, obnoxiously-loud braking or equally poor and obnoxious handling when a sudden...
HED Jet 5 Express Carbon Road Wheelset - Clincher
By now you've likely read a thing or three about wide rims on the road. They round out the tire, they make the ride smoother, they're more aero. HED pioneered that in the modern age, realizing that if it could smooth the transition between tire and rim, the air would in turn flow more smoothly....
HED Jet 9 Plus Black Carbon Disc Brake Wheelset - Clincher
HED's Jet 9 Plus Black Carbon Disc Brake Wheelset goes straight to the extreme of road braking, upstaging questionable carbon braking, alloy rim braking, and even the vastly improved Jet Black brake track with the superior stopping power of disc brakes. Disc brakes also virtually ensure that...
HED Jet 9 Plus Black Carbon Wheelset - Clincher
HED's Jet 9 Plus Black Carbon Wheelset is the same wheelset Optum p/b Kelly Benefit Strategies' Zirbel rode to victory at the North Star Grand Prix except for two differences: stopping power is improved with HED's Turbine Braking Technology and the graphics are murdered-out for a stealth look....
HED Jet Plus Black Disc Wheel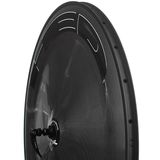 As with most things wheel-related, HED proved itself an (extremely) early adapter when its late founder launched a disc wheel almost three decades ago. HED being HED, since that first unveiling, the Minnesota-based manufacturer has been constantly tinkering with and updating the profile,...
HED Rim Tape
Behind every good road tire, there's either a good tube or a bit of goo -- but they can't carry the weight alone. HED's Rim Tape provides even more support from even further behind the tubes or sealant that are already behind the scenes.
HED Stinger 3 Carbon Disc Brake Road Wheelset - Tubular
Change isn't always good--peanut-butter-and-pickle sandwiches are gross, no matter what people say--but when it's done right it can be awesome. HED nailed it with the Stinger 3 Carbon Disc Brake Tubular Road Wheelset, which combines new technology (hey, disc brakes!) with time-tested tubular rims...
HED Stinger 3 CX FR Carbon Disc Brake Wheelset -Tubular
Even though carbon has been proven in applications like F1 racing suspension, the aerospace industry, and cycling's own Hell of the North, we admit that some in the office still approach carbon rims and cockpits with a little trepidation. HED's Stinger 3 CX FR Carbon Disc Brake Tubular Wheelset...
<< Prev | Back | 1 | 2 | 3 | 4 | 5 | 6 | 7 | 8 | 9 | 10 | More | Next >>