Wheels - Road Bike Shop
Shop
>
Components
>
Wheels, Tires, Tubes
>
Wheels
HED H3 FR Carbon Road Wheel - Tubular
The cycling industry sets the bar high in the world of industrial design aesthetics, and the HED H3 FR Wheels are definitely no exception. Add the aesthetics to the research and development that places them at the forefront of aerodynamic innovation, and you have wheels with low rolling...
HED H3D FR Carbon Road Wheel - Tubular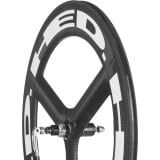 The HED H3D FR Carbon Tubular Road Wheel has only been in production since 2007, yet it lays claim to victories at the Tour, the Giro, and Beijing. Even the prototypes, being tested as early as 2005, were turning heads in timetrials. The H3D not only looks cool, it's also fast and you'll be...
HED H3D FR Carbon Wheel - Clincher
If we're honest with ourselves, it's easy to admit that disc wheels aren't always a blast on the open road, and for some disciplines of cycling, they're not even allowed. That's why HED produced the H3D FR Wheels. The H3Ds are the fastest non-disc HED wheels to date, and they excel by leaps and...
HED Jet 4 FR Carbon Road Wheel - Tubular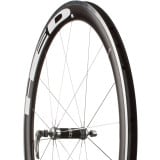 Retail Price:
$900.00
Our Price: $513.00
buy now
Every type of wheel you choose to ride on comes with some form of compromise or another. Light weight, stiffness, aerodynamic qualities, and the almighty cost all invariably impact your decision, as well as your bike's ride quality. HED's Jet 4 FR Carbon Tubular Wheels are designed to eliminate...
HED Jet 4 Plus Carbon Road Wheelset - Clincher
With every wheelset, there is some sort of compromise. If it's a super deep-dish, it will be expensive and it may not handle well in the wind. If it's a box rim, well, it'll be inexpensive, but most likely heavy. The HED Jet 4 Clincher Wheelset is designed to minimize compromises to give you a...
HED Jet 6 FR Carbon Road Wheelset - Clincher
Retail Price:
$1900.00
Our Price: $1425.00
buy now
The rewards of a deep, fifty-plus millimeter wheelset are almost limitless on flat courses, but in reality, we often find ourselves on rides dotted with a few climbs. For this reason, we consider wheels that excel, not only on the flats, but also in the hills. And among the many types of hills...
HED Jet 6+ Carbon Road Wheelset - Clincher
Wheels of the deep-dish -- greater than 50mm -- variety excel on flat courses, but very often we find ourselves on courses riddled with hills. Now, if they were just long drawn out grades, then any deep-dish would do. But all too often, they are of the brutal switchback variety where drafting is...
HED JET Disc Carbon Road Wheel - Clincher
Steve Hed, the mastermind behind the wheels of HED cycling, first offered a disc wheel in 1987. Yes, almost three decades ago. And as impressive as his wheels were then, think about what 27 years of continual development and refinement have brought to the design. The HED Jet Disc Clincher Wheel...
HED Stinger 3 Carbon Disc Brake Road Wheelset - Tubular
If you've raced cyclocross, especially in muddy or icy conditions, you know that stopping power is paramount. Second to that, if you're going to spend a fair amount of time with your bike hoisted on your shoulder, weight is also important. Now that disc brakes are UCI legal to race, the braking...
HED Stinger 3 FR Carbon Road Wheelset - Tubular
When all your races seem to go uphill, you want a lightweight, aerodynamic wheelset that almost climbs by itself. HED's Stinger 3 FR Carbon Tubular Road Wheelset is so lightweight and fast that only your opponents will feel the sting, not your legs. The Stinger 3 are the first in the line of HED...
<< Prev | Back | 1 | 2 | 3 | 4 | 5 | 6 | 7 | 8 | 9 | 10 | More | Next >>