Wheels - Road Bike Shop
Shop
>
Components
>
Wheels, Tires, Tubes
>
Wheels
HED Stinger 3 CX FR Carbon Disc Brake Wheelset -Tubular
Even though carbon has been proven in applications like F1 racing suspension, the aerospace industry, and cycling's own Hell of the North, we admit that some in the office still approach carbon rims and cockpits with a little trepidation. HED's Stinger 3 CX FR Carbon Disc Brake Tubular Wheelset...
HED Stinger 4 FR Carbon Road Wheelset - Tubular
By now you've heard the words toroidal and hybritoroidal thrown around by virtually every carbon wheel manufacturer. But, did you know that Steve Hed was granted the patent for them in 1991? HED's first toroidal shapes and deep rims were designed in 1989. So, to put it bluntly, other...
HED Stinger 5 Carbon Disc Brake Road Wheelset - Tubular
In 2010, the UCI lifted the ban on disc brakes in cyclocross races. And while athletes were suddenly imbued with increased speed modulation and stopping power, it was dependent on having the right wheels. Wheel manufacturers were slow to develop the perfect 'cross disc wheel -- except for HED....
HED Stinger 5 FR Carbon Road Wheelset - Tubular
The icons of our sport are not the brawniest of men, at least not physically. Mentally, though, their toughness far outweighs muscles,and it is that toughness that makes them compelling to watch. Like these icons of sport, the HED Stinger 5 FR Carbon Tubular Wheelset isn't the biggest, deepest or...
Ibis 735 Carbon Boost Wheelset - 27.5in
Ibis is known for producing fast-spinning, hard-hitting wheelsets that push the boundaries of what's possible on the trail, and the 27. 5in Ibis 735 Carbon Boost Wheelset is no exception. Featuring an updated hybrid carbon layup that Ibis claims increases strength compared to its predecessors and...
Ibis 738 27.5in Boost Wheelset
When the trail ahead looms in formidable proportions, you'll be happy to have the Ibis 738 27. 5in Boost Wheelset under your ride. Its massive 34mm internal rim width and burly 38mm external width lays down a giant, stable footprint for confident grip in loose situations. The 738 allows super-low...
Ibis 741 Carbon Rim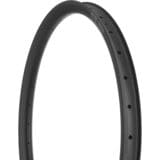 When it comes to hammering singletrack, manufacturers have come to realize that wider rims are better rims. Ibis is leading the wide-rim charge with its 741 Carbon Rim. The 741 adds width without adding a ton of weight, so you get more traction and stability without much more weight.Wider...
Ibis 741 Carbon Rim Decal
You've got speed, strength, and enduro bravery that (occasionally) borders on foolishness. This is all due in some part to your Ibis 741 wheels, so repay them with some special heraldry with the 741 Carbon Rim Decal set.
Ibis 742 Carbon Fiber 27.5in Boost Wheelset
In an industry ever-devoted to bigger and gnarlier, it's refreshing when a manufacturer manages to get all the benefits of the latter without the weight penalty of the former. Ibis' 742 Carbon Fiber 27. 5in Boost Wheelset manages that feat by incorporating Boost spacing and a titanic rim width...
Ibis 742 Carbon Fiber 27.5in Wheelset
The shifting tides towards beefier tires and bigger capability makes wheels like Ibis' 742 Carbon Fiber 27. 5in Wheelset a welcome addition to the stable. Compared to its predecessor, the 741, the 742 drops some weight with a lowered rim height but still boasts the same titanic rim width. The...
<< Prev | Back | 1 | 2 | 3 | 4 | 5 | 6 | 7 | 8 | 9 | 10 | More | Next >>