Wheels - Road Bike Shop
Shop
>
Components
>
Wheels, Tires, Tubes
>
Wheels
HED H3D FR Carbon Road Wheel - Tubular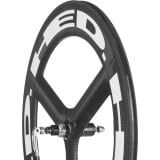 The HED H3D FR Carbon Tubular Road Wheel has only been in production since 2007, yet it lays claim to victories at the Tour, the Giro, and Beijing. Even the prototypes, being tested as early as 2005, were turning heads in timetrials. The H3D not only looks cool, it's also fast and you'll be...
HED H3D FR Carbon Wheel - Clincher
If we're honest with ourselves, it's easy to admit that disc wheels aren't always a blast on the open road, and for some disciplines of cycling, they're not even allowed. That's why HED produced the H3D FR Wheels. The H3Ds are the fastest non-disc HED wheels to date, and they excel by leaps and...
HED Jet 4 Plus Carbon Road Wheelset - Clincher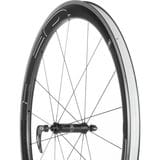 Retail Price:
$1899.95
Our Price: $1424.99
buy now
With every wheelset, there is some sort of compromise. If it's a super deep-dish, it will be expensive and it may not handle well in the wind. If it's a box rim, well, it'll be inexpensive, but most likely heavy. The HED Jet 4 Clincher Wheelset is designed to minimize compromises to give you a...
HED Jet 5 Express Carbon Road Wheelset - Clincher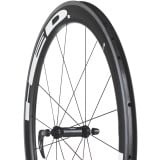 HED doesn't fall victim to marketing hype. Even though it is a true innovator and holds several patents for torodial rim shapes and wind-cheating technologies, you don't often hear it making a big deal about an innovation. More often than not, the innovations show up as subtle changes in each...
HED Jet 6+ Carbon Road Wheelset - Clincher
Retail Price:
$1899.95
Our Price: $1499.95
buy now
Wheels of the deep-dish -- greater than 50mm -- variety excel on flat courses, but very often we find ourselves on courses riddled with hills. Now, if they were just long drawn out grades, then any deep-dish would do. But all too often, they are of the brutal switchback variety where drafting is...
HED Stinger 3 Carbon Disc Brake Road Wheelset - Tubular
If you've raced cyclocross, especially in muddy or icy conditions, you know that stopping power is paramount. Second to that, if you're going to spend a fair amount of time with your bike hoisted on your shoulder, weight is also important. Now that disc brakes are UCI legal to race, the braking...
HED Stinger 3 FR Carbon Road Wheelset - Tubular
When all your races seem to go uphill, you want a lightweight, aerodynamic wheelset that almost climbs by itself. HED's Stinger 3 FR Carbon Tubular Road Wheelset is so lightweight and fast that only your opponents will feel the sting, not your legs. The Stinger 3 are the first in the line of HED...
HED Stinger 4 FR Carbon Road Wheelset - Tubular
By now you've heard the words toroidal and hybritoroidal thrown around by virtually every carbon wheel manufacturer. But, did you know that Steve Hed was granted the patent for them in 1991? HED's first toroidal shapes and deep rims were designed in 1989. So, to put it bluntly, other...
HED Stinger 5 Carbon Disc Brake Road Wheelset - Tubular
In 2010, the UCI lifted the ban on disc brakes in cyclocross races. And while athletes were suddenly imbued with increased speed modulation and stopping power, it was dependent on having the right wheels. Wheel manufacturers were slow to develop the perfect 'cross disc wheel -- except for HED....
HED Stinger 5 FR Carbon Road Wheelset - Tubular
The icons of our sport are not the brawniest of men, at least not physically. Mentally, though, their toughness far outweighs muscles,and it is that toughness that makes them compelling to watch. Like these icons of sport, the HED Stinger 5 FR Carbon Tubular Wheelset isn't the biggest, deepest or...
<< Prev | Back | 1 | 2 | 3 | 4 | 5 | 6 | 7 | 8 | 9 | 10 | More | Next >>