Wheels - Road Bike Shop
Shop
>
Components
>
Wheels, Tires, Tubes
>
Wheels
HED Stinger 5 FR Carbon Road Wheelset - Tubular
The icons of our sport are not the brawniest of men, at least not physically. Mentally, though, their toughness far outweighs muscles,and it is that toughness that makes them compelling to watch. Like these icons of sport, the HED Stinger 5 FR Carbon Tubular Wheelset isn't the biggest, deepest or...
HED Stinger 6 FR Carbon Road Wheelset - Tubular
Having spent decades at the forefront of aerodynamic wheel design, HED continues to make its wheels faster. The HED Stinger 6 FR Carbon Tubular Wheelset is no exception. The Stinger 6 is perhaps the perfect race wheel. Stiff enough for a sprint, but not so deep that a crosswind will catch you....
HED Stinger 7 FR Carbon Road Wheelset - Tubular
HED numbers its carbon wheelsets in sequential order, and while the Stinger 7 falls smack between the Stinger 6 and 9, it's not placed there on depth alone. The Stinger 7 FR Carbon Tubular Road Wheelset has been specifically designed to be a step above the Stinger 6, which is a well-rounded race...
HED Stinger 9 FR Carbon Road Wheelset - Tubular
Deeper is better. Right? Maybe if you love Chicago style pizza. When it comes to choosing race wheels, deep rims often bring with them instability problems caused by crosswinds. And even though you may feel fast, every millimeter of side-to side movement adds seconds to your time. To help...
Ibis 741 Carbon Fiber 27.5in Wheelset - DT Swiss 350 Rear Hub
The trend toward wider rims is perhaps the simplest trend to explain in all of cycling right now -- more rubber on the ground equals more traction. Ibis' 741 Carbon Wheels accomplish this in a couple of ways. First and most obvious is the rims' 35mm internal width. For comparison, a Stan's Flow...
Ibis 741 Carbon Rim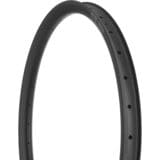 When it comes to hammering singletrack, manufacturers have come to realize that wider rims are better rims. Ibis is leading the wide-rim charge with its 741 Carbon Rim. The 741 adds width without adding a ton of weight, so you get more traction and stability without much more weight.Wider...
Ibis 928 29in Wheelset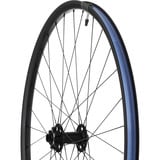 Retail Price:
$1299.99
Our Price: $1200.00
buy now
While the jury seems to still be out as to whether wider rims on the road really are better, on mountain trails, you'd be hard-pressed to argue their value. The Ibis 928 29in Wheelset runs a 28mm rim to set the "new normal" in mountain bike wheel design. When it comes to trail riding, tire...
Ibis 928 Carbon Fiber 29in Wheelset - DT Swiss 350 Rear Hub
Hop on the wide-wheel bandwagon with the Ibis 928 Carbon Fiber 29in Wheelset with DT Swiss 350 Rear Hub and reap the benefits of running lower pressure on your tubeless setup. Featuring a 28-millimeter width, these carbon fiber hoops represent the new standard for those seeking a more comfortable...
Ibis 941 Carbon Fiber 29in Wheelset - DT Swiss 350 Rear Hub
The Ibis 941 Carbon Fiber 29in Wheelset is wide. Like, really wide. So wide, in fact, that a few years ago, it would have been nearly double the width of the popular rims of the time. So wide that it'll make your tires wider by a tenth or two of an inch. In a world where tire performance is...
Industry Nine C58 Aero Disc Wheelset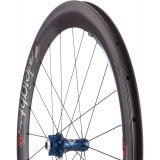 Fast, stable, reliable, and made in the good 'ol US of A are all characteristics Industry Nine is proud to say its new C58 Aero Disc Wheelset fully embodies. These new wheels are exclusive to Competitive Cyclist, and they're made by North Carolina's talented group of wheelbuilders for those...
<< Prev | Back | 1 | 2 | 3 | 4 | 5 | 6 | 7 | 8 | 9 | 10 | More | Next >>