Wheels - Road Bike Shop
Shop
>
Components
>
Wheels, Tires, Tubes
>
Wheels
HED Ardennes FR Wheelset - Clincher
The legacy of the late Steve Hed is undoubtedly secure thanks to his uncanny ability to turn the industry on its head with new technology every few years. But just in case there was any doubt, the HED Ardennes FR Wheelset has returned to us virtually unchanged for another year, proudly displaying...
HED Ardennes Plus CL Road Wheelset - Clincher
HED's Ardennes wheel line has become widely popular for its light weight and ultra-wide profile. So, when it came time to update its rim profiles, HED made sure that those changes were applied to its long-time staple, the Plus CL Wheelset. Along with the new 25mm rim width, it features the same...
HED Ardennes Plus LT Road Wheelset - Clincher
Wide rims are here to stay, and if you still aren't sure what all the fuss is about, let us introduce you to the HED Ardennes Plus LT Clincher Road Wheelset. Some things are best left unchanged, and accordingly, the Ardennes LT keeps its aluminum rims and HED Sonic hubs. But change can be a good...
HED Ardennes SL Disc Brake - Clincher
HED's Ardennes SL Plus Disc Brake Clinchers negotiate a diplomatic compromise between two technological eras. More and more, tubulars are taking over for racing applications, but the idea of gluing tires for everyday use and training only sounds feasible if there's a team car and dedicated...
HED Ardennes SL Disc Brake - Tubular
In 2007, HED spearHEDed (sorry, sorry) the wide rim revolution with its 23mm rims. Now, it's leading the charge yet again with the Ardennes SL Disc Brake Tubulars, ushering in an era of wide rims and disc brakes, which we're confident represent the future standard of cycling. Add to this the ride...
HED H3 FR Carbon Road Wheel - Clincher
The H3 is highly acclaimed for its unique design, which is matched only by the number of times it's been ridden to the podium. The H3 features incomparable speed, revolutionary lateral stiffness, and superior handling abilities. Whether you're looking for the cream of the crop of time trial...
HED H3 FR Carbon Road Wheel - Tubular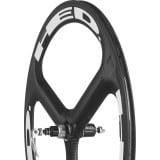 The cycling industry sets the bar high in the world of industrial design aesthetics, and the HED H3 FR Wheels are definitely no exception. Add the aesthetics to the research and development that places them at the forefront of aerodynamic innovation, and you have wheels with low rolling...
HED H3D FR Carbon Road Wheel - Tubular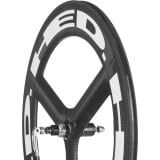 The HED H3D FR Carbon Tubular Road Wheel has only been in production since 2007, yet it lays claim to victories at the Tour, the Giro, and Beijing. Even the prototypes, being tested as early as 2005, were turning heads in timetrials. The H3D not only looks cool, it's also fast and you'll be...
HED H3D FR Carbon Wheel - Clincher
If we're honest with ourselves, it's easy to admit that disc wheels aren't always a blast on the open road, and for some disciplines of cycling, they're not even allowed. That's why HED produced the H3D FR Wheels. The H3Ds are the fastest non-disc HED wheels to date, and they excel by leaps and...
HED Jet 5 Express Carbon Road Wheelset - Clincher
HED doesn't fall victim to marketing hype. Even though it is a true innovator and holds several patents for torodial rim shapes and wind-cheating technologies, you don't often hear it making a big deal about an innovation. More often than not, the innovations show up as subtle changes in each...
<< Prev | Back | 1 | 2 | 3 | 4 | 5 | 6 | 7 | 8 | 9 | 10 | More | Next >>