Wheels - Road Bike Shop
Shop
>
Components
>
Wheels, Tires, Tubes
>
Wheels
HED Jet 5 Express Carbon Road Wheelset - Clincher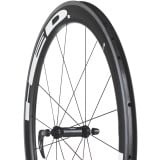 HED doesn't fall victim to marketing hype. Even though it is a true innovator and holds several patents for torodial rim shapes and wind-cheating technologies, you don't often hear it making a big deal about an innovation. More often than not, the innovations show up as subtle changes in each...
HED Jet 6 Plus Black
If you're an advanced enough initiate in your craft to be eyeing 60mm rims, then you probably don't need us to extol the virtues of the magic feeling aerodynamic wheels like HED's Jet 6 Plus Black bestow at speed. You're probably also familiar with the negative qualities of braking that tend to...
HED Stinger 3 Carbon Disc Brake Road Wheelset - Tubular
If you've raced cyclocross, especially in muddy or icy conditions, you know that stopping power is paramount. Second to that, if you're going to spend a fair amount of time with your bike hoisted on your shoulder, weight is also important. Now that disc brakes are UCI legal to race, the braking...
HED Stinger 3 FR Carbon Road Wheelset - Tubular
When all your races seem to go uphill, you want a lightweight, aerodynamic wheelset that almost climbs by itself. HED's Stinger 3 FR Carbon Tubular Road Wheelset is so lightweight and fast that only your opponents will feel the sting, not your legs. The Stinger 3 are the first in the line of HED...
HED Stinger 4 FR Carbon Road Wheelset - Tubular
By now you've heard the words toroidal and hybritoroidal thrown around by virtually every carbon wheel manufacturer. But, did you know that Steve Hed was granted the patent for them in 1991? HED's first toroidal shapes and deep rims were designed in 1989. So, to put it bluntly, other...
HED Stinger 5 Carbon Disc Brake Road Wheelset - Tubular
In 2010, the UCI lifted the ban on disc brakes in cyclocross races. And while athletes were suddenly imbued with increased speed modulation and stopping power, it was dependent on having the right wheels. Wheel manufacturers were slow to develop the perfect 'cross disc wheel -- except for HED....
HED Stinger 5 FR Carbon Road Wheelset - Tubular
The icons of our sport are not the brawniest of men, at least not physically. Mentally, though, their toughness far outweighs muscles,and it is that toughness that makes them compelling to watch. Like these icons of sport, the HED Stinger 5 FR Carbon Tubular Wheelset isn't the biggest, deepest or...
HED Stinger 6 FR Carbon Road Wheelset - Tubular
Having spent decades at the forefront of aerodynamic wheel design, HED continues to make its wheels faster. The HED Stinger 6 FR Carbon Tubular Wheelset is no exception. The Stinger 6 is perhaps the perfect race wheel. Stiff enough for a sprint, but not so deep that a crosswind will catch you....
HED Stinger 7 FR Carbon Road Wheelset - Tubular
HED numbers its carbon wheelsets in sequential order, and while the Stinger 7 falls smack between the Stinger 6 and 9, it's not placed there on depth alone. The Stinger 7 FR Carbon Tubular Road Wheelset has been specifically designed to be a step above the Stinger 6, which is a well-rounded race...
HED Stinger Disc FR Carbon Road Wheel - Tubular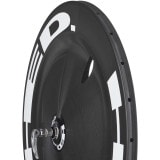 Every brand of disc wheels purports that its construction is the fastest on the market. And while we won't go so far as to pick a favorite, we will tell you that the HED Stinger Disc FR Tubular Road Wheel is among the fastest of the fast. It's faster than the HED Jet Disc by nine seconds in a 40k...
<< Prev | Back | 1 | 2 | 3 | 4 | 5 | 6 | 7 | 8 | 9 | 10 | More | Next >>