Wheels - Road Bike Shop
Shop
>
Components
>
Wheels, Tires, Tubes
>
Wheels
HED Jet 9 Plus Black Carbon Wheelset - Clincher
HED's Jet 9 Plus Black Carbon Wheelset is the same wheelset Optum p/b Kelly Benefit Strategies' Zirbel rode to victory at the North Star Grand Prix except for two differences: stopping power is improved with HED's Turbine Braking Technology and the graphics are murdered-out for a stealth look....
HED Jet Plus Black Disc Wheel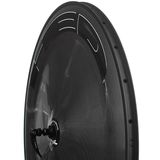 As with most things wheel-related, HED proved itself an (extremely) early adapter when its late founder launched a disc wheel almost three decades ago. HED being HED, since that first unveiling, the Minnesota-based manufacturer has been constantly tinkering with and updating the profile,...
HED Rim Tape
Behind every good road tire, there's either a good tube or a bit of goo -- but they can't carry the weight alone. HED's Rim Tape provides even more support from even further behind the tubes or sealant that are already behind the scenes.
HED Stinger 3 Carbon Disc Brake Road Wheelset - Tubular
Retail Price:
$2099.95
Our Price: $1499.95
buy now
Change isn't always good--peanut-butter-and-pickle sandwiches are gross, no matter what people say--but when it's done right it can be awesome. HED nailed it with the Stinger 3 Carbon Disc Brake Tubular Road Wheelset, which combines new technology (hey, disc brakes!) with time-tested tubular rims...
HED Stinger 3 CX FR Carbon Disc Brake Wheelset -Tubular
Even though carbon has been proven in applications like F1 racing suspension, the aerospace industry, and cycling's own Hell of the North, we admit that some in the office still approach carbon rims and cockpits with a little trepidation. HED's Stinger 3 CX FR Carbon Disc Brake Tubular Wheelset...
HED Stinger 4 FR Carbon Road Wheelset - Tubular
By now you've heard the words toroidal and hybritoroidal thrown around by virtually every carbon wheel manufacturer. But, did you know that Steve Hed was granted the patent for them in 1991? HED's first toroidal shapes and deep rims were designed in 1989. So, to put it bluntly, other...
HED Stinger 5 Carbon Disc Brake Road Wheelset - Tubular
In 2010, the UCI lifted the ban on disc brakes in cyclocross races. And while athletes were suddenly imbued with increased speed modulation and stopping power, it was dependent on having the right wheels. Wheel manufacturers were slow to develop the perfect 'cross disc wheel -- except for HED....
HED Stinger 5 FR Carbon Road Wheelset - Tubular
The icons of our sport are not the brawniest of men, at least not physically. Mentally, though, their toughness far outweighs muscles,and it is that toughness that makes them compelling to watch. Like these icons of sport, the HED Stinger 5 FR Carbon Tubular Wheelset isn't the biggest, deepest or...
Ibis 735 Carbon Boost Wheelset - 27.5in
Ibis is known for producing fast-spinning, hard-hitting wheelsets that push the boundaries of what's possible on the trail, and the 27. 5in Ibis 735 Carbon Boost Wheelset is no exception. Featuring an updated hybrid carbon layup that Ibis claims increases strength compared to its predecessors and...
Ibis 738 27.5in Boost Wheelset
When the trail ahead looms in formidable proportions, you'll be happy to have the Ibis 738 27. 5in Boost Wheelset under your ride. Its massive 34mm internal rim width and burly 38mm external width lays down a giant, stable footprint for confident grip in loose situations. The 738 allows super-low...
<< Prev | Back | 1 | 2 | 3 | 4 | 5 | 6 | 7 | 8 | 9 | 10 | More | Next >>