Wheels - Road Bike Shop
Shop
>
Components
>
Wheels, Tires, Tubes
>
Wheels
HED Disc Thru Axle Conversion Kit
Sometimes a product name says it all, so we have to make up a story in order to justify the copy space. HED's Disc Thru Axle Conversion Kit is one of those instances, and the story goes like this: Once upon a time, a pair of quick-release HED Sonic Disc Brake hubs wished it were thru-axle...
HED Freehub Body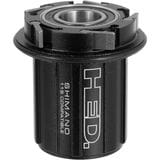 Whether you're swapping drivetrains on your trusty steed or upgrading an old freehub that's no longer performing as you'd like, the HED Freehub Body offers a reliable replacement for the freehub body of your HED 545 hub. The 5-pawl driver is impressively durable, which means more time riding and...
HED H3 FR Carbon Road Wheel - Clincher
Top-quality race wheels tend to be tubular, but what you would say to a clincher wheel that can provide the same level of smoothness and speed? That's what we though. HED's managed to make it happen, and its H3 FR Carbon Clincher Road Wheel will blow your mind with its combination of lateral and...
HED H3 FR Carbon Road Wheel - Tubular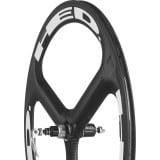 Though other time-trial and triathlon-specific wheels may be faster in certain conditions, the fact remains that the HED H3 FR Carbon Road Tubular Wheel cuts drag from all angles, making it a much more versatile performer when nasty crosswinds and variable wind patterns threaten your day at...
HED H3 GT3 Carbon Wheel - Tubular
With all the compression Lycra and fluo-on-stealth kit that the discipline entails, road cyclists are used to the sneers and general derision of the uninitiated. Triathletes, on the other hand, are beyond it. Compression socks, single-piece tri-suits, aerodynamic helmets -- no kit is taboo,...
HED H3D FR Carbon Road Wheel - Tubular
There's a lot of physics knowledge required for a seriously in-depth discussion about the HED H3D FR Carbon Tubular Road Wheel, but we're not scientists, so we'll sum it up as best we can: it's damn fast. That said, it excels in fairly specific conditions, so you should be sure about how you're...
HED H3D FR Carbon Wheel - Clincher
If you're racing a triathlon that doesn't allow full-disc wheels, the HED H3D FR Carbon Wheels are a great option. They're the fastest wheels HED makes, save for the full discs, and being one of HED's fastest wheels is certainly something to brag about. The wheels are not only fast, but they're...
HED Jet 4 Plus Black
The advantages of deep, carbon rims are evident to anyone who has ever held 20-25 mph on flat, straight roads for an extended period. The disadvantages are equally evident, and they usually manifest as unresponsive, obnoxiously-loud braking or equally poor and obnoxious handling when a sudden...
HED Jet 4 Plus Black Disc Brake Wheelset - Clincher
Retail Price:
$1800.00
Our Price: $1199.95
buy now
With its combination of HED's stable, bullet-shaped rim cross section and the sweet-spot aerodynamics of a 46mm depth, HED's Jet 4 Plus Black Carbon Disc Brake Wheelset may be the ideal racing wheels for any course. The durability of the aluminum spine/carbon fiber fairing construction and the...
HED Jet 5 Express Carbon Road Wheelset - Clincher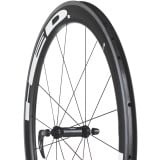 Retail Price:
$1399.95
Our Price: $1049.96
buy now
By now you've likely read a thing or three about wide rims on the road. They round out the tire, they make the ride smoother, they're more aero. HED pioneered that in the modern age, realizing that if it could smooth the transition between tire and rim, the air would in turn flow more smoothly....
<< Prev | Back | 1 | 2 | 3 | 4 | 5 | 6 | 7 | 8 | 9 | 10 | More | Next >>