Wheels - Road Bike Shop
Shop
>
Components
>
Wheels, Tires, Tubes
>
Wheels
ENVE Smart System 3.4 Carbon Road Wheelset - Tubular
If you're a racer on a budget, the one place you shouldn't skimp is on the rolling stock. Top quality wheels make a huge and noticeable difference in performance and ride quality. And if you are looking for a top flight pair of tubular racing wheels, then consider the Smart Enve System 3. 4...
ENVE Smart System 3.4 Disc Wheelset - Clincher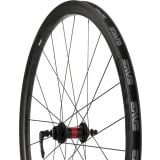 Aerodynamics engineering legend Simon Smart and ENVE Composites set out to create the most efficient wheelsets available. To do so, not only was the manufacturing done directly across from the engineering office, ensuring constant testing and attention to detail, but specific criteria were...
ENVE Smart System 6.7 Carbon Road Wheelset - Tubular
The Smart Enve System 6. 7 Carbon Tubular Wheelset came about through the collaboration between Enve and Simon Smart, one of the most respected experts on aerodynamics in the world. And no scientist was ever more fortuitously named. Smart took the intuitive though previously untried approach of...
Fulcrum Racing 5 DB Wheelset - Clincher
Tuck those deep-dish carbon 'cross racing tubulars safely away in the closet and outfit your favorite mud-shedding steed for salty winter base miles with the Fulcrum Racing 5 DB Clincher Wheelset. Built to mesh perfectly with your disc-brake equipped frame, these wheels house tires ranging from...
Fulcrum Racing Quattro Carbon DB Wheelset - Clincher
Disc brakes on road bikes may look a bit alien next to the herd of traditional rim brake whips, but they're here to stay and will only get more prevalent as the years roll by. Stay on-trend and get in on some smooth carbon speed with the Fulcrum Racing Quattro Carbon DB Clincher Wheelset....
Fulcrum Racing Quattro Carbon Wheelset - Clincher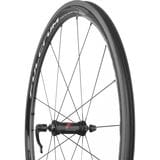 Perusing various carbon fiber hoop offerings can quickly spiral into a vortex of sky-high costs and withered hopes after checking your bank account. The Fulcrum Racing Quattro Carbon Clincher Wheelset is here to put an end to that spiral, delivering smooth carbon speed at a significantly lower...
Fulcrum Racing Zero Carbon Wheelset - Clincher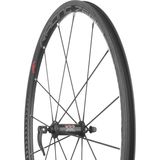 The Fulcrum Racing Zero Carbon Clincher Wheelset builds on the stiffness and general efficiency of the original aluminum-rimmed Zero with an upgrade to carbon fiber for improved responsiveness and speed off the line. Utilizing a technology Fulcrum dubs Momag, the Zero Carbon rims feature a...
HED Ardennes FR Wheelset - Clincher
Unlike many rims that go skinny to get fast, the Ardennes FR Wheels feature a 23mm wide rim. This allows the tire to seat better at the bead and also provides more tire contact with the ground. This means lower rolling resistance as well as extra security when taking a corner hard. It also means...
HED Ardennes Plus BLACK
The HED Ardennes Plus Black wheelset is a lightweight and stealthy addition to any bike. Their black braking surfaces create a solid dark finish to the tire edge, resulting in a clean, stealthy look without the usual jarring silver stripe found on most aluminum rim braking surfaces. That rim...
HED Ardennes Plus CL Road Wheelset - Clincher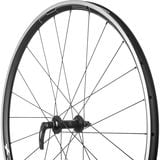 Popular for its super-wide rim profile, HED's Ardennes line has always been synonymous with smooth-rolling value. New for this year, the HED Ardennes Plus CL Road Wheelset adopts a wider 25mm rim for even smoother performance. Ultimately, the boosted width increases the tire contact on the road,...
<< Prev | Back | 1 | 2 | 3 | 4 | 5 | 6 | 7 | 8 | 9 | 10 | More | Next >>