Wheels - Road Bike Shop
Shop
>
Components
>
Wheels, Tires, Tubes
>
Wheels
Fulcrum Racing Zero Carbon Wheelset - Clincher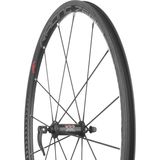 The Fulcrum Racing Zero Carbon Clincher Wheelset builds on the stiffness and general efficiency of the original aluminum-rimmed Zero with an upgrade to carbon fiber for improved responsiveness and speed off the line. Utilizing a technology Fulcrum dubs Momag, the Zero Carbon rims feature a...
HED Ardennes FR Wheelset - Clincher
Unlike many rims that go skinny to get fast, the Ardennes FR Wheels feature a 23mm wide rim. This allows the tire to seat better at the bead and also provides more tire contact with the ground. This means lower rolling resistance as well as extra security when taking a corner hard. It also means...
HED Ardennes Plus BLACK
The HED Ardennes Plus Black wheelset is a lightweight and stealthy addition to any bike. Their black braking surfaces create a solid dark finish to the tire edge, resulting in a clean, stealthy look without the usual jarring silver stripe found on most aluminum rim braking surfaces. That rim...
HED Ardennes Plus CL Road Wheelset - Clincher
Popular for its super-wide rim profile, HED's Ardennes line has always been synonymous with smooth-rolling value. New for this year, the HED Ardennes Plus CL Road Wheelset adopts a wider 25mm rim for even smoother performance. Ultimately, the boosted width increases the tire contact on the road,...
HED Ardennes Plus LT Road Wheelset - Clincher
The Ardennes Classics. Depending on your point of view, they're either the tail end of the best part of race season, or the very beginning of the interesting stuff. They favor the climbers, but also a strong all-rounder, but most of all they favor the rider who can go hard all day long. The HED...
HED Ardennes Plus SL Road Wheelset - Clincher
If the tech sheet, marketing copy, and glowing reviews from major publications aren't enough to sell you on the plush, efficient ride of HED's Ardennes Plus SL Road Wheelset, then just head to your local two-wheeled hotspot and count the number of times you see that unmistakable branding roll by...
HED Ardennes SL Disc Brake - Tubular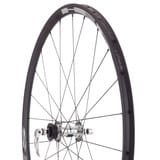 Retail Price:
$1100.00
Our Price: $769.99
buy now
In 2007, HED spearHEDed (sorry, sorry) the wide rim revolution with its 23mm rims. Now, it's leading the charge yet again with the Ardennes SL Disc Brake Tubulars, ushering in an era of wide rims and disc brakes, which we're confident represent the future standard of cycling. Add to this the ride...
HED Disc Thru Axle Conversion Kit
Sometimes a product name says it all, so we have to make up a story in order to justify the copy space. HED's Disc Thru Axle Conversion Kit is one of those instances, and the story goes like this: Once upon a time, a pair of quick-release HED Sonic Disc Brake hubs wished it were thru-axle...
HED H3 FR Carbon Road Wheel - Clincher
Top-quality race wheels tend to be tubular, but what you would say to a clincher wheel that can provide the same level of smoothness and speed? That's what we though. HED's managed to make it happen, and its H3 FR Carbon Clincher Road Wheel will blow your mind with its combination of lateral and...
HED H3 FR Carbon Road Wheel - Tubular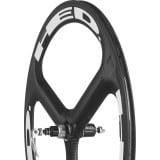 Though other time-trial and triathlon-specific wheels may be faster in certain conditions, the fact remains that the HED H3 FR Carbon Road Tubular Wheel cuts drag from all angles, making it a much more versatile performer when nasty crosswinds and variable wind patterns threaten your day at...
<< Prev | Back | 1 | 2 | 3 | 4 | 5 | 6 | 7 | 8 | 9 | 10 | More | Next >>