Wheels - Road Bike Shop
Shop
>
Components
>
Wheels, Tires, Tubes
>
Wheels
ENVE SES 4.5 Carbon Road Wheelset - Clincher
While we haven't yet found a fault with any of ENVE's SES wheels, we have always been aware of a glaring absence when compared to other manufacturers' lines. ENVE's SES rims jump from the climb-happy 3. 4s to the cruise-missile aerodynamics of the 6. 7s. That's a big leap, and if you're as...
ENVE SES 6.7 Carbon Road Wheelset - Clincher
What happens when the aero-engineering legend Simon Smart, and ENVE Composites team up? Well, the ENVE Smart System line of wheels, of course. Simply put, the SES lineup plays host to some of the highest levels of strength-to-weight ratios, race-ready stiffness, and watts-saving aerodynamics that...
ENVE SES 8.9 Carbon Clincher Road Wheelset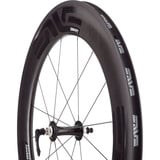 When you take a look at most triathlon/TT framesets out there, it doesn't take a microscope to decipher their mission: to go as fast as possible. Handling? Comfort? Low weight? Of course, these are all considerations, but the aero-tuned tubing and positioning all make it clear that the key...
ENVE SES 8.9 Carbon Road Wheelset - Tubular
Whether you're in the peloton or at Kona, speed matters. But, the question begs to be raised, how do we define speed? Some assert that aerodynamics are the end-all-be-all of speed, while others point to light weights and rigidity. However, regardless of what your definition is, we can all agree...
ENVE Smart System 3.4 Carbon Road Wheelset - Clincher
The ENVE Smart System 3. 4 Carbon Clincher Wheelset is the result of a holy union between aero-engineering legend Simon Smart and ENVE Composites working together towards one common goal: producing the best wheelset on the planet. To do this, they agreed that the ultimate wheelset needs to meet...
ENVE Smart System 3.4 Disc Wheelset - Clincher
Aerodynamics engineering legend Simon Smart and ENVE Composites set out to create the most efficient wheelsets available. To do so, not only was the manufacturing done directly across from the engineering office, ensuring constant testing and attention to detail, but specific criteria were...
ENVE Smart System 6.7 Carbon Road Wheelset - Tubular
The Smart Enve System 6. 7 Carbon Tubular Wheelset came about through the collaboration between Enve and Simon Smart, one of the most respected experts on aerodynamics in the world. And no scientist was ever more fortuitously named. Smart took the intuitive though previously untried approach of...
ENVE Twenty7.5 XC Carbon Wheelset
The ENVE Twenty7. 5 XC is based off of ENVE's 26 and 29inch wheelsets. To this end, they feature the same carbon molding techniques, and the result is a set of rims that exceed the strength and stiffness of alloy rims. The XC Wheelset isn't the lightest of its mountain wheelsets, but they're...
ENVE Twenty9 XC Carbon Wheelset
Though the pitched battle between the 26in versus the 29er proponents seems to have ended, the debate between the two can still be a fun topic around the bike shop. Tradition is certainly on the side of 26" wheels, but then again so much of the mountain bike ethos revolves around debunking...
HED Ardennes FR Disc Brake Road Wheel - Tubular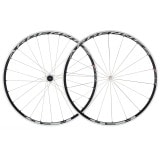 Retail Price:
$1350.00
Our Price: $675.00
buy now
In the past two years, you've probably been just as frustrated as us with the slow crawl that's been 700c disc wheel progression. Prior to the HED Ardennes FR Disc Brake Tubular Wheel, you could only check one of two boxes on your wish list -- either disc ready and clincher, or tubular and...
<< Prev | Back | 1 | 2 | 3 | 4 | 5 | 6 | 7 | 8 | 9 | 10 | More | Next >>