Wheels - Road Bike Shop
Shop
>
Components
>
Wheels, Tires, Tubes
>
Wheels
HED Ardennes Plus LT Road Wheelset - Clincher
The Ardennes Classics. Depending on your point of view, they're either the tail end of the best part of race season, or the very beginning of the interesting stuff. They favor the climbers, but also a strong all-rounder, but most of all they favor the rider who can go hard all day long. The HED...
HED Ardennes SL Disc Brake Wheelset - Tubular
The Ardennes SL Disc Brake Tubular Wheelset combines the supple ride of tubs with a rim wide enough for all-terrain use and a braking system designed to maintain consistent response and modulation in the conditions that tend to define 'cross racing. It's also the lightest member of HED's big-rim...
HED Belgium Plus Rim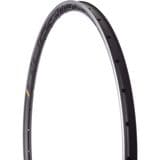 We've all been there, staring at the computer screen during a mid-afternoon lull. Pining over a set of HED factory builds but wanting to lace those rims to a silky set of stealthy hubs or a duo of beehive buzzing bling -- possibly the perfect "bombproof" wheelset. Ignore that little voice in your...
HED Disc Thru Axle Conversion Kit
Sometimes a product name says it all, so we have to make up a story in order to justify the copy space. HED's Disc Thru Axle Conversion Kit is one of those instances, and the story goes like this: Once upon a time, a pair of quick-release HED Sonic Disc Brake hubs wished it were thru-axle...
HED H3 FR Carbon Road Wheel - Clincher
Top-quality race wheels tend to be tubular, but what you would say to a clincher wheel that can provide the same level of smoothness and speed? That's what we though. HED's managed to make it happen, and its H3 FR Carbon Clincher Road Wheel will blow your mind with its combination of lateral and...
HED H3 FR Carbon Road Wheel - Tubular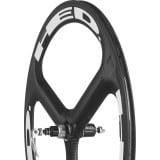 Though other time-trial and triathlon-specific wheels may be faster in certain conditions, the fact remains that the HED H3 FR Carbon Road Tubular Wheel cuts drag from all angles, making it a much more versatile performer when nasty crosswinds and variable wind patterns threaten your day at...
HED H3 GT3 Carbon Wheel - Tubular
With all the compression Lycra and fluo-on-stealth kit that the discipline entails, road cyclists are used to the sneers and general derision of the uninitiated. Triathletes, on the other hand, are beyond it. Compression socks, single-piece tri-suits, aerodynamic helmets -- no kit is taboo,...
HED H3D FR Carbon Road Wheel - Tubular
There's a lot of physics knowledge required for a seriously in-depth discussion about the HED H3D FR Carbon Tubular Road Wheel, but we're not scientists, so we'll sum it up as best we can: it's damn fast. That said, it excels in fairly specific conditions, so you should be sure about how you're...
HED H3D FR Carbon Wheel - Clincher
If you're racing a triathlon that doesn't allow full-disc wheels, the HED H3D FR Carbon Wheels are a great option. They're the fastest wheels HED makes, save for the full discs, and being one of HED's fastest wheels is certainly something to brag about. The wheels are not only fast, but they're...
HED Jet 4 Plus Black
The advantages of deep, carbon rims are evident to anyone who has ever held 20-25 mph on flat, straight roads for an extended period. The disadvantages are equally evident, and they usually manifest as unresponsive, obnoxiously-loud braking or equally poor and obnoxious handling when a sudden...
<< Prev | Back | 1 | 2 | 3 | 4 | 5 | 6 | 7 | 8 | 9 | 10 | More | Next >>