Wheels - Road Bike Shop
Shop
>
Components
>
Wheels, Tires, Tubes
>
Wheels
Fulcrum Racing Quattro Carbon Wheelset - Clincher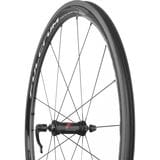 Perusing various carbon fiber hoop offerings can quickly spiral into a vortex of sky-high costs and withered hopes after checking your bank account. The Fulcrum Racing Quattro Carbon Clincher Wheelset is here to put an end to that spiral, delivering smooth carbon speed at a significantly lower...
Fulcrum Racing Zero Carbon Wheelset - Clincher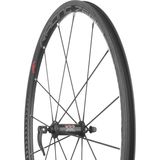 The Fulcrum Racing Zero Carbon Clincher Wheelset builds on the stiffness and general efficiency of the original aluminum-rimmed Zero with an upgrade to carbon fiber for improved responsiveness and speed off the line. Utilizing a technology Fulcrum dubs Momag, the Zero Carbon rims feature a...
HED Ardennes Plus BLACK
The HED Ardennes Plus Black wheelset is a lightweight and stealthy addition to any bike. Their black braking surfaces create a solid dark finish to the tire edge, resulting in a clean, stealthy look without the usual jarring silver stripe found on most aluminum rim braking surfaces. That rim...
HED Ardennes Plus GP Disc Brake Wheelset - Clincher
Retail Price:
$700.00
Our Price: $549.95
buy now
In a Linnaean taxonomy of the world of wheels, HED's Ardennes Plus GP Disc Brake Clincher Wheelset would fall in relation to the road and cyclocross genus without belonging wholly to either one. This dual phenotypic citizenship recommends it as the most pure example of a gravel wheelset -- that...
HED Ardennes SL Disc Brake - Tubular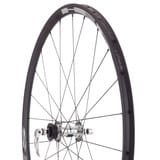 Retail Price:
$1100.00
Our Price: $599.95
buy now
In 2007, HED spearHEDed (sorry, sorry) the wide rim revolution with its 23mm rims. Now, it's leading the charge yet again with the Ardennes SL Disc Brake Tubulars, ushering in an era of wide rims and disc brakes, which we're confident represent the future standard of cycling. Add to this the ride...
HED Ardennes SL Disc Brake Wheelset - Tubular
The Ardennes SL Disc Brake Tubular Wheelset combines the supple ride of tubs with a rim wide enough for all-terrain use and a braking system designed to maintain consistent response and modulation in the conditions that tend to define 'cross racing. It's also the lightest member of HED's big-rim...
HED Belgium Plus Rim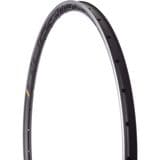 We've all been there, staring at the computer screen during a mid-afternoon lull. Pining over a set of HED factory builds but wanting to lace those rims to a silky set of stealthy hubs or a duo of beehive buzzing bling -- possibly the perfect "bombproof" wheelset. Ignore that little voice in your...
HED Disc Thru Axle Conversion Kit
Sometimes a product name says it all, so we have to make up a story in order to justify the copy space. HED's Disc Thru Axle Conversion Kit is one of those instances, and the story goes like this: Once upon a time, a pair of quick-release HED Sonic Disc Brake hubs wished it were thru-axle...
HED H3 FR Carbon Road Wheel - Clincher
Top-quality race wheels tend to be tubular, but what you would say to a clincher wheel that can provide the same level of smoothness and speed? That's what we though. HED's managed to make it happen, and its H3 FR Carbon Clincher Road Wheel will blow your mind with its combination of lateral and...
HED H3 FR Carbon Road Wheel - Tubular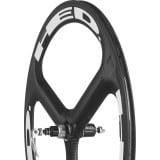 Though other time-trial and triathlon-specific wheels may be faster in certain conditions, the fact remains that the HED H3 FR Carbon Road Tubular Wheel cuts drag from all angles, making it a much more versatile performer when nasty crosswinds and variable wind patterns threaten your day at...
<< Prev | Back | 1 | 2 | 3 | 4 | 5 | 6 | 7 | 8 | 9 | 10 | More | Next >>