Wheels - Road Bike Shop
Shop
>
Components
>
Wheels, Tires, Tubes
>
Wheels
ENVE M90 Ten 27.5in Wheelset
The ENVE M90 Ten 27. 5in Wheelset is the replacement for the World Cup DH-proven DH series, and it's certainly worthy of the distinction. Taking lessons learned from ENVE's World Cup DH program, the M90 Ten is a marked improvement over its predecessor, with significant improvements being made in...
ENVE M90/Ten 27.5in Chris King Wheelset
We have to look back and laugh a little bit at the echos of all those naysayers who said a carbon DH-specific rim would never hold-up. Then along came Greg Minnaar, Josh Bryceland, and a few other podium-stompers aboard ENVE's simply-named "DH" rims, and suddenly, that naysaying stopped. Carbon...
ENVE SES 4.5 Carbon Road Wheelset - Clincher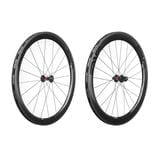 While we haven't yet found a fault with any of ENVE's SES wheels, we have always been aware of a glaring absence when compared to other manufacturers' lines. ENVE's SES rims jump from the climb-happy 3. 4s to the cruise-missile aerodynamics of the 6. 7s. That's a big leap, and if you're as...
ENVE SES 4.5 Carbon Road Wheelset - Tubular
ENVE's SES 4. 5 Carbon Road Tubular Wheelset meets what may be the last two reasonable demands that any sprinter/puncheur/climber could make of the celebrated Utah-based manufacturer. First, we wanted a mid-depth rim that fills the gap between the climb-happy 3. 4s and the cruise-missile...
ENVE SES 6.7 Carbon Road Wheelset - Clincher
What happens when the aero-engineering legend Simon Smart, and ENVE Composites team up? Well, the ENVE Smart System line of wheels, of course. Simply put, the SES lineup plays host to some of the highest levels of strength-to-weight ratios, race-ready stiffness, and watts-saving aerodynamics that...
ENVE SES 8.9 Carbon Clincher Road Wheelset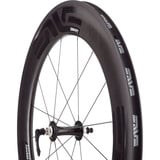 When you take a look at most triathlon/TT framesets out there, it doesn't take a microscope to decipher their mission: to go as fast as possible. Handling? Comfort? Low weight? Of course, these are all considerations, but the aero-tuned tubing and positioning all make it clear that the key...
ENVE SES 8.9 Carbon Road Wheelset - Tubular
Whether you're in the peloton or at Kona, speed matters. But, the question begs to be raised, how do we define speed? Some assert that aerodynamics are the end-all-be-all of speed, while others point to light weights and rigidity. However, regardless of what your definition is, we can all agree...
ENVE Smart System 3.4 Carbon Road Wheelset - Clincher
It used to be that if you wanted an aerodynamic rim that did any good, you had to run deep, V-profile rims that twitched at the slightest hint of a crosswind. No more. The ENVE Smart System 3. 4 Carbon Road Wheelset is the product of a collaboration between ENVE and aerodynamics guru Simon Smart....
ENVE Smart System 3.4 Disc Wheelset - Clincher
Aerodynamics engineering legend Simon Smart and ENVE Composites set out to create the most efficient wheelsets available. To do so, not only was the manufacturing done directly across from the engineering office, ensuring constant testing and attention to detail, but specific criteria were...
ENVE Smart System 6.7 Carbon Road Wheelset - Tubular
The Smart Enve System 6. 7 Carbon Tubular Wheelset came about through the collaboration between Enve and Simon Smart, one of the most respected experts on aerodynamics in the world. And no scientist was ever more fortuitously named. Smart took the intuitive though previously untried approach of...
<< Prev | Back | 1 | 2 | 3 | 4 | 5 | 6 | 7 | 8 | 9 | 10 | More | Next >>