Wheels - Road Bike Shop
Shop
>
Components
>
Wheels, Tires, Tubes
>
Wheels
Fulcrum Racing Quattro Carbon Wheelset - Clincher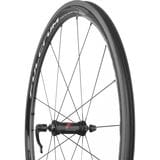 Perusing various carbon fiber hoop offerings can quickly spiral into a vortex of sky-high costs and withered hopes after checking your bank account. The Fulcrum Racing Quattro Carbon Clincher Wheelset is here to put an end to that spiral, delivering smooth carbon speed at a significantly lower...
Fulcrum Racing Zero Carbon Wheelset - Clincher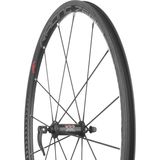 The Fulcrum Racing Zero Carbon Clincher Wheelset builds on the stiffness and general efficiency of the original aluminum-rimmed Zero with an upgrade to carbon fiber for improved responsiveness and speed off the line. Utilizing a technology Fulcrum dubs Momag, the Zero Carbon rims feature a...
HED 11-Speed Freehub Body Conversion Kit
Just because your drivetrain has recently graduated to eleven-speeds, doesn't mean that your freehub body has. Chances are that your current HED wheels aren't compatible with an 11-speed Shimano/SRAM cassette, which is why HED created its 11-Speed Freehub Body Conversion Kit. Now, converting your...
HED Ardennes Plus BLACK
The HED Ardennes Plus Black wheelset is a lightweight and stealthy addition to any bike. Their black braking surfaces create a solid dark finish to the tire edge, resulting in a clean, stealthy look without the usual jarring silver stripe found on most aluminum rim braking surfaces. That rim...
HED Ardennes Plus CL Road Wheelset - Clincher
Popular for its super-wide rim profile, HED's Ardennes line has always been synonymous with smooth-rolling value. New for this year, the HED Ardennes Plus CL Road Wheelset adopts a wider 25mm rim for even smoother performance. Ultimately, the boosted width increases the tire contact on the road,...
HED Ardennes Plus LT Road Wheelset - Clincher
The Ardennes Classics. Depending on your point of view, they're either the tail end of the best part of race season, or the very beginning of the interesting stuff. They favor the climbers, but also a strong all-rounder, but most of all they favor the rider who can go hard all day long. The HED...
HED Ardennes Plus SL Road Wheelset - Clincher
If the tech sheet, marketing copy, and glowing reviews from major publications aren't enough to sell you on the plush, efficient ride of HED's Ardennes Plus SL Road Wheelset, then just head to your local two-wheeled hotspot and count the number of times you see that unmistakable branding roll by...
HED Ardennes SL Disc Brake Wheelset - Tubular
The Ardennes SL Disc Brake Tubular Wheelset combines the supple ride of tubs with a rim wide enough for all-terrain use and a braking system designed to maintain consistent response and modulation in the conditions that tend to define 'cross racing. It's also the lightest member of HED's big-rim...
HED Belgium Plus Rim
We've all been there, staring at the computer screen during a mid-afternoon lull. Pining over a set of HED factory builds but wanting to lace those rims to a silky set of stealthy hubs or a duo of beehive buzzing bling -- possibly the perfect "bombproof" wheelset. Ignore that little voice in your...
HED Disc Thru Axle Conversion Kit
Sometimes a product name says it all, so we have to make up a story in order to justify the copy space. HED's Disc Thru Axle Conversion Kit is one of those instances, and the story goes like this: Once upon a time, a pair of quick-release HED Sonic Disc Brake hubs wished it were thru-axle...
<< Prev | Back | 1 | 2 | 3 | 4 | 5 | 6 | 7 | 8 | 9 | 10 | More | Next >>