Wheels - Road Bike Shop
Shop
>
Components
>
Wheels, Tires, Tubes
>
Wheels
Enve 1.45 Carbon Road Wheelset - Tubular
We're sure that you've heard this before, but rotational weight is the most vital area for you to direct your gram-focused conservatism. However, this doesn't mean that you should be willing to sacrifice rigidity and aerodynamic gains solely in the name of weight. Absolutely not. The way that we...
Enve 1.65 Carbon Road Wheelset - Tubular
Some use it for cyclocross, others for time trials, but regardless, one thing can be said for certain -- the ENVE 1. 65 Wheelset is insanely fast. In fact, the 1. 65 is the ultralight iteration of what was already referred to as 'the founder's favorite.' So, at an even lighter, feathery 1258...
ENVE 25 Classic Carbon Road Wheelset - Clincher
There was a time when a carbon wheelset it meant that you were stuck with carbon tubulars. And while we admit that tubulars are the gold standard for racing, for rides or races without sag or neutral wheel support, they aren't too practical. Turning the tubular trend around, the ENVE Classic 25...
ENVE Classic 25 Carbon Road Wheelset - Tubular
If a scale is your favorite 'tool' on the workbench, then we know that you're a gram-chaser. Even more so, we know that you've been eyeballing the ENVE Classic 25 Carbon Tubular Road Wheelset for a while now. The reason is simple, at 250 grams per hoop, you're looking at around 1038g for a...
ENVE Classic 45 Carbon Road Wheelset - Clincher
Not too many years ago, carbon-rimmed clinchers were only a dream for many manufacturers. By now, most have something in their collection, but often the wheels are just heavier, less reliable clincher versions of a popular tubular wheelset. Turning that trend around, the ENVE Classic 45 Carbon...
ENVE Classic 65 Carbon Road Wheelset - Clincher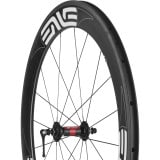 The ENVE Classic 65 Carbon Clincher Road Wheelset has been touted as the 'Founder's Favorite' of all the rims in the ENVE arsenal. ENVE's most versatile rim, the 65 is the preferred rim for professionals for everything from cyclocross to triathlon to road racing. There's even a peloton debate on...
ENVE DH 26 inch Downhill Wheelset
The ENVE DH 26 inch Downhill Wheelset was the first, and still among the very best gravity-oriented wheelsets on the market. And it's not just their race-ready weight that has made them so highly sought after. Rather, the smooth, locked-in feel that they provide has been arguably more important...
ENVE Downhill Wheelset - 27.5in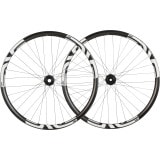 Retail Price:
$2750.00
Our Price: $2062.50
buy now
Considered for quite a while to be not quite tough enough to withstand the rigors of downhill racing or other extreme riding, the 27. 5-inch wheel format wasn't readily embraced by the gravity community at first, and nor was the idea of a carbon rim. Taking the rulebook and thoroughly ripping it...
ENVE M50 Fifty 29in Wheelset
ENVE's carbon fiber rims have continually defined the genre, and the 50fifty 29in Wheelset is set to do precisely that for high-caliber XC racing. As part of ENVE's M-series rim lineup, it's not only wider than the XC rim that it replaces, but it's significantly lighter, too. Perhaps most...
ENVE M60 Forty 27.5in Wheelset
The ENVE's M60 Forty 27. 5in Wheelset is an ideal match for the latest generation of lightweight, shockingly capable trail bikes. This rim was designed to sit between the previous XC and AM rim, making it perfect for the way that most of us actually ride our mountain bikes. And with its...
<< Prev | Back | 1 | 2 | 3 | 4 | 5 | 6 | 7 | 8 | 9 | 10 | More | Next >>