Wheels - Road Bike Shop
Shop
>
Components
>
Wheels, Tires, Tubes
>
Wheels
ENVE SES 2.2 Wheelset with ENVE Hubs - Clincher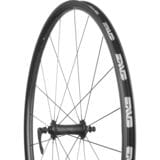 The rims on ENVE's SES 2. 2 Clincher Wheelset with ENVE Hubs had a grand debut this summer atop the dizzyingly high peaks of the Tour on the frames of the MTN-Qhubeka team. Cummings earned the team its first-ever stage win aboard these rims, and they're now available for the rest of us to use as...
ENVE SES 2.2 Wheelset with ENVE Hubs - Tubular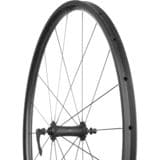 The ENVE SES 2. 2 wheelset, built feather-light to fly up the mountains of the Tour, was the biggest news of the climbing wheel world this year. Now laced with ENVE's new carbon hubs, the SES 2. 2 Tubular Wheelset with ENVE Hubs is available to us all whether we're conquering our favorite local...
ENVE SES 4.5 Carbon Road Wheelset - Clincher
The SES 4. 5 Carbon Road Wheelset fills the gap between the shallower 3. 4s and the venerable 6. 7 deep section rims in the ENVE lineup. The wheels feature a mid-section rim that becomes the ideal go-to wheel for nearly any race situation. The 4. 5s weren't designed just to fit between the two...
ENVE SES 4.5 Carbon Road Wheelset - Tubular
ENVE's SES 4. 5 Carbon Road Tubular Wheelset meets what may be the last two reasonable demands that any sprinter/puncheur/climber could make of the celebrated Utah-based manufacturer. First, we wanted a mid-depth rim that fills the gap between the climb-happy 3. 4s and the cruise-missile...
ENVE SES 6.7 Carbon Road Wheelset - Clincher
ENVE has quickly established itself as the industry standard. Its passion for perfection and innovation is unmatched. The SES 6. 7 Carbon Road Wheelset is a perfect example of this obsession. ENVE could have taken the easy road with its aero road rims and just sold them as a pair of rims. Instead...
ENVE SES 8.9 Carbon Clincher Road Wheelset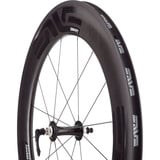 When you take a look at most triathlon/TT framesets out there, it doesn't take a microscope to decipher their mission: to go as fast as possible. Handling? Comfort? Low weight? Of course, these are all considerations, but the aero-tuned tubing and positioning all make it clear that the key...
ENVE SES 8.9 Carbon Road Wheelset - Tubular
Whether you're in the peloton or at Kona, speed matters. But, the question begs to be raised, how do we define speed? Some assert that aerodynamics are the end-all-be-all of speed, while others point to light weights and rigidity. However, regardless of what your definition is, we can all agree...
ENVE Smart System 3.4 Carbon Road Wheelset - Clincher
It used to be that if you wanted an aerodynamic rim that did any good, you had to run deep, V-profile rims that twitched at the slightest hint of a crosswind. No more. The ENVE Smart System 3. 4 Carbon Road Wheelset is the product of a collaboration between ENVE and aerodynamics guru Simon Smart....
ENVE Smart System 3.4 Carbon Road Wheelset - Tubular
If you're a racer on a budget, the one place you shouldn't skimp is on the rolling stock. Top quality wheels make a huge and noticeable difference in performance and ride quality. And if you are looking for a top flight pair of tubular racing wheels, then consider the Smart Enve System 3. 4...
ENVE Smart System 3.4 Disc Wheelset - Clincher
Aerodynamics engineering legend Simon Smart and ENVE Composites set out to create the most efficient wheelsets available. To do so, not only was the manufacturing done directly across from the engineering office, ensuring constant testing and attention to detail, but specific criteria were...
<< Prev | Back | 1 | 2 | 3 | 4 | 5 | 6 | 7 | 8 | 9 | 10 | More | Next >>