Wheels - Road Bike Shop
Shop
>
Components
>
Wheels, Tires, Tubes
>
Wheels
ENVE SES 4.5 Carbon Road Wheelset - Clincher - ENVE Carbon Ceramic Hubs
ENVE's wheels occasionally give us mortals the chance to feel like we're riding like higher powers, and with the advent of the SES 4. 5 Carbon Clincher Road Wheelset, complete with ENVE's Carbon Ceramic Hubs, ENVE blends powerful, competent internals with its rims' ethereal, functional exterior....
ENVE SES 5.6 Disc Wheelset - Clincher
We're used to seeing disc-equipped wheels with rim brake tracks stealthily covered with strategic stickering as companies push to offer disc wheelsets without reinventing their rim profiles. ENVE, being the innovative company that it is, turns that practice on its head with the disc-specific rim...
ENVE SES 7.8 Carbon Road Wheelset - Clincher
Speed is something that all cyclists and triathletes want more of, and we're constantly searching for ways to be more efficient, more aerodynamic, and eke out a few more watts. Add a big dose of fast to your aero steed with the SES 7. 8 Carbon Road Clincher Wheelset, which ENVE bills as its...
ENVE SES 7.8 Carbon Road Wheelset with ENVE Hubs - Clincher
Upgrade that new aero frame and get the most out of your TT efforts with the ENVE SES 7. 8 Carbon Road Clincher Wheelset with ENVE Hubs. Since the 7. 8s are billed as ENVE's fastest rims, it's only fitting that they're paired with the low weight and ceramic bearings of the manufacturer's carbon...
ENVE SES 7.8 Disc Wheelset - Clincher
Opting in on the power and modulation of a disc brake road whip shouldn't mean that you have to give up on the never ending quest for speed and aerodynamics. With that in mind ENVE brings you the SES 7. 8 Disc Wheelset, which boasts all the wind-cheating, screaming speed of the original SES 7. 8...
ENVE Smart System 3.4 Carbon Road Wheelset - Tubular
Retail Price:
$2700.00
Our Price: $1619.99
buy now
If you're a racer on a budget, the one place you shouldn't skimp is on the rolling stock. Top quality wheels make a huge and noticeable difference in performance and ride quality. And if you are looking for a top flight pair of tubular racing wheels, then consider the Smart Enve System 3. 4...
ENVE Smart System 3.4 Disc Wheelset - Clincher
You've been exposed to ENVE fever everywhere lately, first from the glossies, then your ride crew, and now the guy who beat you racing last week. Face facts: it's about time you give your racing bike a set of hoops that can match its energy. The Clincher version of the ENVE Smart System 3. 4 Disc...
Fulcrum Racing 5 DB Wheelset - Clincher
Tuck those deep-dish carbon 'cross racing tubulars safely away in the closet and outfit your favorite mud-shedding steed for salty winter base miles with the Fulcrum Racing 5 DB Clincher Wheelset. Built to mesh perfectly with your disc-brake equipped frame, these wheels house tires ranging from...
Fulcrum Racing Quattro Carbon Wheelset - Clincher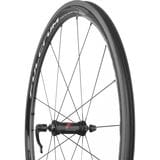 Perusing various carbon fiber hoop offerings can quickly spiral into a vortex of sky-high costs and withered hopes after checking your bank account. The Fulcrum Racing Quattro Carbon Clincher Wheelset is here to put an end to that spiral, delivering smooth carbon speed at a significantly lower...
Fulcrum Racing Zero Carbon Wheelset - Clincher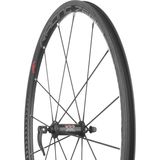 The Fulcrum Racing Zero Carbon Clincher Wheelset builds on the stiffness and general efficiency of the original aluminum-rimmed Zero with an upgrade to carbon fiber for improved responsiveness and speed off the line. Utilizing a technology Fulcrum dubs Momag, the Zero Carbon rims feature a...
<< Prev | Back | 1 | 2 | 3 | 4 | 5 | 6 | 7 | 8 | 9 | 10 | More | Next >>