Wheels - Road Bike Shop
Shop
>
Components
>
Wheels, Tires, Tubes
>
Wheels
ENVE M640 29in Boost Wheelset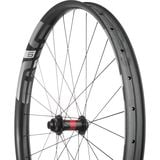 ENVE's M6 line of wheels are the definitive mountain biker's wheelset, and it brings lightweight and super versatile wheelsets bridging the gap between cross country racing and all-mountain riding, in the super competitive segment of the market known as trail. The wheels perfectly meld the speed...
ENVE M70 Thirty HV 27.5in Boost Wheelset
Retail Price:
$2718.00
Our Price: $1492.95
buy now
For those of who believe the toughest climbs pay off with the most rewarding descents, behold the ENVE M70 Thirty HV 27. 5in Boost Wheelset in all its rigid, lightweight glory. On the 27. 5 M70 Thirty rim, ENVE expanded the internal width to roughly 36mm, which offers a sturdy profile and allows...
ENVE M70 Thirty HV 27.5in Wheelset
Retail Price:
$2718.00
Our Price: $1901.95
buy now
The HV in ENVE's M70 Thirty HV 27. 5in Wheelset designates "high volume," and with a 31mm internal width, the distinction is no exaggeration. Using ENVE's legendary carbon manufacturing process, the wheels are made to descend with finesse while making unavoidable ascents not just bearable, but...
ENVE M70 Thirty HV 29in Boost Wheelset
Retail Price:
$2718.00
Our Price: $1629.95
buy now
ENVE's original M70 Thirty wheelset ticked all the boxes for hard-riding, adrenaline-chasing trail shredders. The ENVE M70 Thirty HV 29in Boost Wheelset retains all the things we love about the standard version and puffs up the internal rim width from 25 to 31mm to pair perfectly with larger...
ENVE M730 27.5in Boost Wheelset
Whether you're shuttling the Whole Enchilada, or lapping your local trail network, no ride can go sour faster than when you break a rim. Striving for reliability that surpasses years past, ENVE releases its M730 27. 5in Boost Wheelset to offer you strength to charge big lines, protect you from...
ENVE M730 29in Boost Wheelset
It's lap 7 of the day at your local downhill park and your riding is on fire. You've been conquering rock gardens and gaps that you've been dreaming of all week, and you head into your favorite drop of the line, but you're cooking with a little too much speed, and when you land to flat you hear...
ENVE M735 27.5in Boost Wheelset
You may or may not have had the unfortunate event of breaking a rim halfway down what would have been your fastest lap of the day. If you have, we empathize with you, and if you haven't we congratulate you. Whether you have bee in that unfortunate situation or not, we're pretty sure you don't...
ENVE M735 29in Boost Wheelset
The quickest way to kill your adrenaline buzz on a shred-heavy day is by getting a flat tire, or worse, taco-ing your rim. With this in mind, the engineers at ENVE have been working away, delving deep into the science of the rim to create a carbon fiber rim that will allow you to charge to the...
ENVE SES 2.2 Wheelset - Clincher
ENVE's SES 2. 2 Clincher Wheelset had quite a high profile debut at this year's Tour. Just ask MTN-Qhubeka's Teklehaimanot, who became the first black African to start the Tour and, in his debut at the race, spent a handful of stages resplendent in the polka-dot jersey. ENVE built these...
ENVE SES 2.2 Wheelset - Tubular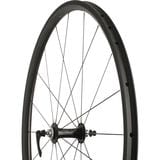 If you paid attention to the Tour this year, then you were undoubtedly struck by the underdog success and tenacity of the MTN-Qhubeka p/b Samsung Team, which made history once as the first African-registered team at the Grande Boucle and again with the first African rider to wear the polka dot...
<< Prev | Back | 1 | 2 | 3 | 4 | 5 | 6 | 7 | 8 | 9 | 10 | More | Next >>